Florida Woman Blames "Curious" Siberian Husky For Eating Her Pussy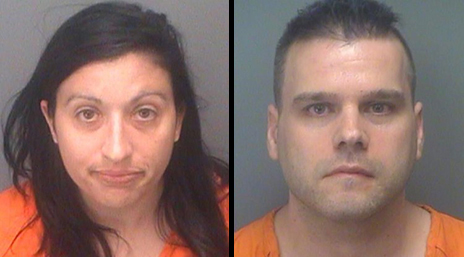 Via The Smoking Gun:
The Florida Woman charged with receiving oral sex from her dog confessed to the crime and told cops that the male Husky, named Loki, was just "being curious," according to a felony complaint.

Christina Calello, 36, and Geoffrey Springer, 39, were arrested Tuesday and charged with sexual activity involving animals, a felony. Police identified Springer as Calello's former boyfriend.

Investigators say they recently recovered a video–shot by Springer–showing "the animal performing oral sex on his ex girlfriend." The video was stored on a flash drive in a "folder titled 'XXX Sex Videos Loki."

Springer identified Calello as the woman in the video, according to cops who noted that both Calello and the woman in the clip have a "heart shape tattoo on her hip area." Additionally, Springer said Calello "has engaged in 30-50 sexual acts with the dog in a time span of 8 years."

After being read her rights, Calello reportedly "admitted to the dog possibly performing oral sex on her numerous times due to the dog being curious." Video evidence, cops say, showed Calello "not making any motions or gesture to stop the sexual act."
Calello is out on $5,000 bail, and the boyfriend was released on his own recognizance. Loki was taken to a pet hospital, where he was thankfully given a clean bill of health.
No word on whether or not the dog will be taken away from his deranged owner, but given that it's Florida, they'll probably just return him to her and call it a day. After all, the state is too busy shutting down drag brunches to worry about animal cruelty.