Knife-Wielding Man Arrested After Threatening To "Cut The Gay" Out Of Brother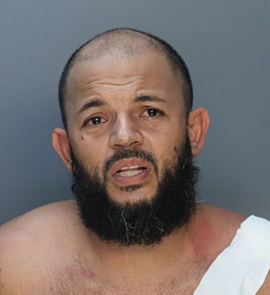 Just another typical day in Florida. Via The Smoking Gun:
While threatening his brother with a knife, a Florida Man said that he was "going to cut the 'gay' out of" his sibling, according to police who arrested the suspect on multiple criminal charges.

According to a Miami-Dade Police Department report, officers responded Thursday morning to a 911 call about a "violent dispute" at a Miami residence between David Martinez, 40, and his brother.

Martinez's kin told cops that his sibling had "been acting strangely since last night" and "threatened him while sharpening a large kitchen knife, telling him he was going to cut the 'gay' out of him."

Martinez "told the victim he was going to kill him," cops say.

Seen above, Martinez was arrested for aggravated assault with a deadly weapon, kidnapping, and false imprisonment, all of which are felonies. He was also charged with two misdemeanor resisting counts.
[TSG: Man Threatened To "Cut The Gay" Out Of Brother]