2016 Cybersocket Awards: Who Will Win, Who Should Win, And Who Doesn't Stand A Chance In Hell
Here we go again. It's an annual tradition for me to try and predict the basically unpredictable Cybersocket Award winners, so let's get to it.
Sometimes the wins are legit, and sometimes they're completely insane (Dallas Reeves and Michael Lucas took home awards last year). And sometimes, even the nominations are completely insane (Playgirl, anyone?) and completely offensive, as Str8UpGayPorn is nominated not just as Best Blog, but also as Company Of The Year. LOL.
That said, the Cybersockets are always a fun event, and it's a great opportunity for a bunch of crazy, half-dressed people to get together and get blackout drunk (myself included). Follow Str8UpGayPorn on Twitter tonight (the red carpet starts around 9:00 p.m. PST; the ceremony, hosted by Chi Chi LaRue, begins at 10:30) for drunk tweets from the show until either I or my phone dies.
As I say every year: I'm usually about 99% wrong, so keep that in mind. "Who Will Win" is based on who I really think will win; "Who Should Win" is who I think is most deserving of a win; "No Guts, No Glory" is who I think doesn't stand a chance in Hell. Here are predictions in the major categories:
Best Porn Review Site
All The Porn That's Fit To Fuck
Banana Guide
Chronicles of Pornia Blog
Dewayne in SD
Frisky Fans
Gay Demon
Gay Porn Blog
Gay Porn Fanatic
Gay Porn Times
Give Me Gay Porn
Jack Manly
Jesse Jackman
Just Us Boys
Manhunt Daily
Men On The Net
Mr Gay
Nick Young XXX
Night Charm
Queer Me Now
Queer Pig
QueerClick
Rabbits Reviews
Randy Blue
smutjunkies
Starrfucker
Str8UpGayPorn
The Best Porn
The Gay Republic
The Sword
WeHo Confidential
Wicked Gay Blog
Who Will Win: QueerClick or QueerPig or QueerMeNow. These advertorial sites (I like to call them "coupon blogs") written by "anonymous" bloggers in foreign countries always seem to be the easy, non-offensive choice.
Who Should Win: Jack Manly. There isn't a single studio or scene that they don't praise, but they're always very thorough, and niceness can be a breath of fresh of air now and again.
No Guts, No Glory: Randy Blue and GayPornTimes. While they've had quite a transitional year, Randy Blue is still a gay porn studio and has not turned into a blog (yet). And GayPornTimes hasn't been updated since 2013. (Then again, neither have a lot of the noms.)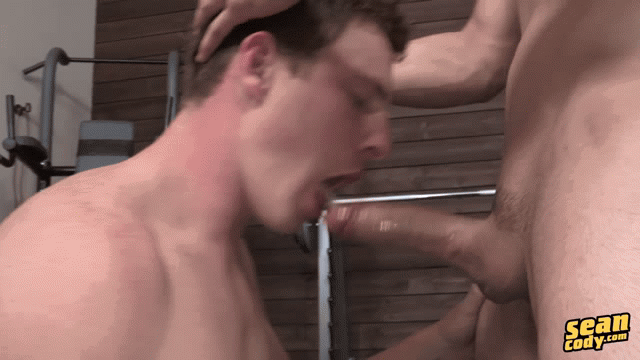 Best Video Site
All Australian Boys
Alternadudes
Badpuppy
Bear Films
Bel Ami Online
Biaggi Videos
Broke Straight Boys
C1R
Cazzo Club
Chaos Men
Citiboyz
Cocksure Men
Cocky Boys
COLT Studio Group
Corbin Fisher
Dallas Reeves
Dirty Boy Video
Dirty Tony
Dominic Ford
Eurocreme
Factory Video Productions
Falcon Studios
FlavaWorks
FraternityX
French Twinks
Fresh SX
Gay Hoopla
Helix Studios
Hot Desert Knights
Hot House
Icon Male
Jason Sparks Live
Jet Set Men
Juicy Boys
Kristen Bjorn
Lucas Entertainment
Lucas Kazan
Maverick Men
Men.com
Naked Sword
Next Door Studios
Phoenixxx
PLAYGIRL
Raging Stallion
Randy Blue
Raw Fuck Club
Rub Him
SDBoy
Sean Cody
Sketchy Sex
Stag Homme
Staxus
Tim Tales
TIMFuck
Titan Men
Who Will Win: Sean Cody. Now that Sean Cody is part of big conglomerate MindGeek, they could finally score a major win.
Who Should Win: Sean Cody. They've had a lackluster last few months, but as bad as some of the scenes were, it's the still the best gay porn being released today.
No Guts, No Glory: YIKES. Hot Desert Knights and Dallas Reeves and SD Boy and Jason Sparks and Dominic Ford and Playgirl and Biaggi Videos? I mean, take your pick. Jet Set Men, on the other hand, hasn't produced or released any content in years, so that's easily the most "WTF" nominee here.
Best Newcomer
Aarin Asker
Alex Mecum
Austin Keyes
Brendan Patrick
Camille Kenzo
Damon Heart
Dustin Gold
Emir Boscatto
Eric Nero
Jacob Ladder
Jacob Peterson
Kyle Kash
Massimo Piano
Noah Matous
Rhys Jagger
Sebastian Kross
Tyler Hill
Who Will Win: Sebastian Kross or Tyler Hill. The Cybersockets like to spread the love, so they could award two performers here (and by extension, the two studios at which they are exclusive, Falcon and Helix, respectively).
Who Should Win: Kyle Kash or Alex Mecum or Sebastian Kross or Tyler Hill. The noms in this category are almost 100% on point, so any of these guys winning would be deserved.
No Guts, No Glory: Aarin Asker, only because I don't know who that is. And you don't either.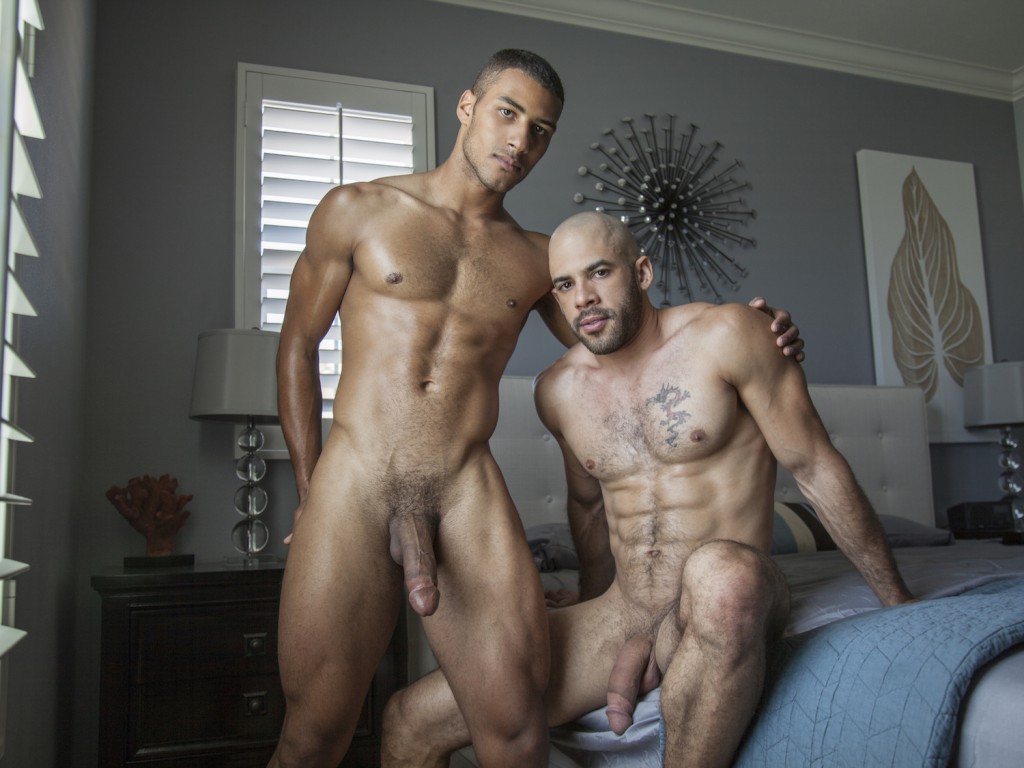 Best Sex Scene
—Amazeballs from Cocksure Men – Starring Aarin Asker and Derek Parker
—Bareback in Augusta from Jason Sparks Live – Starring Gage Bentley, Dillon Anderson, and Tanner Bradley
—Body Language from Helix Studios – Starring Max Carter & Liam Riley
—Curtis & Randy: Bareback from Sean Cody – Starring Curtis and Randy
—Dominic Santos Gets Barebacked By Special Guest Star Austin Wilde from Randy Blue – Starring Austin Wilde and Dominic Santos
—Guard Patrol Gang Bang from Monster Bang – Starring Mitch Vaughn, Brian Bonds, David Benjamin, and Rocco Steele
—Gutter Punks from Hot House – Starring Darius Ferdynand & Ryan Rose
—Jed and Armond from Raw Fuck Club – Starring Jed Athens and Armond Rizzo
—Johnny Goes Bareback Pt. 4 from Juicy Boys – Starring Johnny Rapid, Dennis West, and Jake Wilder
—Biggest Catch by NakedSword Originals Starring Killian James and Adam Ramzi
—My New Stepdad is a Pervert Pt. 1 from Men.com – Starring Adam Herst and Travis Stevens
—Redneck Weekend Jeep from Biaggi Videos – Starring Rikk York and Antonio Biaggi
—Bareback Cum Swappers from Lucas Entertainment – Starring Leo Alexander and Zander Craze
—Scene in Blue Coller Ballers from Titan Men – Starring Dirk Caber and Dallas Steele
—Daddy Chasers from Catalina Studios – Starring Trenton Ducati and Jason Phoenix
—Daddy Issues from C1R – Starring Rocco Steele and Casey Everett
—Fathers and Sons from Icon Male – Starring Nick Capra & Connor Maguire
—Issue #27 from Kinky Angels – Starring Hoyt Kogan and Claude Sorel
—Meeting Liam from Cocky Boys – Starring Levi Karter & Liam Riley
—Naughty Pines 2 from Falcon Studios – Starring Sean Zevran and Topher DiMaggio
—Sidewinder from Raging Stallion – Starring Sean Zevran and Sebastian Kross
—Twinky & the Bear: A Beary Gay XXX Tale from Manville Entertainment – Starring Chase Young and Fabio Stallone
—So You Think You Can Fuck Season 5, Round 2 from Dominic Ford – Starring Billy Santoro, Dylan Knight, and Brandon Wilde
—Stick It, Fuck It, Breed It, Leave It from Treasure Island Media – Starring Drew Sebastian and Jacob Lee
—Taking Advantage from UK Hot Jocks – starring Kayden Gray and Alexis Belfort
—Tatted Alterna-Cubs Suck Cock in the Woods from Alternadudes – Starring Israel Oka and Kit Coda
—The Wedding Planner from Next Door Studios – Starring Derrick Dime and Abel Archer
—Two Americans for a Frenchie from French-Twinks and Helix Studios – Starring Camille Kenzo, Casey Tanner, and Blake Mitchell
Who Will Win: Killian James and Adam Ramzi in NakedSword's Biggest Catch. Say what you will about Killian James (and there is a lot to say!), but he and Adam had great chemistry in NakedSword's best, most-watched movie of the year. Cybersocket will want to acknowledge them (and NakedSword, and mr. Pam).
Who Should Win: Curtis and Randy, or Austin Wilde and Dominic Santos.
No Guts, No Glory: "Bareback in Augusta" from Jason Sparks. Girl bye.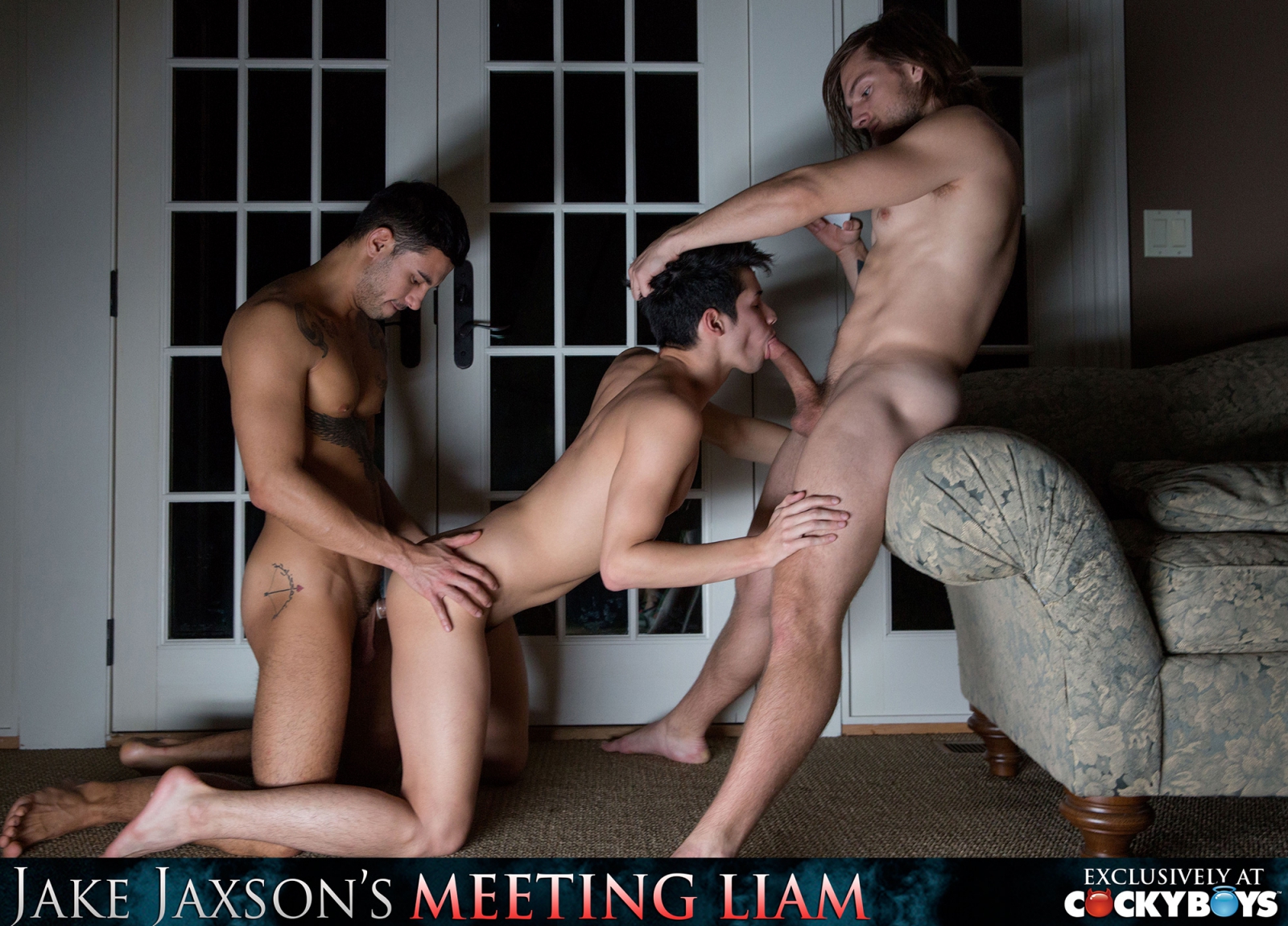 Best Movie or Web Series of the Year
—A Wicked Game from Naked Sword Originals
—Bad Cop from Titan Men
—Bear Infantry from Bear Films
—Beef N' Briefs from Colt Studio Group
—Daddy Issues from C1R
—Fine Tuned Ass from Hot House
—Forgive Me Father 2 from Icon Male
—Fucking Kris from Bel Ami Online
—Gay of Thrones 2 from Men.com
—Gender Benders 2 from FTM Nameless Trans People
—Guard Patrol from Monster Bang
—Horny School Boys from Helix Studios
—I Dream of Twinky: A Magical XXX Fantasy from Manville Entertainment
—Johnny Goes Bareback from Juicy Boys
—Less Than 20 Feet Away from Randy Blue
—Meeting Liam from Cocky Boys
—Naughty Pines 2 from Falcon Studios
—Raw Threeway from Lucas Entertainment
—Redneck Weekend from Biaggi Videos
—Sidewinder from Raging Stallion
—The Asiancy from Peter Fever
—Twinks Destroyed from Bareback Monster Cocks
Who Will Win: Meeting Liam.
Who Should Win: Meeting Liam. It cemented Liam Riley's star status. It featured Tayte Hanson, Ricky Roman, and Levi Karter's mind-blowing double-penetration fuckfest. And, most importantly, it's the only movie on the list that's actually a movie. Jake Jaxson and CockyBoys will win Cybersocket's Best Movie award two years in a row (they won last year for Answered Prayers), a feat that Helix pulled off in 2013 and 2014 with The Cage and Helix Academy.
No Guts, No Glory: "Raw Threeway" from Duckface Entertainment. Barf.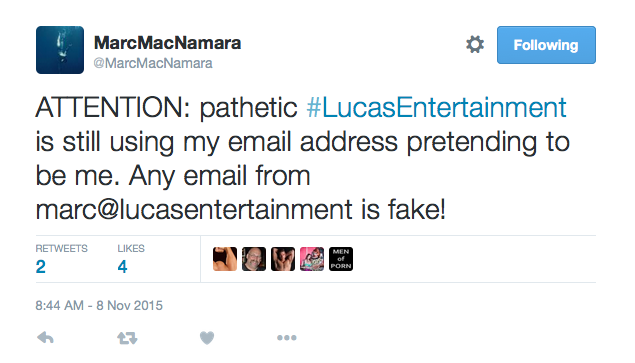 Best Personality
Austin Wilde
Bianca Del Rio
Buck Angel
Chi Chi LaRue
Christian Owen
Colby Keller
Doug Richardson
Erik Schut
FabScout Howard
Hans Berlin
Jeremy Lucido
Jesse Jackman
Marc MacNamara
Michael Lucas
mr. Pam
Nick Capra
Pablo Hernandez
Sister Roma
Steve Peña
Topher DiMaggio
Trenton Ducati
Trevor Knight
Zachary Sire
Who Will Win: Marc MacNamara. He's easy to work with, his peers and his performers genuinely like him, and frankly, he's just too loud to ignore.
Who Should Win: Colby Keller. A great guy with an actual personality? What a concept.
No Guts, No Glory: Michael Lucas. It takes a lot to have a nominee who is less deserving and more of a mess than Zachary Sire, but the Cybersockets found one in Duckface.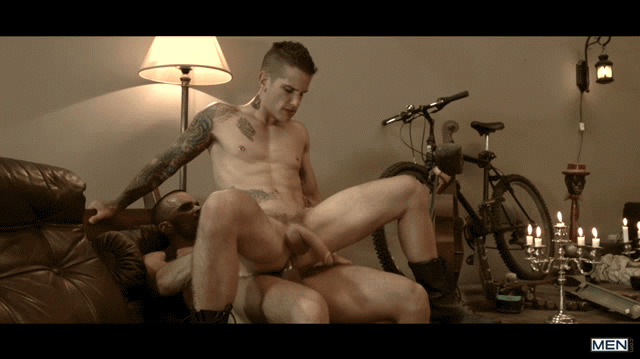 Best Porn Star
Adam Killian
Adam Ramzi
Adam Russo
Andrew Fitch
Antonio Biaggi
Asa Shaw
Austin Wilde
Austin Wolfe
Billy Santoro
Boomer Banks
Brandon Wilde
Brent Corrigan
Brent Everett
Chase Young
Colby Keller
Colton Grey
Curtis (Sean Cody)
Dallas Reeves
Derek Parker
Dirk Caber
Dolf Dietrich
Dominic Pacifico
Drew Sebastian
Dustin Tyler
Evan Parker
Hunter Vance
Jaro Stone
Jesse Jackman
Jimmy Durano
Johnny Rapid
JR Bronson
Kevin Warhol
Kirk Cummings
Kris Evans
Landon Conrad
Levi Karter
Liam Riley
Malachi Marx
Marc Angelo
Markie More
Matt Stevens
Michael Lucas
Nick Capra
Paddy O'Brian
Peter Le
Pierre Fitch
Ray Dalton
Rikk York
Rocco Steele
Ryan Rose
Sean Zevran
Sebastian Kross
Tayte Hanson
Theo Ford
Tim Kruger
Tommy Deluca
Trenton Ducati
Trevor Knight
Ty Roderick
Wolf Hudson
Zander Craze
Who Will Win: Pierre Fitch (alternate: Colby Keller). Given his popularity, it might finally be Pierre's turn to win.
Who Should Win: Colby Keller
No Guts, No Glory: Trevor Knight