A Candidate For President Of The United States Just Retweeted A Gay Porn Star
Sorry, this RT doesn't involve Donald Trump, but it if did, that probably wouldn't be a surprise, given his many supporters in the gay porn industry.
The presidential candidate who RT'd a gay porn star was actually Green Party nominee Dr. Jill Stein. If you haven't already guessed, the gay porn star she RT'd was Conner Habib: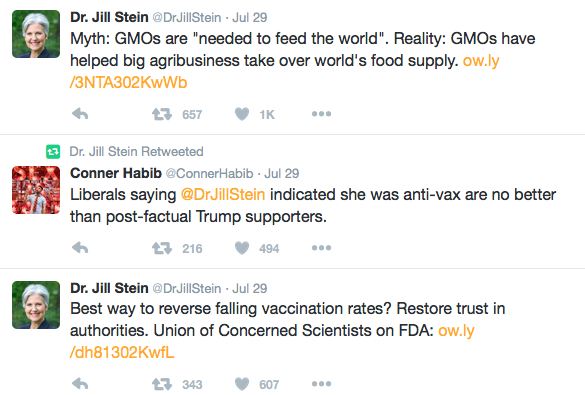 As her poll numbers continue to rise (from, like, 1% to 3%), Stein has been hit with criticism that she's an anti-vaccine nut, and Conner Habib was there to help her push back on those apparently false claims.
Here's Dr. Jill crashing the DNC earlier this week:
Dr. Jill RT'ing Conner Habib isn't the first time a gay porn star has caught the attention of a candidate for president, or even an actual president. As you'll recall, gay porn star Gavin Waters met with Hillary Clinton last October, and former ActiveDuty.com gay porn star David Townsend posed with President Bill Clinton back in 2009 or 2010.
Dare to dream, Jacob Ford (a.k.a. Sean Cody's Porter). If these guys can do it, maybe you too can one day meet your hero, Donald Trump.