FIGHT! British Gay Porn Star Threatens To Punch Anonymous Sword Blogger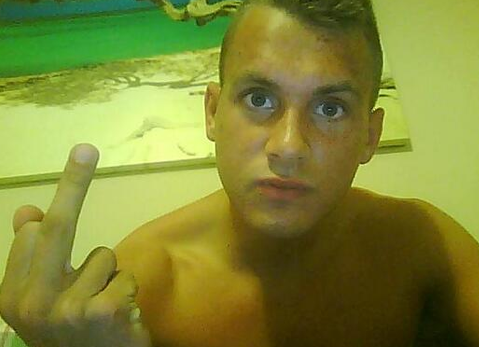 Last week, the Sword's new editor, J.W. Waxner-Herman (that's not his real name), randomly decided to insult a relatively unknown gay porn star named Shay Cruz. Waxner-Herman (who has the privilege of insulting people while writing under a pseudonym, which theoretically makes him no different than an anonymous blog commenter) called British gay porn star Shay Cruz a "pizza face" while describing the performer's new UK Naked Men scene:
Anyway, it's your classic pizza-delivery boy scenario, except in England they call it "take-away." And Theo takes a drilling from Pizza Face Shay.
I'm always observant of certain things that gay porn stars should have control over (overly plucked eyebrows, steroid bacne, FUPAs), but overt name-calling (especially directed at someone who's done absolutely nothing whatsoever to deserve or provoke it) intended to directly insult a performer's physical appearance is something else. Pizza Face? Most of us with the writing ability beyond that of an 8th grader know that if you really want to insult someone, you don't have to actually call them a name.
Anyway, Shay Cruz is (rightfully) pissed! Watch out, "J.W. Waxner Herman." And Shay, you're cute. You can "fuck me up" anytime 😉