Brutally Honest 2023 Oscars Ballot: Everything Everywhere A "Nonsensical And Convoluted Stoner Movie"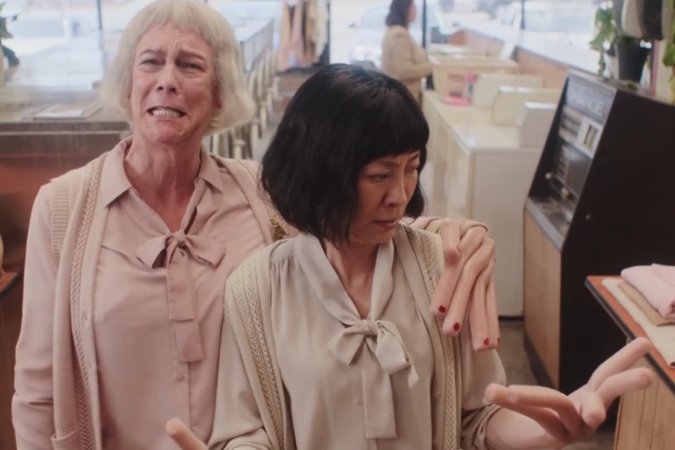 While I hate/love these annual anonymous Oscar voters revealing their choices, I rarely agree with any of their awful picks. This one published on The Hollywood Reporter from some asshole in the producer's branch is no exception. Although, I completely agree with his take on the simplistic and sophomoric wanna-be comic book action-family-dramedy about butt plugs and lesbian hot dog fingers, Everything Everywhere All At Once:
I hated the one that's going to win, Everything Everywhere All at Once. I've had many friends say "It's a stoner movie!" Well, I'm a stoner, and I couldn't enjoy it. I had to start it four times; the fourth time, I finally made it through the whole thing. It's just so nonsensical and convoluted. I heard somebody in an interview call it "a lesbian Fantasia" — where the fuck does that come from? There was only one thing I enjoyed in the movie, and that was Jamie Lee Curtis. Tár was over-amped and rang untrue to me; I don't believe that directors of orchestras are chartering private jets to fly back and forth like that. It was like a female version of No Country for Old Men — the whole movie made me feel miserable. I wasn't into the first Avatar, and I wasn't into this one [Avatar: The Way of Water]. Women Talking? God damn. It should have just been a play. I couldn't get into it. It felt like homework. The third act of The Banshees of Inisherin lost me. I liked The Fabelmans — she [Michelle Williams' character] reminded me of my mother. I really enjoyed Top Gun [Maverick] — it was entertaining, it was big, and it was exactly what I expected. Triangle of Sadness was great — I loved the first 90 percent of it, but I have to admit I was getting a little bored by the end. All Quiet on the Western Front was one of the most powerful antiwar movies I've ever seen. But Elvis was my favorite — I saw it twice.
[THR]
He ended up voting for Elvis, which of course won't win. His full ballot is here, but none of his acting picks will win either, except for maybe Austin Butler.