Can A Gay Cruise Keep 5,500 People Safe Amid Covid?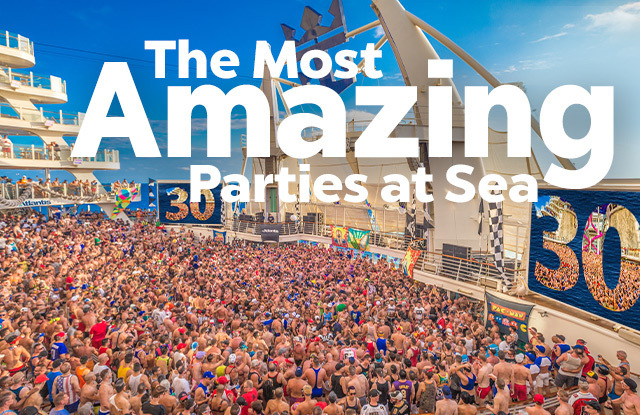 This picture reminds me of that scene in World War Z.
For me, the thought of any cruise is a nightmare. But an all gay cruise during a global pandemic? That's literally Hell on earth, and I'd rather be shot dead. But, if the gays want to do drugs and have massive group fuckfests on the high seas, there's nothing you can do to stop them. Via NY Times:
As the Omicron variant of the coronavirus continues to surge onboard cruise ships, forcing several cruise lines to cancel and postpone voyages, Atlantis Events, a gay and lesbian tour operator, is preparing to launch one of its biggest events on Sunday: a 5,500-person Caribbean cruise marking the company's 30th anniversary.

Atlantis insists that its vaccination mandate, testing requirements and health protocols are enough to provide a safe environment for guests throughout the voyage. Many passengers are convinced.

"It's time to start living our lives again and vaccines and tests allow us to do that. This isn't Covid 2020," said Andre Mayer, a graphic designer from Germany who paid more than $4,000 for the weeklong cruise on board Royal Caribbean's Oasis of the Seas. "This is going to be the wildest party for our community in two years. I'm talking dirty dancing, sex, drugs, raves, orgies and sweet, sweet freedom."

For the hundreds of cruise passengers who contracted the coronavirus on board other ships in recent weeks, many falling ill and spending days in quarantine, their experience couldn't have been further from the carefree vacation that Mr. Mayer anticipates. After testing positive, many hoped to isolate in their airy rooms with balconies, but were transferred to basic quarantine facilities — some of them without windows — and served food that they described as cold and hideous.

For some booked on the Atlantis anniversary cruise, these reports and the Omicron wave of the virus is causing them to reconsider their plans. But the company's strict cancellation policy does not offer refunds for changes made within 60 days of departure, forcing guests to weigh health risks against losing thousands of dollars.

"The Covid reality changes so quickly that there needs to be more flexibility," said Aiden Morgan, a 44-year-old dance teacher from Boston. Mr. Morgan sold his ticket on Facebook, but was only offered a $1,480 for his $3,800 ticket.
Morgan obviously made the right call. Best of luck to everyone else. Maybe all the inevitably infected gays can still do their drugs and have their orgies while in quarantine together?
[NYT: Can a Gay Cruise Keep 5,500 People Safe Amid Covid?]