REALLY?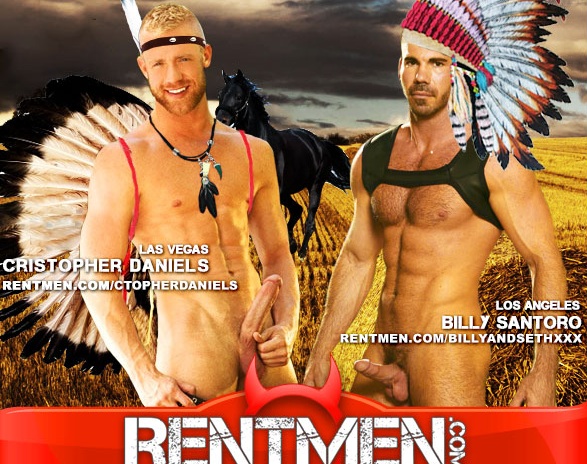 No one ever said the gay porn industry and tangential escorting business was supposed to be politically correct, but there's bound to be someone offended by Rentmen.com's decision to Photoshop (and badly Photoshop, at that) Native American regalia onto Christopher Daniels and Billy Santoro and to present them as "Indian fantasies." As if slaughtering them and stealing their land wasn't enough, now we're making them out to be turkey feather-wearing whores?
Oh boy:
Native American Stallions – Christopher & Billy
Saddle up and ride along with these two studs and show them what you're thankful for this holiday! Turkey feathers never looked so appealing than in this Indian fantasy! Or choose your holiday cheer from the other 1000's of men on RentMen.com!

I wonder if the studios that took the original photos used in the ad above mind that their images are being appropriated this way? I think the Daniels one is from Titan, and Rentmen.com better pray that the Santoro one is from Men.com and not Litigious Lucas Entertainment.