Cybersocket Awards: Who Will Win, Who Should Win, And Who Doesn't Stand A Chance In Hell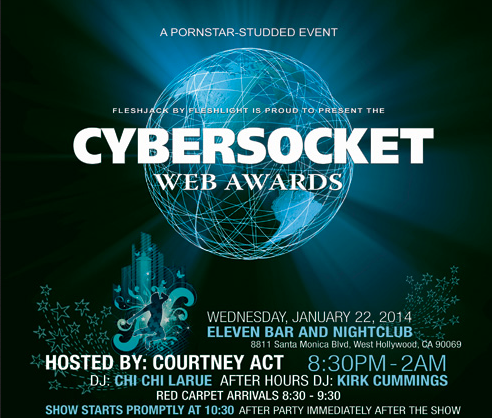 It's an annual tradition for me to try and predict the basically unpredictable Cybersocket Award winners, so let's get to it. The winners are, in my opinion, usually based on a combination of two things: Which studio spent the most money buying ads in Cybersocket magazine, and which performer/studio actually got the most fan votes. They try to be fair and they sometimes are, but let's be real.
That said, the party and ceremony are always a blast, and it's a great opportunity for a bunch of crazy people to get together and get blackout drunk, myself included. Follow me on Twitter tonight for live/drunk tweets from the show.
As I say every year: I'm usually about 99% wrong, so keep that in mind. "Who Will Win" is based on who I really think will win; "Who Should Win" is who I think is most deserving of a win; "No Guts, No Glory" is who I think doesn't stand a chance in Hell.
Best Porn Review Site
Men On The Net
Nick Young XXX
Queer Click
Gay Porn Times
Just Us Boys
Jack Manly
Manhunt Daily
The Sword
Diesel Washington XXX
Night Charm
Gay Daily Hot
Starrfucker
Dewayne In SD
You Love Gay Porn
Banana Guide
Hairy Dads & Co
Joe Spunk
Completely Naked
Gay Porn Blog
Queer Me Now
WeHo Confidential
Twisted DNA 46XY Blog
The Gay Republic
Give Me Gay Porn
smutjunkies
Who Will Win: 1/2 of these sites don't even publish on a daily basis. Some have stopped publishing all together. Maybe they'll give it to QueerMeNow since he gets a lot of traffic and is always nice to everybody?
Who Should Win: The Sword. If it does, should I storm the stage and make a speech? The nomination did come out while I was still editor of the site…
No Guts, No Glory: The hell is Twisted DNA 46XY Blog?
Best Video Site
Hot House
Lucas Entertainment
Haze Him
Lucas Kazan Productions
Raging Stallion Studios
Alphamales
Next Door Buddies
NakedSword
Randy Blue
Dink Flamingo's Active Duty
Men.com
Dirty Boy Video
Channel 1 Releasing
Badpuppy
You Love Jack
Menatplay
COLT Studio Group
Helix Studios
Dirty Tony
Dominic Ford
TimFuck
Bel Ami Online
Corbin Fisher
Cocksure Men
Cocky Boys
Dominic Pacifico
Tim Tales
Stag Homme
Citiboyz
Kristen Bjorn
Broke Straight Boys
Sean Cody
FlavaWorks
Blake Mason
William Higgins
Fresh SX
Phoenixxx
Jet Set Men
AllRealBareback
Who Will Win: Since they nominated literally every website in existence, your guess is as good as mine. Probably Men.com, since they've got all that straight porn money.
Who Should Win: Based on consistency and overall hotness of models, Sean Cody or CockyBoys.
No Guts, No Glory: Jet Set Men, which hasn't produced a movie since April 2013.
Best New Pornstar
Chase Young
Seth Treston
Kirk Cummings
Tony Orion
Seth Fornea
Connor Kline
Adam Wirthmore
Darius Ferdynand
Jace Tyler
Bric
Shawn Wolfe
Lance Luciano
Duncan Black
Tanner (Sean Cody)
Drew Sebastian
Damon Archer
Cole Hudson
Levi Karter
Tyson Tyler
Mike de Marko
J.R. Bronson
Damian Taylor
Dale Cooper
Johnny Bloom
Paul Stack
Austin Wolfe
Brandon Bronco
Brock Avery
Ian Dempsey
Robbie Callahan
Ricky Roman
Christian Mitchell
Mike Dozer
Byron Saint
Liam Magnuson
Boomer Banks
Who Will Win: They always pick two, so I'm guessing Levi Karter (who was inescapable last year) and Connor Kline (because he knows how to rally his fans).
Who Should Win: He really did have a great year, so Connor Kline for one. The other one? Obviously, Duncan Black.
No Guts, No Glory: Kirk Cummings, who has been doing gay porn since 2008.
Best Sex Scene
Original Sinners with Adam Killiam, Diego Lauyer and Wagner Victoria – Lucas Entertainment
The Game with Connor Kline and Austin Wilde – Guys In Sweatpants
The Subservient with Adrian Toledo and Adam Wirthmore – Menatplay
Dorm Life 5; Scene 6 with Fine Charles, Sorm, Shorte Jo, Shiri Pimp, Lance Markell, Adrian, Sexy Husttall – Flavaworks
Circus Stud with Curved Cock Fucks Long Haired Tatted Rocker with Jace and Murphy Maxwell – Alternadudes
Top To Bottom with Topher DiMaggio and Paddy O'Brian – Men.com "Men of UK"
At The Ready 3 with Bailey and Kaden – Active Duty
Behind The Big Top with James Jameson and Dale Cooper – Raging Stallion Studios
Muscle Bound with Trenton Ducati and Ryan Rose – Falcon Studios
Sweat Box with Tate Ryder, Sean Duran, and Jeremy Stevens – Dominic Ford
Liam Cole's Out Laws; Scene 4 with Steve Hook and Amy Field – Treasure Island Media
The Helix Live Show Orgy with Max Carter, Kyle Ross, Jess Montgomery, Aiden Summers, Klye Ash, Dominic Jones and Chase Young – Helix Studios
Cruising for A Breeding; Scene 4 "It's 27 Feet Away" with Antonio Biaggi and Dylan Hyde – Bareback RT Media
Christian Wilde Bottoms for First Time for Austin Wilde with Christian Wilde and Austin Wilde – NakedSword
"Snatched" Double Penetration Scene with Luke Colts, Desmond, Billy Rubins – Bulldog XXX It's Snatched
Orgy Scene in Fucked By Our Dads with Adam Russo, Doug Acre, Mike Demarko, Rex Roddick, Mitch Vaugh – Catalina/Channel 1 Releasing
Tate Bangs Dominic Poolside with Tate Ryder and Dominic Pacifico – Dominic Pacifico
Muscle Ridge with Adam Champ and Trenton Ducati – COLT Studio Group
Christopher Daniels and CJ Madison from Teddy Bears with Christopher Daniels and CJ Madison – Channel 1 Releasing
Grind House; Scene 4 "Threeway – Live Shoot" with Adam Killian, Trenton Ducati and Jake Genesis – NakedSword
Mick, Kevin and Gino "An American in Prague: The Remake" with Mick Lovell, Kevin Warhol and Gino Mosca – Belami
Clayton's Birthday Threeway with Clayton Archer, Bradley Rose and Fabian – Dirty Tony
My Doctor Sucks; Scene 3 with Angel Rock, Brandon Jones and Lance Luciano – Hot House Studios
The Dungeon Club "Nine Man Orgy" with johnny Torque, James Jameson, Tyler Toro, Donny Wright, James Huntsman, Cameron Foster, Brody Wilder, Campbell Stevens, Connor Maguire – Next Door Studios
Jack Deckard, Rogan Richards and Austin Merrick with Jack Deckard, Rogan Richards and Austin Merrick – Cocksure Men
Austin Wolfe and Caleb Strong with Austin Wolfe and Kaleb Strong – Randy Blue
Paul Cannon and Ian Dempsy with Paul Cannon and Ian Dempsy – Broke Straight Boys
Smith and Quinn with Smith and Quinn – Corbin Fisher
"First Time: Part II Chapter 4" with Michael Cash, Donato Rayes, Aymeric DeVille and Sergio Serrano – Kristin Bjorn
Axel, Christian and Robbie Threesome with Axel Rhodes, Christian Chase and Robbie Callahan – CitiBoyz
The Muse: Goran, Donato and Damien with Goran, Donato Reyes, and Damien Crosse – Stag Homme Studios
"Wank In The Woods II: Part 2 Cam" with Pavel Matovus, Oleg karmic, Krystof Nicolas, Tadevsz Tesar, Boris Mateo, Eric Flower, Jakuv Costka, Roland Volker, Vikto Vesely, Kristian Dubcek and Joska Kalvoda
Anton Dickson and Andy O'Neil – Fresh SX
Road trip; Eps 4 with Jake Bass, Max Ryder and Kevin Warhol – Cocky Boys
Grant and Ashton with Grant and Ashton – Sean Cody
Rafael and Jesse: All Of It with Rafael Carrera and Jesse Santana – Raw Fuck Club
Waxed with Brett Summers & Johnny Torque – Jet Set Men
Who Will Win: Are you even still here after scrolling through that mess? IDK, the one with Ryan Rose and Trenton Ducati seems like a safe bet.
Who Should Win: I might be biased since I wrote the scene, but Christian Wilde's first time bottoming for Austin Wilde in Golden Gate should win.
No Guts, No Glory: As amazing as I'm sure it was, Circus Stud with Curved Cock Fucks Long Haired Tatted Rocker won't be snatching any trophies tonight.
Movie or Web Series of the Year
Fire Island – Dominic Ford
First Time – Kristin Bjorn
Wank In The Woods II – William Higgins
The Haunting – Cocky Boys
Original Sinners – Lucas Entertainment
Dorm Life 5 – Flavaworks
Diary of A Bitch Bottom – Alternadudes
Real House Husbands of Miami – Phoenixx Studio
Mating Season – Blake Mason
Reinlisted – Active Duty
The Woods I and II – Raging Stallion Studios
Tahoe: Snow Packed/Tahoe: Snow Plowed – Falcon Studios
SLAMMED – Treasure Island Media
Helix Academy – Helix Studios
Prison Shower – Men.com
Cruising for a Breeding – Studios Bareback RT Media
Golden Gate Season 5: The Coverup – NakedSword
Birthday Boy – Eurocreme
London Spunked – All Worlds Video / C1R Releasing
Flexxx Extreme – Pacifico Entertainment
Off The Hook – Buckshot
Armour – COLT Studio Group
An American In Prague 3D – BelAmi
The Dom/The Sub – Hot House Studios
The Buddy System – Next Door Studios
Devil Dawgs Dominate – All American Heros
Silence of the Cams – Dominic Ford
Bad Boys – CitiBoyz
Gods of Porn – Stag Homme Studios/Raging Stallion
A Monster Inside Me III – Dark Alley Media
The Ultimate Top – Jet Set Men
Who Will Win: Helix Academy. They won last year, and I wouldn't be surprised if they $omehow pulled it off again.
Who Should Win: Treasure Island Media's Slammed. Just kidding. As much as I love shooting up meth and barebacking, I'm gonna have to go with the stunning and genre-busting The Haunting. It's almost kind of embarrassing that it's in the same category with some of this other garbage.
No Guts, No Glory: Silence of the Cams? The Ultimate Top? Diary Of A Bitch Bottom? The possibilities are endless.
Best Porn Star
Michael Lucas
Paddy O'Brian
Jessy Ares
Austin Wilde
Paul Wagner
Dean Monroe
Johnny Rapid
Tristan Mathews
Antonio Biaggi
Dominic Pacifico
Brandon Jones
Colby Jansen
Axl
Jimmy Fanz
Max Carter
Kyle Ross
Evan Parker
Jessie Montgomery
JD Phoenix
Ty Roderick
Jake Bass
Billy Rubens
Spencer Reed
Tate Ryder
Johnny Hazzard
Christian Wilde
Leo Forte
Kevin Warhol
Jeremy Stevens
Ryan Rose
Mick Lovell
Topher DiMaggio
Trenton Ducati
Angel Rock
Johnny Torque
Leo Domenico
Landon Conrad
Billy Santoro
Paul Canon
Max Ryder
Adam Russo
Tomas Brand
Marco Sessions
Jordan Levine
Damien Crosse
Jordano Santoro
Brandon (Sean Cody)
Trevor Knight
Brent Everett
Connor Maguire
Fostter Riviera
Alessio Romero
Jonathan Agassi
Conner Habib
Adam Killian
Casey Williams
Who Will Win: Regrettably, Paddy O'Brian.
Who Should Win: Topher DiMaggio or Jimmy Fanz. Or Jake Bass or Max Ryder. Or Johnny Rapid. Shit, even Johnny Torque! Anyone but Paddy, please.
No Guts, No Glory: Fostter Riviera?
Best Personality
Chi Chi LaRue
Eyal Feldman
mr. Pam
Sister Roma
TedzMen
Marc Dylan
Tommy Defendi
Diesel Washington
Rod Daily
Antonio Biaggi
Seth Knight
Leo Forte
Steve Peña
Trenton Ducati
Zach Sire
Howard Mar
Tim Valenti
Rob Romoni
Michael Brandon
Who Will Win: Trenton Ducati
Who Should Win: If this were for "Worst" Personality I'd say myself, so maybe Sister Roma?
No Guts, No Glory: Marc Dylan