[UPDATED] Can You ID This Texas-Based Gay Porn Star Just By His Leg?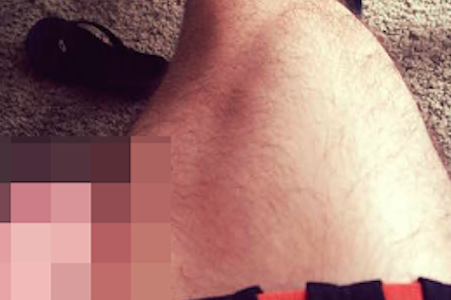 Gawker's story on David Geithner—the Condé Nast CFO and brother to Timothy Geithner (former Treasury Secretary under Obama) who tried to hire a gay porn star for $2,500—is as salacious as it is divisive. A lot of the site's commenters are lambasting Gawker for outing a closeted family man who wasn't really doing anything wrong (other than trying to hire a prostitute, which is illegal). Others are pointing out that Geithner has a high enough profile to justify his being exposed.
Unfortunately, Gawker has not ID'd the gay porn star escort who outed Geithner, but with your help, maybe we can!
[Update: The gay porn star escort has been ID'd as Brodie Sinclair below.]
Here's what we have to go on so far: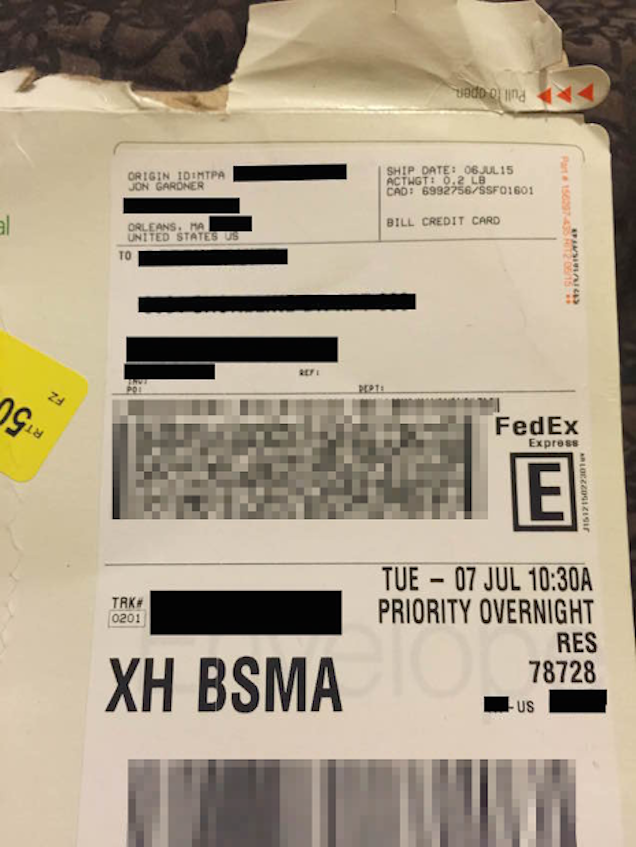 1. His zip code as seen on the photo of the Fed Ex package: 78728—Austin, Texas (in the northern part of the city).
2. He's a military veteran. Per the Gawker story, the gay porn star escort owned "an emotional assistance dog to help ease his PTSD," which led to his being kicked out of his apartment complex.
3. His leg. Here's the picture that the gay porn star sent to Gawker, which also shows some of his text conversation with Geithner. Other than what appears to be a very small mole or birthmark on the right front of his quad, there isn't much to go on.
Can you ID this gay porn star based just on this pic of his leg? Email me (anonymity guaranteed), or leave a comment below with your best guess.
Remember: He lives in north Austin, is a military veteran suffering from PTSD, and he owns (or owned) a service dog. Also, per the Gawker story, the gay porn star escort's Facebook page (which is under his real name) "contains a number of videos and photographs advocating for a variety of conspiracy theories."
Who could it be?
UPDATE: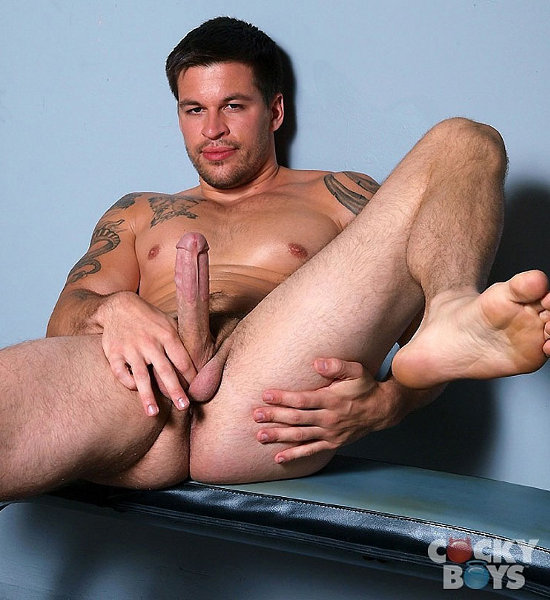 UPDATE: The gay porn star escort is none other than Brodie Sinclair, which is, like, so random. Sinclair—whose real name is Derek Truitt—hasn't done gay porn in years (he was last seen on CockyBoys), but he's obviously still escorting, with profiles on Rentboy and Hourboy.
As expert commenters French Bug and TK point out in the comments below, the photo Brodie Sinclair sent to Geithner is also posted to his Hourboy profile.
Here's Sinclair's photo as it's currently posted on his Hourboy profile, which is obviously an uncensored version of the same photo posted by Gawker:
It's extremely unclear what Brodie Sinclair thought he had to gain by exposing Geithner. One thing that is crystal clear: If you're looking to hire an escort discreetly, you'll probably want to avoid hiring Brodie Sinclair.
Also, giving out client information like Sinclair did (again, for seemingly no reason!) to Gawker is a cardinal sin in the eyes of Rentboy. If the company doesn't disable Sinclair's account and ban him from their site within the next 24 hours, I'd be shocked.
UPDATE #2: Meet Derek Truitt—The Insane Conspiracy Theorist Gawker Used To Out David Geithner