Don Vs. Ron Begins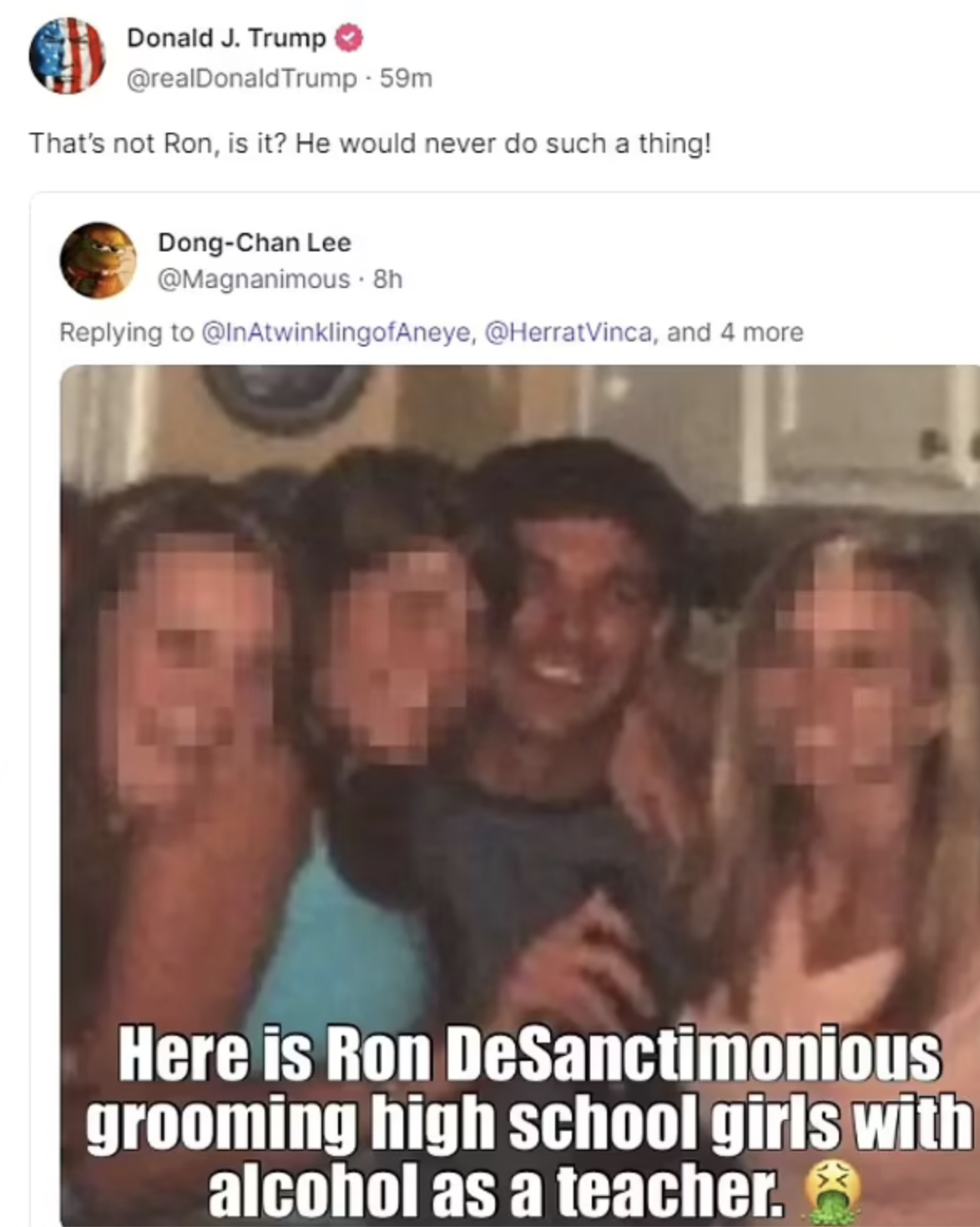 The image is probably fake and shows no evidence of anyone doing anything wrong, but no one loves fake news and bullshit more than the diseased and dying orange ghoul (whom I still believe will be dead or in prison before the 2024 election). On the bright side, at least it will be somewhat funny to watch these grotesque pigs rips each other apart for the next next year. Via DailyMail:
Former President Donald Trump, who ripped through the 2016 presidential field with attacks on his rivals, reposted images of a young Ron DeSantis allegedly partying with high school teens and adding his own mocking commentary.

"That's not Ron, is it? He would never do such a thing!" Trump wrote on his Truth Social platform.

The post linked to a Truth Social Account that grabbed a digital image of a young man with a bowl haircut who appears to be DeSantis surrounded by three young women.

To drive home the point, Trump also re-posted a message by a user named Dong-Chan Lee, who wrote that "Ron DeSantis was having a "drink" party with his students when he was a high school teacher."

The image, which blurs the identity of the people surrounding DeSantis, appears to come from a 2021 blogpost by HILLREPORTER.com. The post cites a 'whistleblower' who said the girls pictured 'are believed to have graduated in 2002, making them seniors at the time.'

DeSantis taught at the Darlington School in Rome, Georgia during the 2001-2002 year.

He was fresh out of Yale at the time, and students described him as smart, 'smug,' charismatic, and a 'jock.'
Barf.