Don't Give Your Credit Card Number To Fake Gay Porn Stars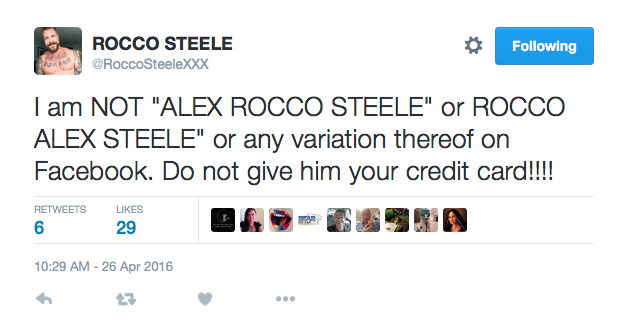 Internet fraud is nothing new—I think I received my first Nigerian prince email scam in, like, 1998?—but it has managed to evolve. One new way for criminals to defraud people is to pretend to be gay porn stars, then solicit fans for their credit card numbers in exchange for a webcam show, or even an in-person meeting. In case it isn't obvious: Don't give your credit card number to a gay porn star over the internet. It's a scam, and you are not talking to a real gay porn star. Even some real gay porn stars asking for money are scammers, too, but that's another story. In short: Don't give money to people on the internet. It's really not that hard.
Last year, a fake Boomer Banks was caught trying to get a fan's credit card number via Grindr, with the promise of a "free cam show." Other high profile stars being impersonated across social media (Twitter Facebook, Scruff, etc.) include Brent Corrigan, Brent Everett, and Rocco Steele, who tells Str8UpGayPorn that these scams are "happening to everyone now. Innocent fans are getting taken to the bank."
Steele continues:
The [scammer] will start flirting with a fan and say, "Come over to my hotel room, but give me a few minutes, my agent is here," to make it sound official. Then they'll say, "But why don't you sign up for my cam show in the meantime." And then the fan will actually show up to the lobby of the hotel that the scammer mentioned. Then I'll get an email asking where I am."
Here's an example of just one of the many fake Facebook pages impersonating Rocco Steele:
Again: Do not give your credit card number to someone on the internet, no matter how big of a "fan" you are. Rocco has stated explicitly and repeatedly that he will never ask someone for their credit card number.
Same thing with other high profile stars like Brent Corrigan and Brent Everett, who have both repeatedly pointed out the fake profiles impersonating them. Unfortunately, at least one fan, "Donald E. Bender," was tricked into giving money to fake Brent Everett/Corrigan accounts, and now he's taken to Twitter to harass the real Brents. This is…uhh…unfortunate: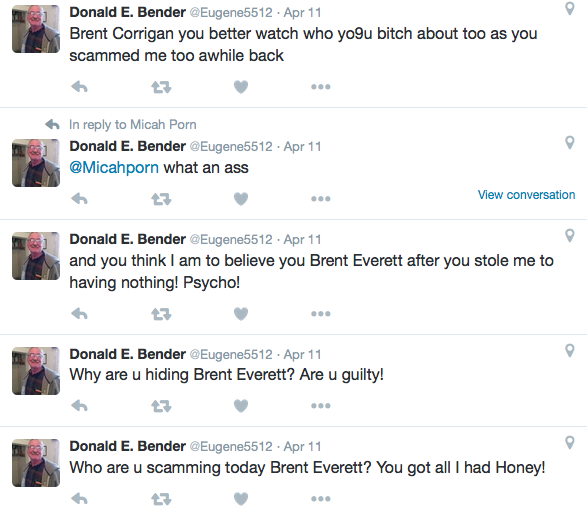 OK, to be fair, this person probably deserved to be scammed. But still! Don't give your credit card number to people on the internet.