Drag Queen Leads Police On Wild High Speed Chase In Stolen Truck, Loses Wig In Denny's Parking Lot
A southern California drag queen led police on a wild high speed chase last night in a stolen construction or utility truck of some sort, which eventually got onto the 91 freeway in the wrong direction before the queen hopped out, darted across lanes and was nearly hit by speeding vehicles, and then lost her wig while running through a Denny's parking lot in Corona. Wig down: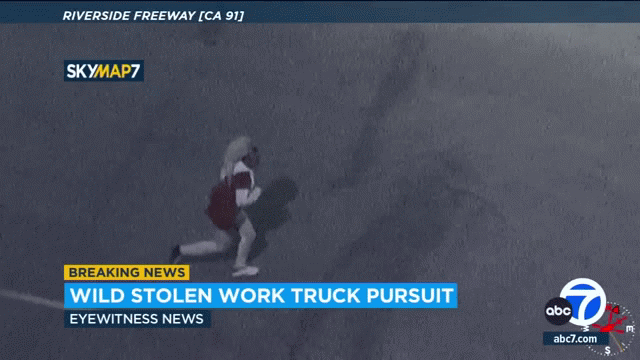 Here's a recap of the crazier parts of the chase, with the wig flying off around 3:35:
Well, the wig just fell off.
In a follow-up report today, ABC spoke with one of the Denny's employees who described what happened when the drag queen tried to hide out in the restaurant. The waiter comes on near the end of the clip, and he claims that the queen had a gun:
A drag queen stealing a truck, ramming police cars, running across all lanes of a major freeway, and losing her wig in a Denny's parking lot might've sounded insane 10 years ago, but in 2023, it's not that strange at all. It's interesting to see Gavin Newsom and Ron DeSantis being pitted against each other, given that California is quickly becoming the new Florida when it comes to the types of psychotic criminals we have here. You'd think the two governors could find a lot of common ground.