Elon Musk Wants To Measure His And Mark Zuckerberg's Dicks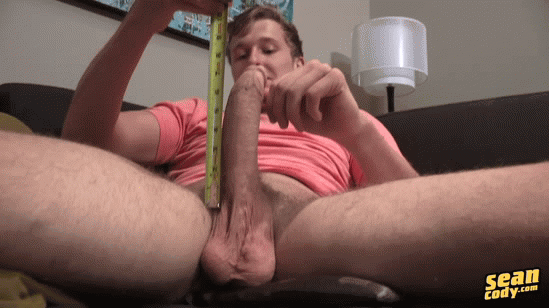 [gif of Donnie, not Elon Musk or Mark Zuckerberg, measuring his cock via Sean Cody]
Looks like the racist apartheid-era emerald mine heir is getting nervous. Twitter traffic is said to be down, while millions are joining Threads, via Mediaite:
Elon Musk is letting the personal insults fly as the social media feud between him and Mark Zuckerberg continues to heat up.

Meta's launch of Threads — a companion app to Instagram with numerous similarities to Twitter — has reignited the rivalry between Musk and Zuckerberg while their social media platforms battle for supremacy. The official Threads account for Wendy's stirred the pot by suggesting Zuckerberg should travel to outer space — a pointed reference to Musk's company SpaceX.

Threads drew tens of millions of users since its launch three days ago, so the competition between Musk and Zuckerberg is being waged on social, legal, and perhaps even physical fronts with talk of a cage match fight between the two.
[Mediaite]
Musk responded to one of his sycophants on Twitter by writing "Zuck is a cuck." He followed it up by asking for a "literal dick measuring contest" between him and Zuckerberg. I hate that the thought of this makes me want to barf, but for some reason, it also might be kind of hot? Maybe because it would mean that at least one of them could be potentially humiliated, and would possibly retreat from public life.
I'm not sure what Musk is worried about. Threads, like all the other Meta sites (Facebook, Instagram) doesn't allow porn or any nudity, and when you join, your feed is full of random assholes, "influencers," and brands whom you aren't even following, so it's a complete waste of time that's actually worse than Twitter, as I noted last week. Sex workers who want to promote their tits, cocks, and cum shots will stay on Twitter, and more importantly, the hundreds of millions of people who rely on Twitter for all those tits, cocks, and cum will stay put. This is a good opportunity for Musk to fully embrace, acknowledge, and monetize what Twitter has always been: A free porn site.