Everything Must Go! Rentboy Selling Office Furniture, Electronics To Raise Legal Defense Funds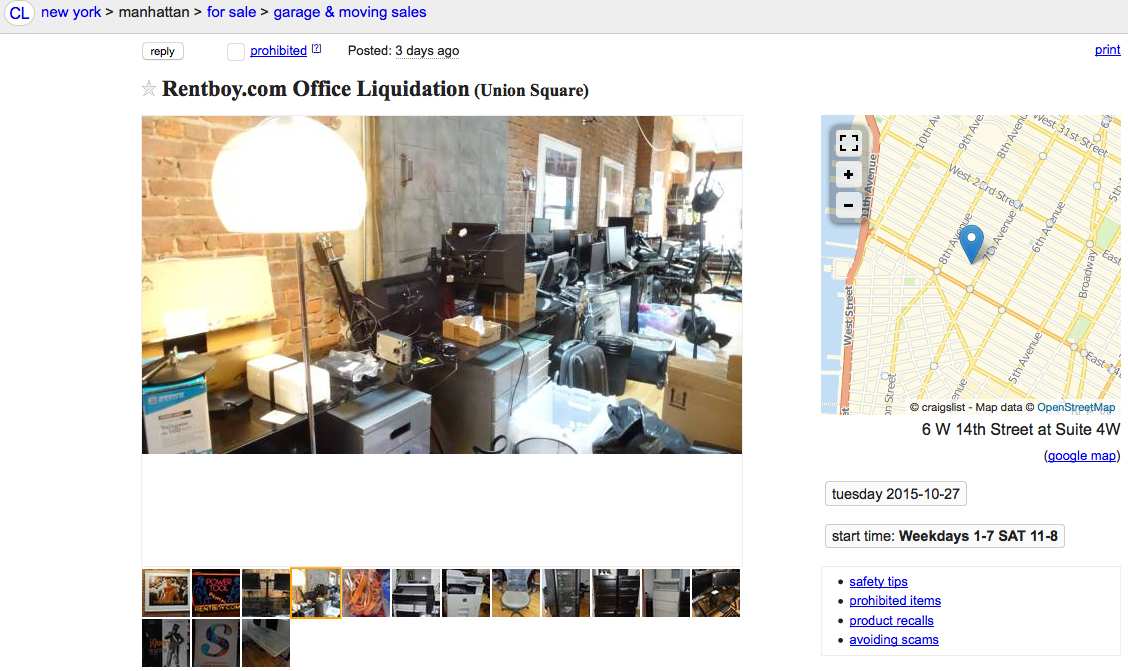 Each of the seven Rentboy defendants (including CEO Jeffrey Hurant and accountant Marco Decker) are now engaged in plea negotiations with the United States government, and they'll need a lot of money to pay their lawyers to (hopefully) keep them out of jail. So, maybe buy a stapler or an office chair from Rentboy.com's raided New York City headquarters?
The company's bank accounts were seized last August, but they're still legally allowed to sell off their office furniture, computers, magazines (remember those?), and "CABLES!" All proceeds go to the legal defense fund.
Via Craigslist (of course):
We are selling the contents of the former offices of rentboy.com. This sale has loads of goodies:

– Office furniture
– Brand new desks that come with dual monitors on articulating arms
– Tons of single great video monitors
– Filing cabinets
– Office supplies
– Cisco networking equipment
– ONE HUGE NETSHELTER full storage rack for servers
– CABLES, CABLES and MORE CABLES!!!
– Books and classic magazines
– A lot of miscellaneous software
– And a lot of special, one of a kind rentboy.com ephemera

We are trying to raise funds for our legal defense, so please consider your purchases as going to a good cause. Showings will be between 1pm – 7pm on Weekdays. All day on Saturday. If you cannot make these times, please call the number listed to schedule an appointment. Keep in mind that all items are on a first come, first served basis.
A few of the defendants had started GoFundMes, but given the pending criminal charges, those fundraisers were apparently shut down due to TOS violations. The best, easiest way to help is to donate directly. Or, if you're in the area, show up at their office and buy a mouse pad or whatever.