Exclusive: Lucas Entertainment Employees Abandon Studio In Wake Of STD Testing Scandal, Workplace Violence, Bareback Controversy
As if the potential outing of HIV-positive performers last week wasn't bad enough, the news just gets worse and worse for Michael Lucas and his bareback gay porn company Lucas Entertainment, as today Str8UpGayPorn can confirm exclusively that the studio has lost a 4th high profile employee in as many months with the resignation of (now former) exclusive Trenton Ducati.
The mass exodus from Michael Lucas's troubled bareback company started in September with director Marc MacNamara, who left the studio in protest over the decision to film raw scenes. Then, in October, former exclusive Vito Gallo left after a violent confrontation with Lucas himself, reportedly due to lack of work (did he not want to be involved with bareback either?). Then, in November, former exclusive Matthew Mason jumped ship with a damning Facebook post, calling into question Michael Lucas's own assertion that all of his models are tested for STDs. According to Mason, there was no testing whatsoever: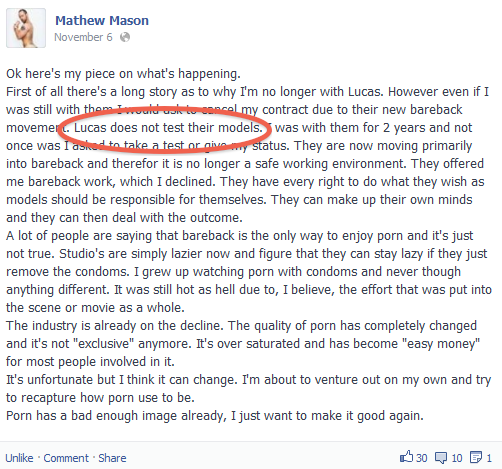 Two additional Lucas Entertainment models (both of whom asked to remain confidential) also confirmed to me that they were never tested (nor were their scene partners) when they worked for Lucas Entertainment this year. Lucas, you'll recall, went public with the news last week that all models are tested "regardless of the type of scene" (bareback or condom), so who's lying: Matthew Mason and both of my independent, reliable sources, or Michael Lucas? I think we all know the answer to that…
Finally, after announcing a 3-month exclusive contract just last month, Trenton Ducati has confirmed to Str8UpGayPorn that he elected to pull out of that contract two months early after filming just one scene, stating that he's "a lot happier" continuing his career with Channel One, Raging Stallion, Kink, Rock Candy Films, and other studios. And with all the disastrous press and nightmarish working conditions at Lucas Entertainment, can you blame him?
UPDATE: Within moments of publishing, I've just learned of yet another Lucas Entertainment departure! For those of you keeping score at home, we're up to FIVE in the past three months. It's production manager/videographer Chris Crisco:
The year's not over yet, so who'll be next to leave in 2013? At this point, Adam Killian's the only one left, right? And with Lucas Entertainment DVDs selling for five bucks a pop, will the studio even make it to 2014?
Are you a former or current Michael Lucas employee who wants to share your story? Please email me at: zach@str8upgayporn. All correspondence will remain confidential.