Gay-For-Pay Porn Star War: Hospitalized Damien White And Ouija Board Anti-Vaxxer Vin Roxx Spar Over Drug Use, Who Makes More Money, And Tourette's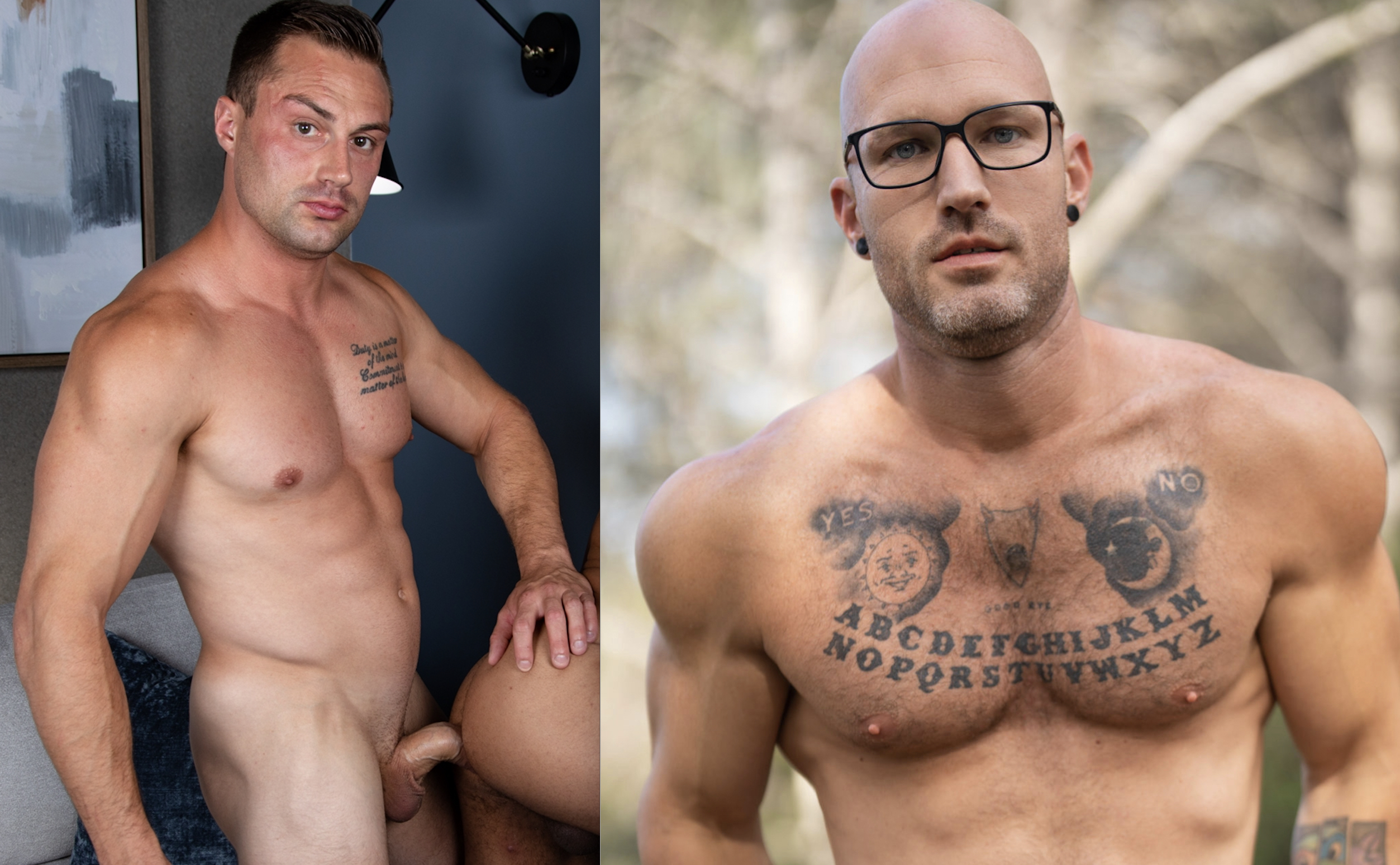 Today in straight men in gay porn having meltdowns on Twitter, it's anti-vaxxer Vin Roxx versus sleep-inducing top Damien White. One thing I'm not going to try and do is make sense of a Twitter catfight between one gay-for-payer who's in the hospital and one gay-for-payer with a ouija board tattooed on his chest, but this is mildly entertaining for a lazy Sunday, so I'll do my best to present their tweets chronologically.
It all seemed to have started when Damien White posted this video tweet, showing himself in a hospital room where he appeared to be in very serious condition:
Didn't want to post anything but god was looking over me for sure🙏🏻🙏🏻 pic.twitter.com/PEJvXamjFY

— damien white (@damienwhitexxx) August 28, 2022
White did not reveal the reason(s) for his hospitalization, but he does appear to be doing better now, based on his follow-up tweets below.
But first, in reply to White's video, a Twitter and OnlyFans user who calls himself "MassageDaddyDTX" claimed that White took "random unknown illegal drugs" before he was "supposed to fly out":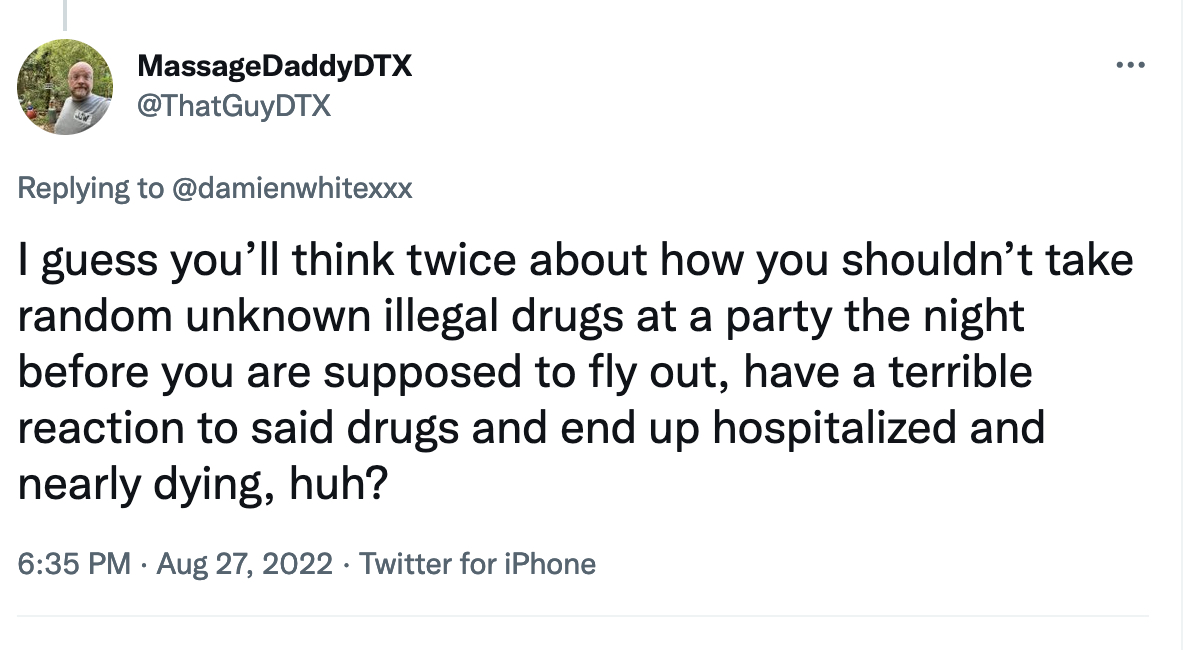 It's not clear how MassageDaddyDTX would know such specific information about White (perhaps White was scheduled to do an OnlyFans collab with MassageDaddyDTX, and he didn't show up?), but even if what he's saying is true, MassageDaddyDTX's reply is extremely cruel and borderline sociopathic, given the very serious condition White was in.
Making things worse, fellow gay-for-pay porn star and anti-vax nutjob Vin Roxx (the former Sean Cody model with the ouija board tattoo who thinks monkeypox, COVID, and the flu are fake diseases) weighed in on Damien White's hospitalization by replying to MassageDaddyDTX's tweet, writing, "facts are facts…the truth is the best form of reality!"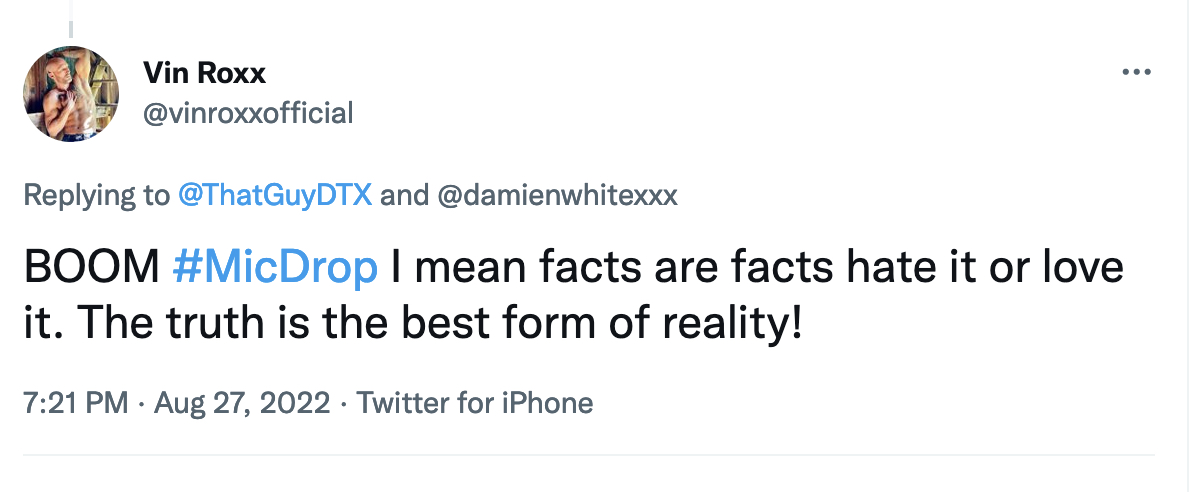 Given Vin Roxx's near death experience last month (as you'll recall, he recently shared that he nearly died while vomiting in front of his daughter), that's quite an unsympathetic stance. But, there's clearly some bad blood between the two, as revealed in Damien White's response to Vin Roxx:
White calling Roxx a "twitchy goofball that no companies want to work with" clearly set Roxx off, because he replied to White with all of the angry tweets below. For his part, White did not reply to Roxx again.
Here are all of the ghost-hunting anti-vaxxer's replies to White, including a couple from Roxx's dear friend MassageDaddyDTX, in which Roxx continues to attack White for alleged drug use, and takes issue with being insulted over having Tourette's Syndrome: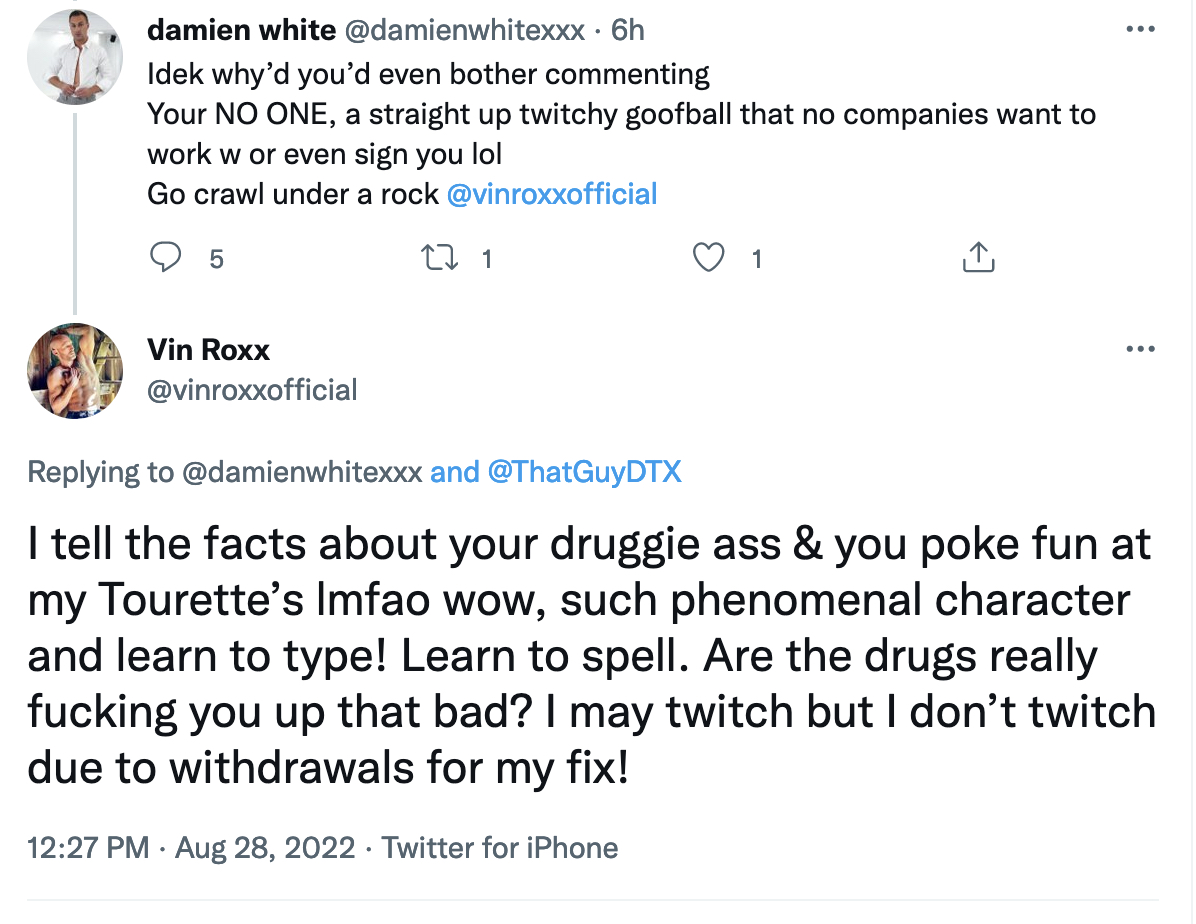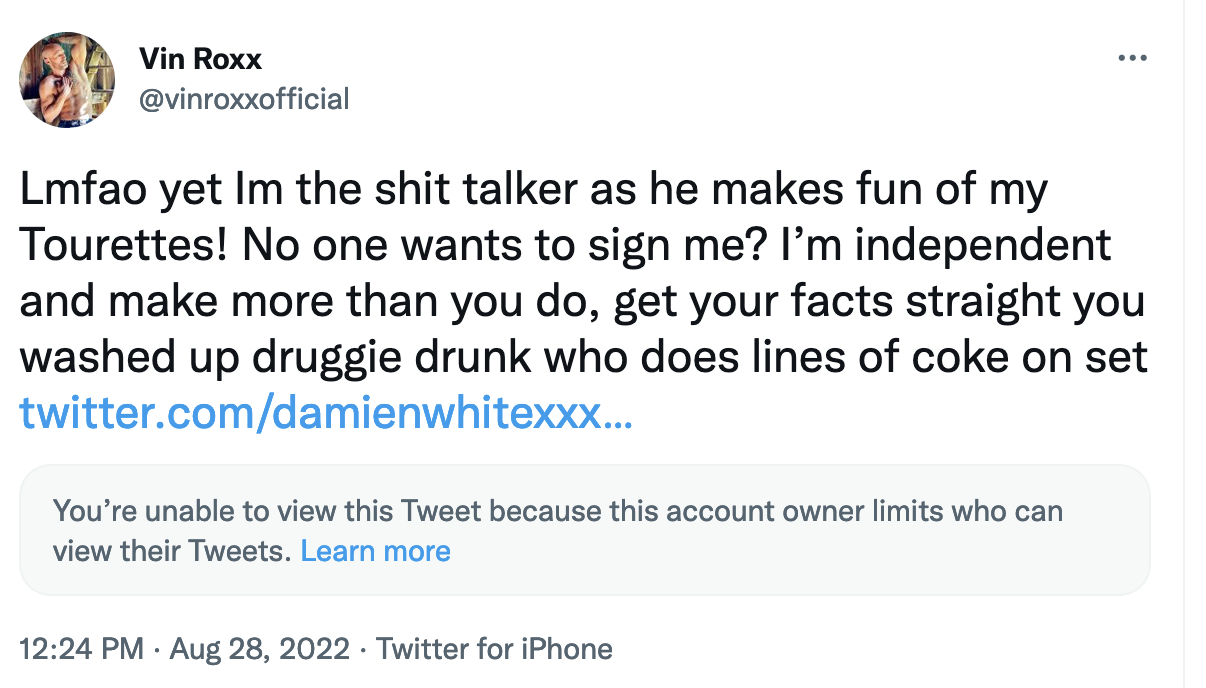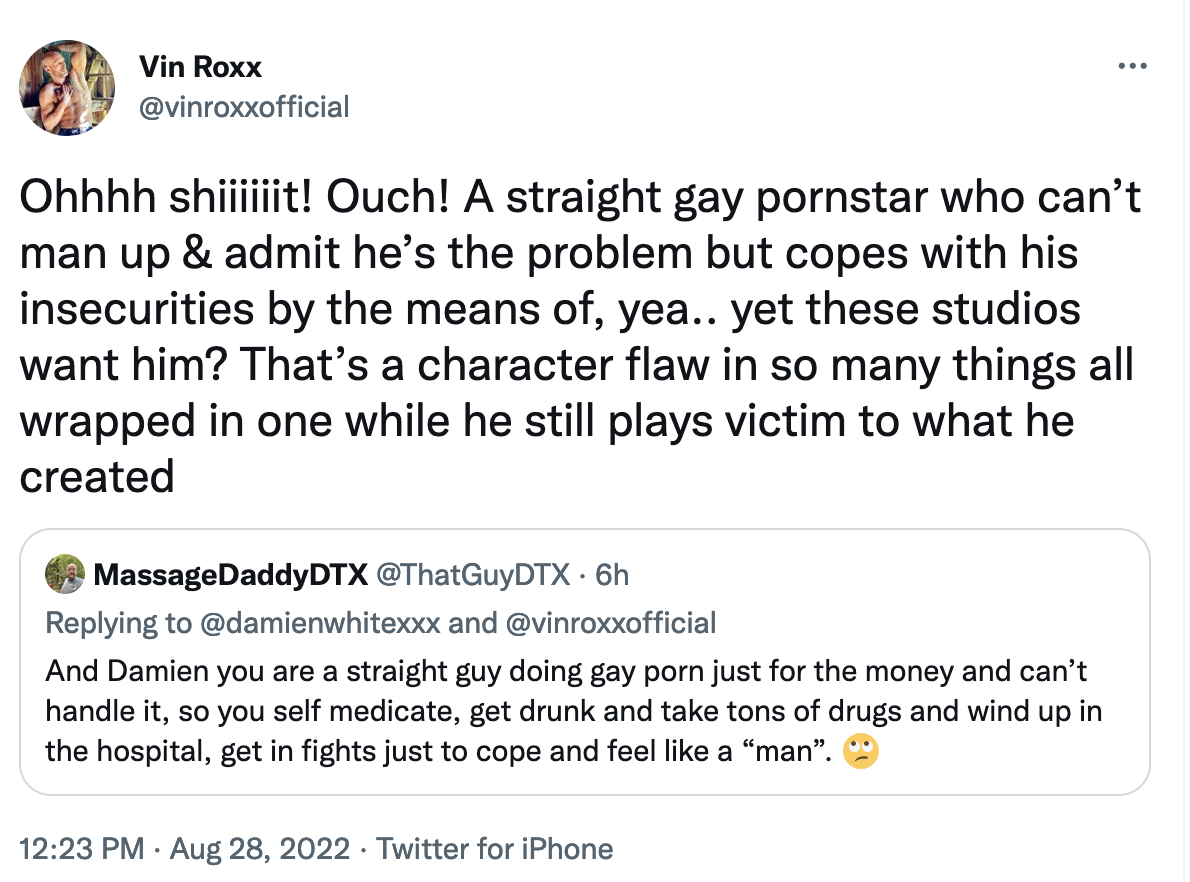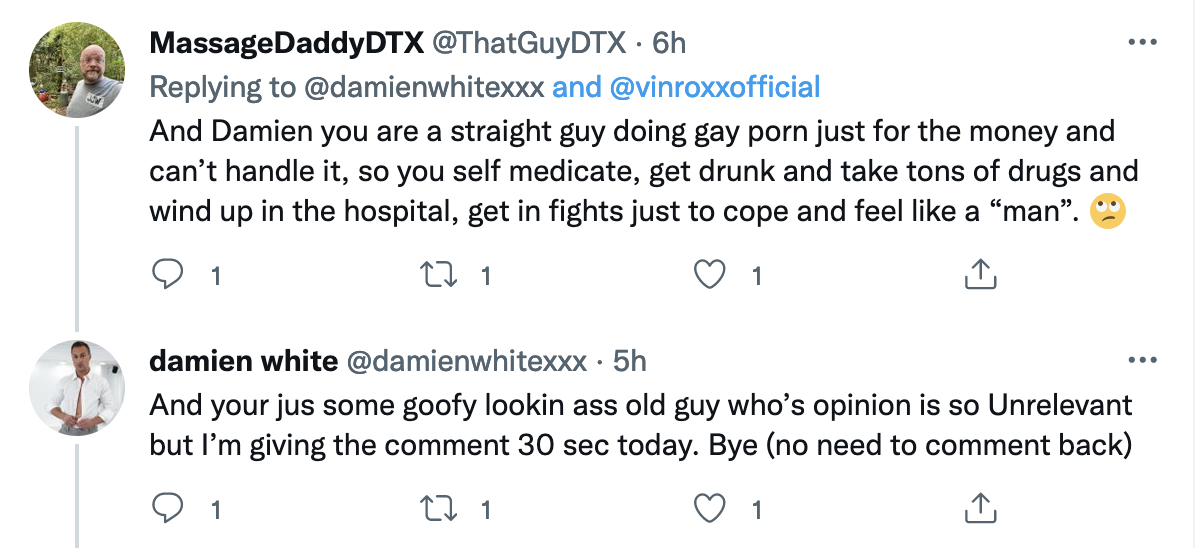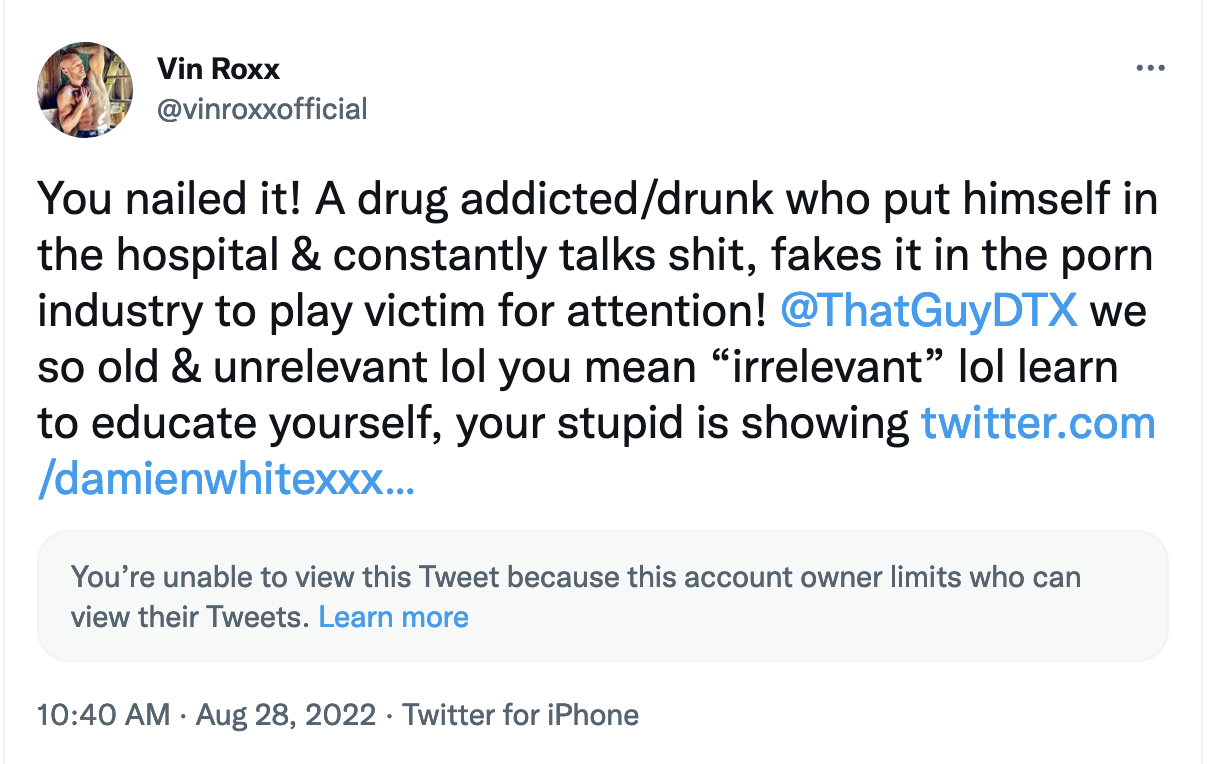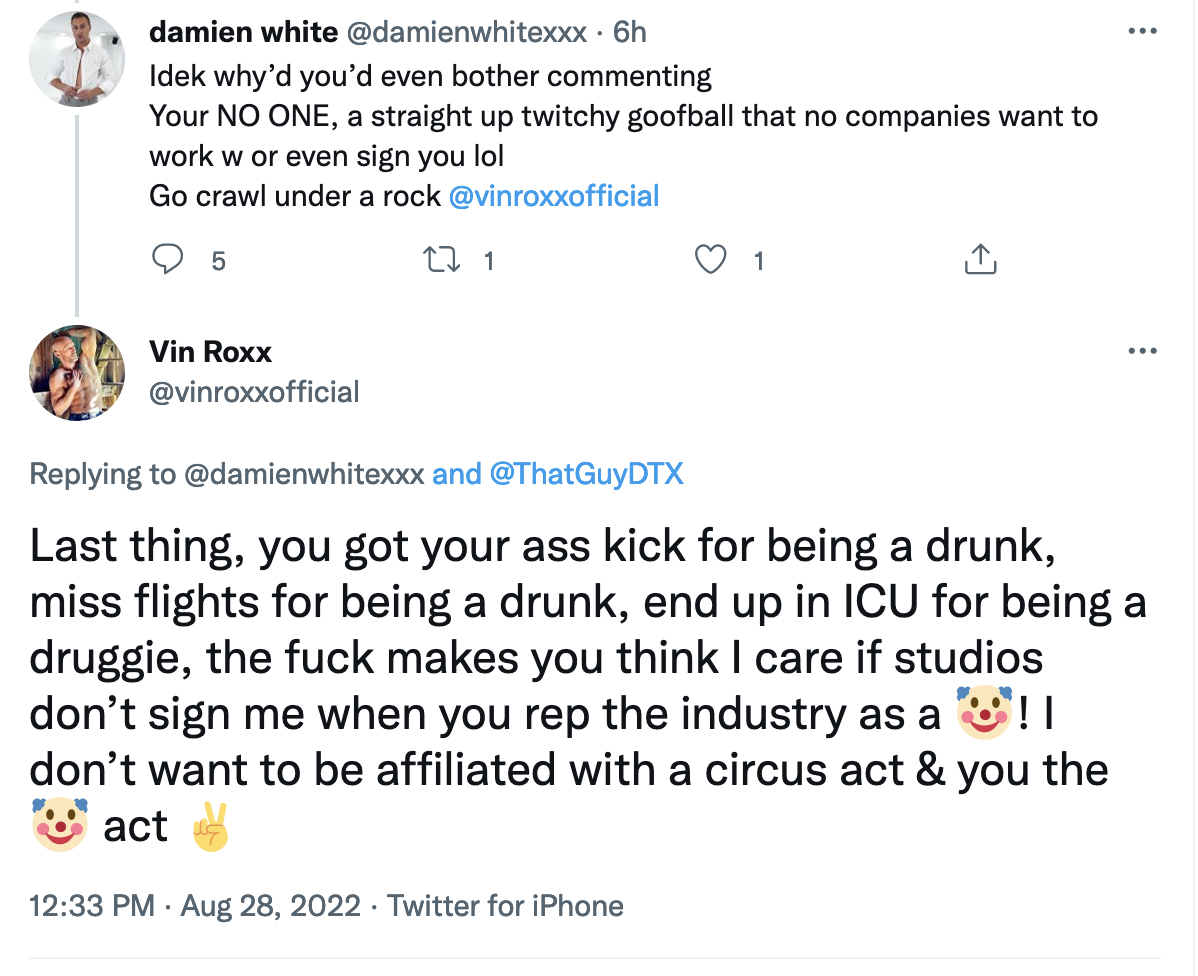 Thoughts on MassageDaddyDTX being "unrelevant," White's alleged drug use and missed flights, or Roxx's "6 figure movie deal"?