Exclusive: Gay Porn Star Ali Liam Missing Following Murder Of Boyfriend
A 48-year-old man named Keith Harris (above, right) was found stabbed to death in his apartment last week, and his boyfriend, Alkoraishie Ali (above, left), is now missing, as reported by San Francisco's Bay Area Reporter. Str8UpGayPorn can confirm that that boyfriend is also known as gay porn star Ali Liam.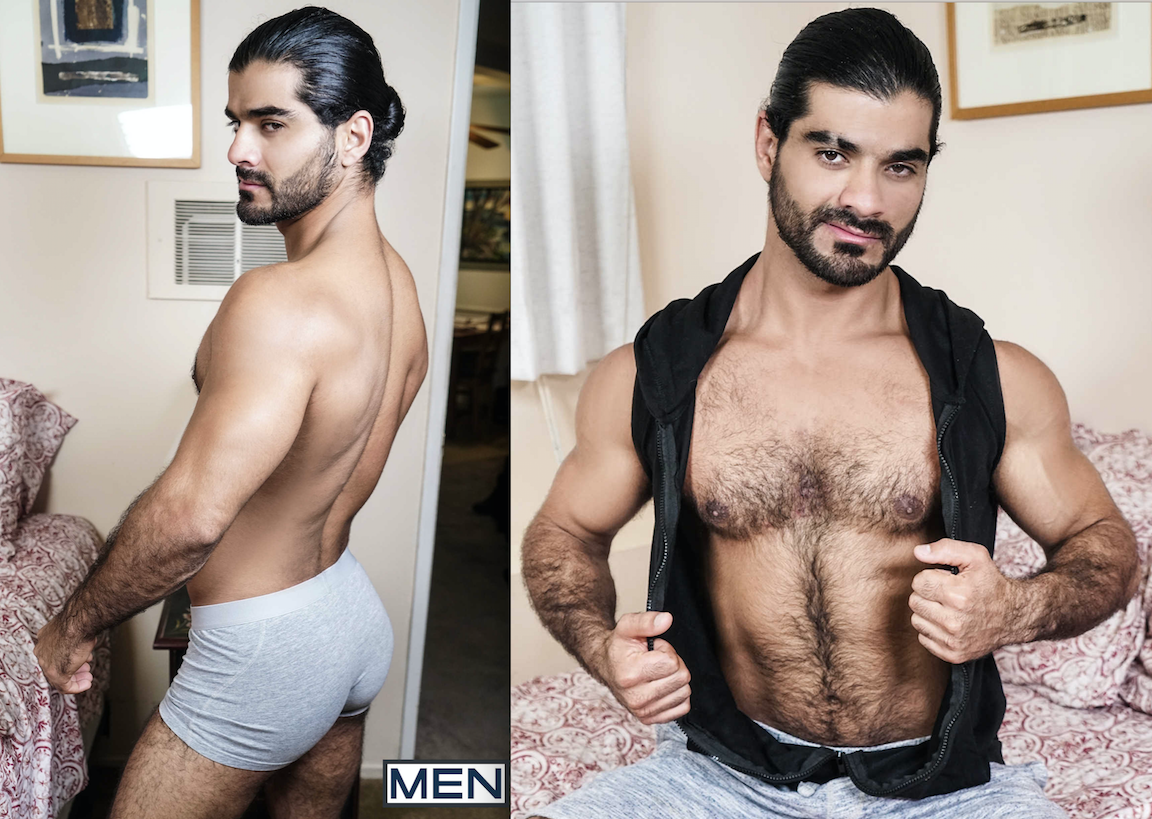 Ali is a gay porn newcomer who's appeared in a handful of scenes for Men.com and Pride Studios since debuting earlier this year, and he's been missing since his boyfriend's murder last Thursday, per Ebar:
The man who was found dead in Hayes Valley Thursday, November 2, was Keith Harris, 48, a gay man whose boyfriend is now missing, according to people who knew Harris. The medical examiner's office has not confirmed the name of the man who died, but Paul Novales, the manager of the Estrella Apartments at 340 Hayes Street, said that he got a call at about 2 p.m. Thursday because Harris hadn't been seen in a couple days. Novales said that he knocked on Harris' door, but there was no response, so he unlocked it. When he opened the door, there were "big drops" of blood "on the floor and smears of blood on the wall and the door going into the bathroom," he said. He said that a woman who lives next to Harris' apartment heard "loud voices" coming from there at about 2 a.m. Wednesday morning, November 1, but she couldn't tell what was being said. Police said that Harris had suffered "stab wounds" and that a knife was used as the weapon, but they have not released much more information.

[Novales] said that he didn't know very well Harris' partner, Alkoraishie Ali, and police have not announced Ali as a suspect. Longtime San Francisco party promoter Gus Bean, who was friends with the couple, said that Ali, who's in his early 20s, has frequently worked for him as a go-go dancer.

"Nobody seems to know where he is," said Bean. "His phone goes to voicemail."
While police have not yet announced that Ali is a suspect, Harris' family members have been posting on Ali's Facebook page (where his last public post was on October 27th) that he is in fact a "murderer" who killed Harris:
Harris' twin brother commented on several Facebook photos of Ali with Harris, writing, "He murdered Keith, my identical twin":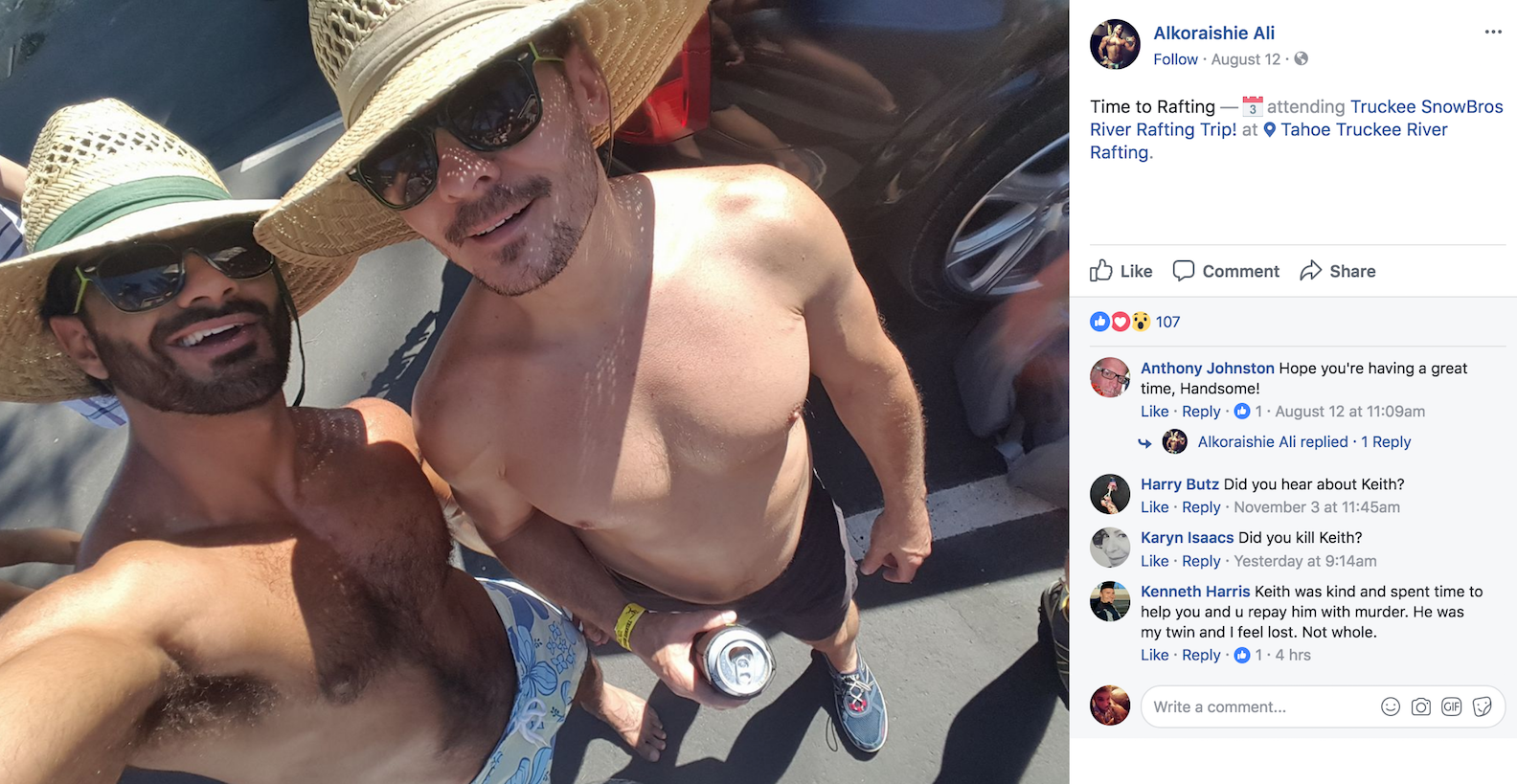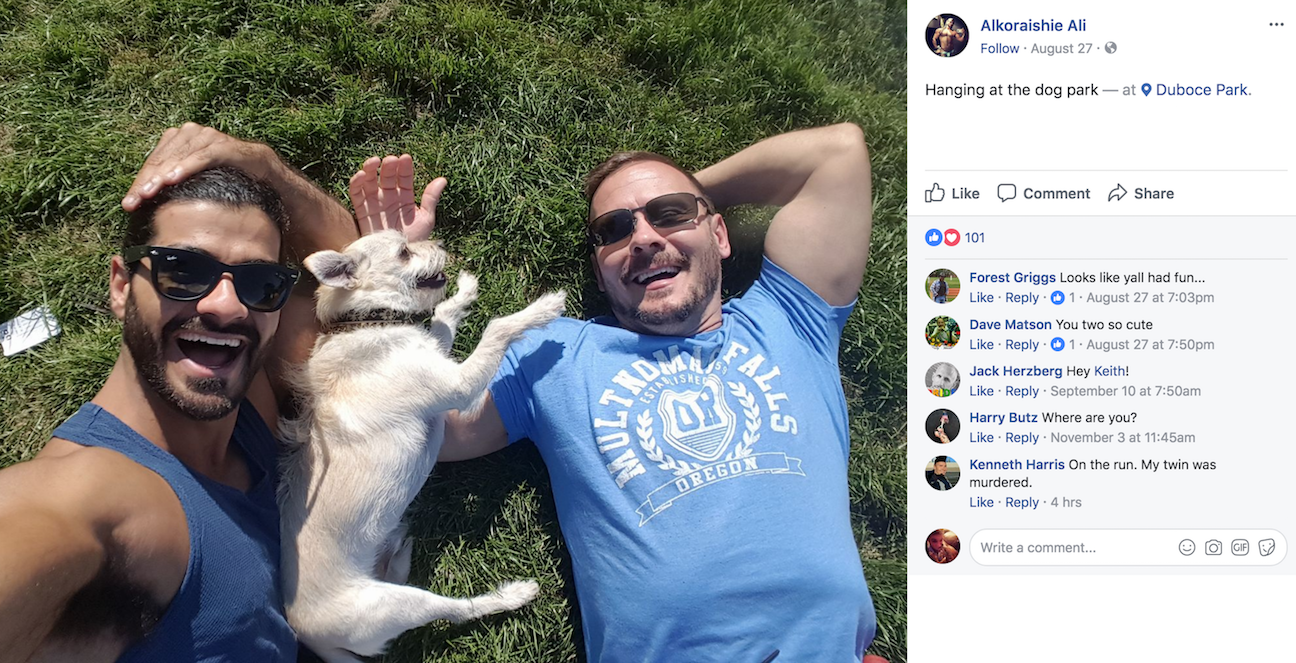 In addition to his work as a gay porn star, Ali also has an active Rentmen page as an escort. In his bio, he states that he's just moved to the United States from the Middle East, and he's "into exploring new things, mild to wild!"
Hello, My name is ALI I'm from middle east just moved to the USA .here to make you feel better than ever. Giving the of myself and our time together will be the best, I enjoy kissing, body contact, all oral. Masculine-Motivated Muscles Man. Inspired others to live healthy and fit. Down to the earth and easy going. Great at Massage. Nonjudgment Open Minded into exploring new things Mild to wild!
As of post time, it's unknown if there are any gay porn scenes featuring Ali still set for release, as many studios have unreleased content filmed months in advance. This is a developing story…