[Updated] Gay Porn Star Cliff Jensen "Not Expected To Survive" Prison Attack
Str8UpGayPorn can not confirm who's been operating Cliff Jensen's Twitter account while he's been in prison this year, so proceed with caution while interpreting these tweets, which were posted this morning. Assuming this isn't a hoax, Cliff Jensen is not expected to survive after being attacked in prison last night:
Earlier tweets from this account were purportedly from Cliff Jensen himself (it's not entirely impossible that a prison inmate would have access to Twitter, but I've always been skeptical and have thus never reported on the tweets), and several went into detail about an ex-girlfriend named "Jaclyn" causing problems for Jensen, even while he was behind bars. The person tweeting today also brings up Jaclyn:
If any of you were sending Cliff Jensen or Jaclyn money at the request of this Twitter account (and I hope you weren't, given there's no way to verify the authenticity of any of this), the person sending tweets today has asked that you stop: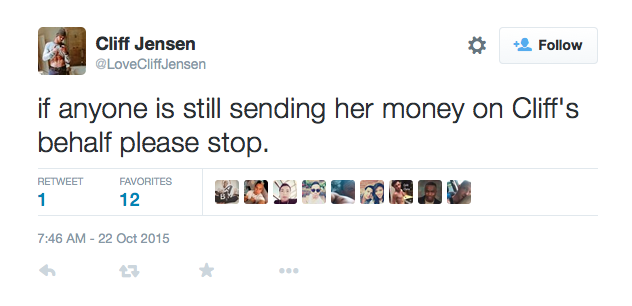 More Jaclyn drama:
This post will be updated if details on Cliff Jensen's condition can be confirmed with the Florida Department of Corrections.
As you'll recall, Cliff Jensen was arrested in Los Angeles last February on a fugitive from justice charge. He was then extradited to Florida to serve out a prison sentence stemming from a previous arrest and conviction.
Update 10/23/15: No reports of any prison attacks have been reported in local media near the Baker Correctional Institution (where Jensen is jailed), and Jensen's incarceration record does not indicate he was transferred out of the facility for medical care. Long story short, this was more than likely the hoax we all thought it was.
And again, Cliff Jensen is not and has likely never been tweeting from this "LoveCliffJensen" account.