Gay Porn Star Jason Adonis Un-Retiring For 80 Billionth Time
I'm now fully convinced that my work covering this industry over the past six years is a bad gay porn parody of Groundhog Day, because I've just received the below press release about performer Jason Adonis:
The Return of Jason Adonis

After a few years off, the hunky Mid-West heartthrob returns to the adult world where he'll be available for movies, internet, live appearances and private meetings. He has been re-signed by David Forest's The Premiere Artists for exclusive management and booking in all areas. His private meetings will be coordinated by Forest's Meet The Stars.
When I edited the Unzipped blog from 2008-2010, I copied and pasted something like this five or six hundred times. Then, at The Sword, it happened literally 800,000,000 more times, literally. Who could forget the 2012 David Forest press release about Jason Adonis?
[Jason Adonis] finally realizes that he loves doing the movies … he loves the attention he gets. He's a sensational LIVE performer and gets off pleasing crowds, yet, has really only done shows in Chicago, NY/Boston and a few cities in Florida. He needs to make up for lost time. He wants to do club gigs all the time.  AND …his private meetings are always successful and he enjoys meeting his fans that way. He's overcome the paranoia that clients are all out to get him.
Now, two years later, Jason Adonis has re-overcome all his "paranoia"(??) and is ready to have gay sex one more time. More from today's release:
Jason's initial 10 years in the adult business (2002-2012) saw him as a Jet Set, Falcon, AMG and Raging Stallion exclusive, appearing in 30 films. He also did a handful of live appearances (Chicago, Boston, NYC and Florida). In confirming his re-association with Forest (they worked together in 2010-11), Adonis states, "I'm ready for one last run with a mature head this time." Adonis, 34, continues to make his home in Chicago.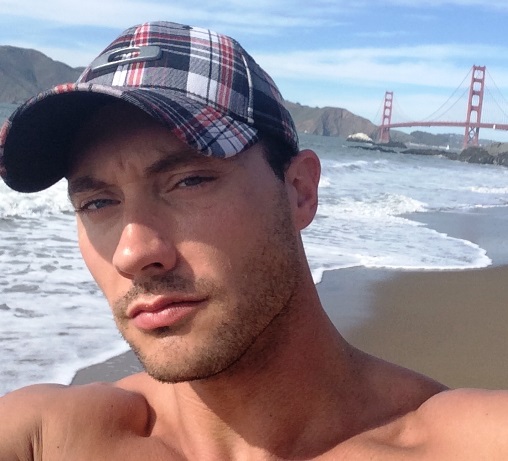 Jason Adonis and his agent David Forest have had one of the most tumultuous professional relationships in all of gay porn, but at least their loyalty to each other over the years is admirable, in a highly dysfunctional kind of way.
Given his heterosexuality and performing skills, I predict you'll see Jason Adonis working for Men.com in the coming months, which will include a highly momentous "bottoming debut" (even though he's already sort of bottomed before) and a few scenes in that prison shower with Johnny Rapid. Or, maybe Raging Hot Falcon will announce their 18 billionth exclusive model this year by signing Jason Adonis for the 700 zillionth time?
If you're feeling extremely adventurous, you can attempt to book Jason Adonis for a "private meeting" via MeetTheStars. Forest is taking film/appearance bookings for him at his website. Current photo of Jason Adonis. Still hot, right?