Get Ready For The Pregnant Man Emoji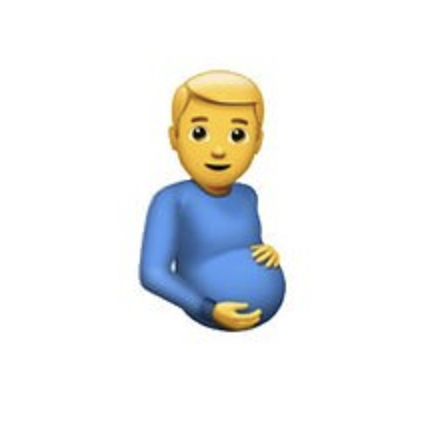 People who were born biologically male cannot get pregnant (not yet at least!), but some trans men and non-binary people can, so Apple is adopting the pregnant man emoji in their next iPhone update:
From a pregnant man to a biting lip, the 37 new emojis coming to iPhones have finally been revealed. Apple's own designs for the new emojis are already available in a beta test of iOS 15.4 software update released on Thursday, prior to its full release in the spring.

The pregnant man and pregnant person recognise that "pregnancy is possible for some transgender men and non-binary people," says Emojipedia, which is part of the California-based Unicode Consortium, the central bank of all approved emoji.

But the two new pregnant emoji could also potentially be used as "a tongue-in-cheek way to display a food baby," a very full stomach caused by eating a large meal.

iOS 15.4 also includes seven brand new smiley emojis, including Melting Face, Dotted Line Face, Face Holding Back Tears and Face with Diagonal Mouth.

Other additions include a motorcycle tyre, a slide, a disco ball, a troll with a club, coral, kidney beans and a low battery.
[DailyMail: A pregnant MAN among the 37 new emoji coming to iPhones in Apple's iOS 15.4 update]