House Ethics Report Finds George Santos Used Republican Campaign Cash To Purchase Gay Pornography On OnlyFans
The months-long House Ethics Committee report investigating criminal activity by New York GOP congressman George Santos both before and after he was elected was released today, and in their report, the bipartisan committee reveals that Santos illegally used money from Republican campaign donors to pay for luxury apparel from Hermès, a Las Vegas vacation, Botox, beauty products from Sephora, and gay pornography from the adult website OnlyFans. The report (full document here) concluded:
Representative Santos sought to fraudulently exploit every aspect of his House candidacy for his own personal financial profit.

He blatantly stole from his campaign.

He deceived donors into providing what they thought were contributions to his campaign but were in fact payments for his personal benefit.

He reported fictitious loans to his political committees to induce donors and party committees to make further contributions to his campaign – and then diverted more campaign money to himself as purported "repayments" of those fictitious loans.

He used his connections to high value donors and other political campaigns to obtain additional funds for himself through fraudulent or otherwise questionable business dealings.

And he sustained all of this through a constant series of lies to his constituents, donors, and staff about his background and experience.
Here was one section of the report detailing Santos' use of $50,000 from two Republican donors to pay off his personal credit card bills, make a $4,127 purchase at Hermès, and buy gay porn from OnlyFans:
The report doesn't state which OnlyFans porn stars Santos was paying, but given the site is known for its gay baiters and scammers engaged in fraud, he may have spent thousands of dollars and got nothing in return, not unlike his Republican donors.
The report found evidence of Santos' crimes that actually goes beyond what the former Brazilian drag queen turned MAGA homosexual is facing in a 23-count criminal indictment filed by the Department of Justice over the summer, and the House Ethics Committee referred their report to the DOJ for perhaps even more charges. Two campaign aides have already pleaded guilty to felony charges connected to Santos and his campaign, while Santos, who has pleaded not guilty, will go on trial in New York next year.
While yet another expulsion vote in the House is expected before the end of the year, it'll once again need a 2/3 majority in order to remove Santos from office, which would make him just the sixth congressman in history to be expelled. Meanwhile, Santos is melting down on Twitter, and has announced that he won't seek reelection in 2024, as seen below. It will be shocking if he does remain in office for another entire year, and I predict he'll be forced to resign in the coming days. Then, he'll of course have to prepare for prison.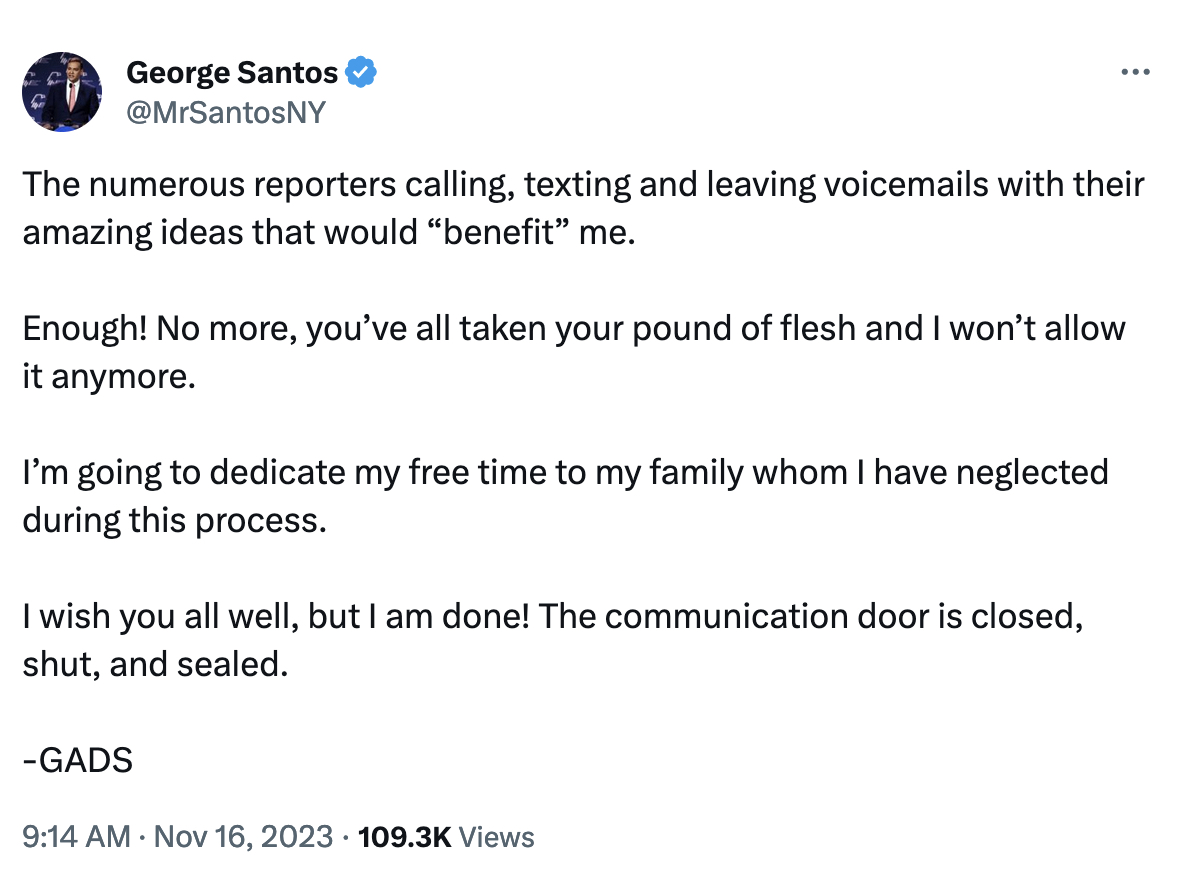 If there was a single ounce of ETHICS in the "Ethics committee", they would have not released this biased report. The Committee went to extraordinary lengths to smear myself and my legal team about me not being forthcoming (My legal bills suggest otherwise).

It is a disgusting…

— George Santos (@MrSantosNY) November 16, 2023