[Updated] Is Michael Lucas Threatening To Sue Vice?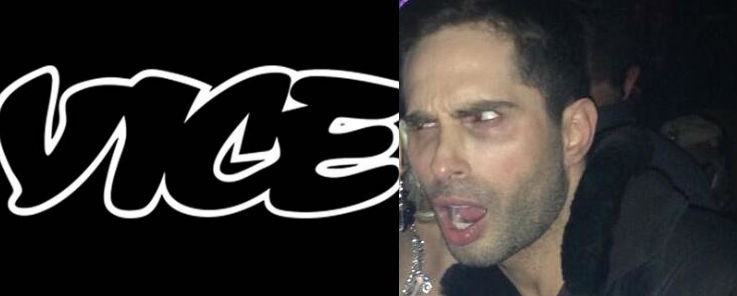 Vice has just published the written equivalent of a Lifetime Achievement Award to Michael Lucas, with so much overt ass-kissing and blatant pro-Lucas Entertainment bias, I can only assume that the litigious bareback gay porn star and Truvada® shill threatened to sue the publication and/or its "writer," Mitchell Sunderland, if the piece was anything less than a love letter.
Sunderland gushing over the "immaculate" Lucas Entertainment office:
If you believe the conventional wisdom about the porn industry—that it's falling apart, that there's no money in it, that the studios that once made high-quality films are being supplanted by unwashed amateurs with webcams and stained mattresses—a visit to the immaculate offices of Lucas Entertainment will disabuse you of those notions. Located on the second floor of an office building in midtown Manhattan, the place is less a palace of sleaze and more a temple to 21st-century showbiz yuppie living. The waiting room, which has a plethora of adult-film-industry awards on the walls, features a plush white chair, an abstractly shaped wooden table, and a fridge stocked with green juice, almond milk, and water bottles. Lining the hall are cabinets containing rows and piles of costumes for porn actors, who do their business in a space that can be decorated as a hotel, bedroom, or pretty much anyplace else where men would plausibly have sex.
More fawning:
A few doors down from the set, the company's 15 employees sit in front of computer screens doing the behind-the-scenes work that results, eventually, in someone somewhere masturbating. For all this, Lucas Entertainment pays $16,500 a month, which it can afford thanks to its steady output of high-budget films that showcase the sexual talents of beefy muscle queens and often have cameos from D-list celebrities like Andy Dick.
Next up, Sunderland's masturbatory prose about Michael Lucas' physical appearance. Hope you have a barf bag nearby:
I was there to see Michael Lucas, the founder and animating force of the company that bears his name. A former porn star who still dabbles in performing in films, he looks even today like a man who could sell his body for a living. The 42-year-old has the lean, sculpted body of a model, his skin is implausibly perfect, and his muscles show through his loose-fitting shirts (he told me he works out every day).
When did Vice start publishing erotic fan fiction?
There's also some fluff about Lucas' political causes (Israel, Russia), and his ancient public feud with Nick Gruber, but there's nothing of substance and no one to challenge any of Lucas' highly controversial views. In fact, everyone interviewed in Sunderland's piece is a friend of Michael Lucas, and the only person from the adult industry interviewed is blogger J.C. Adams of Gay Porn Times:
J.C. Adams, a writer who covers the porn industry, believes these creative decisions are why Lucas Entertainment has flourished in the digital age as older companies have imploded. "This is an industry full of artists and mavericks, but Michael Lucas has never lost sight of the bottom line," he said. "Additionally, he tries different things, takes creative leaps, and goes against the grain."
J.C. Adams hasn't been actively covering the adult industry for at least two years.
The only subject in Sunderland's narrative blowjob who's portrayed somewhat negatively is Marc MacNamara, the former Lucas director who quit the company last summer. What a coincidence.
I went to MacNamara's apartment to watch a shoot for an episode of Lucas Entertainment's Kings of New York and was somewhat disappointed to find that, for all that talk about plots and high budgets, it was as cheap and narratively confused as a homemade YouTube music video.

[…]

The script didn't specify exactly how the actors should have sex, so, like choreographers working on a ballet, they had a lengthy discussion about how each position would flow into the next. […] They were a little shorthanded on set, and I found myself being enlisted to hold a boom mic over David and Angelo's heads as they fucked.

While I was there, MacNamara wouldn't let me watch the cameraman shoot stills of the actors, which was just one of the many times Lucas Entertainment employees refused to give me access to something or attempted to influence the writing of this story.
Perhaps most embarrassingly, after over 3,000 words, there's not a single mention of the only thing that Lucas Entertainment is known for and the only reason why they're slightly relevant today: Barebacking. Even Queerty and Out managed to question Lucas' hypocrisy when he ditched condoms last year; would broaching the subject have interfered with the piece's sunny agenda, or was Sunderland simply clueless about the studio's desperate measures? Also, Sunderland fails to include anything about Truvada®, the cause closest to Lucas' wallet heart.
Luckily, Michael loved every word of it, according to text messages Str8UpGayPorn obtained between Vice's Mitchell Sunderland and Marc MacNamara. And isn't that the point of all great journalism—to get your subject to "like" you?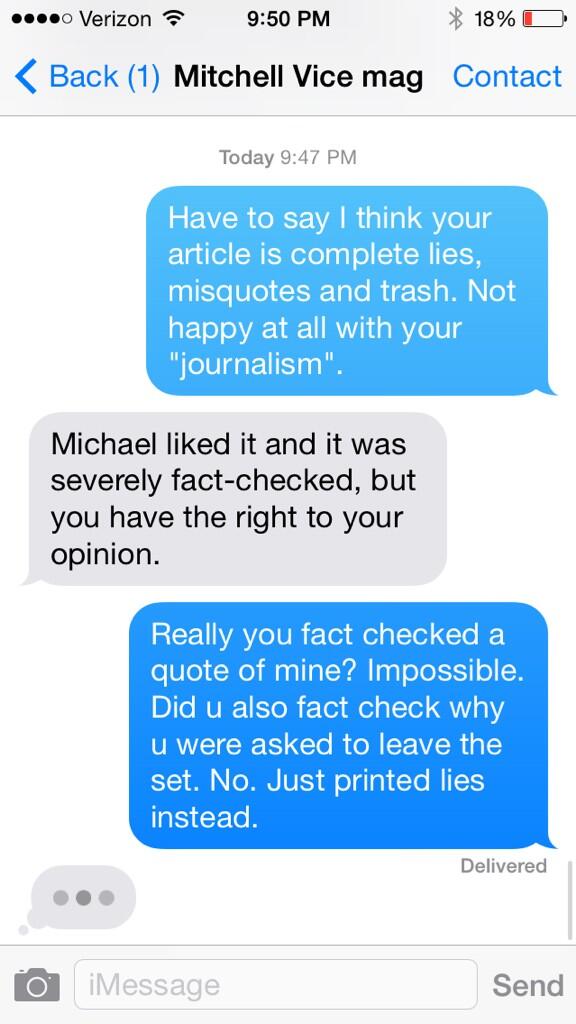 UPDATE: 5/29/14 6:27 PM
Marc MacNamara has just confirmed with me that the shoot Sunderland references in his story was not at MacNamara's apartment (so much for that "severe" fact checking), and that Sunderland was actually told to leave the shoot because he was "hitting on models." Yes, this profile is running in Vice and not The New Yorker, but it only reinforces what I and most of you already know: Anything or anyone that has anything to do with Michael Lucas or Lucas Entertainment is more than likely full of complete shit.