Jake Genesis Porn Scenes Will Haunt Us Till We Die
TitanMen is the undisputed leader when it comes to releasing content filmed months and even years prior (Men.com is a close runner-up), and today's update is no exception. Remember Jake Genesis, the gay porn star turned religious hot mess who retired over a year ago in a blaze of moronic shame and anti-porn bullshit? Thanks to TitanMen, he's back in a "new" scene today with Trenton Ducati.
Just for fun, refresh your memory with this snippet from Jake Genesis' (whose real name is Jake Floyd) "goodbye" letter:
Pornography does violence to human spirit and, in its effort to display human sexuality openly, pornography perverts it. Pornography destroys families and relationships and lives. Far from being a victimless act, pornography victimizes every single human being involved. The victims of the adult entertainment industry are those who consume pornography and their families but also those involved in the production of pornography and, especially the models or actors.

100% of the actors in pornography are victims to varying degrees. The very young, the economically destitute, and the uneducated are victimized to a higher degree than men like me who made a more conscious choice, but everyone is harmed deeply by the experience and no one escapes the knife that cuts deeply the innate dignity of the human person.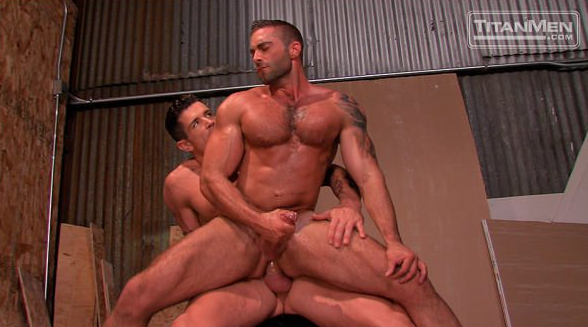 Considering Trenton Ducati stopped filming with Titan in 2012, I'd estimate this scene was filmed sometime in the latter half of that year. On the one hand, it's annoying that we have to see this nutjob every time a studio decides to clear off their shelves, but on the other hand…hopefully Jake Genesis (and anyone Googling Jake Floyd!) will also see this and be reminded of how he used to love to sit on dicks for money.