Josh Moore, Sister Roma, Leo Forte, And Ricky Larkin Clash Over Exclusion Of Director mr. Pam From "Scared Stiff 2" Release Party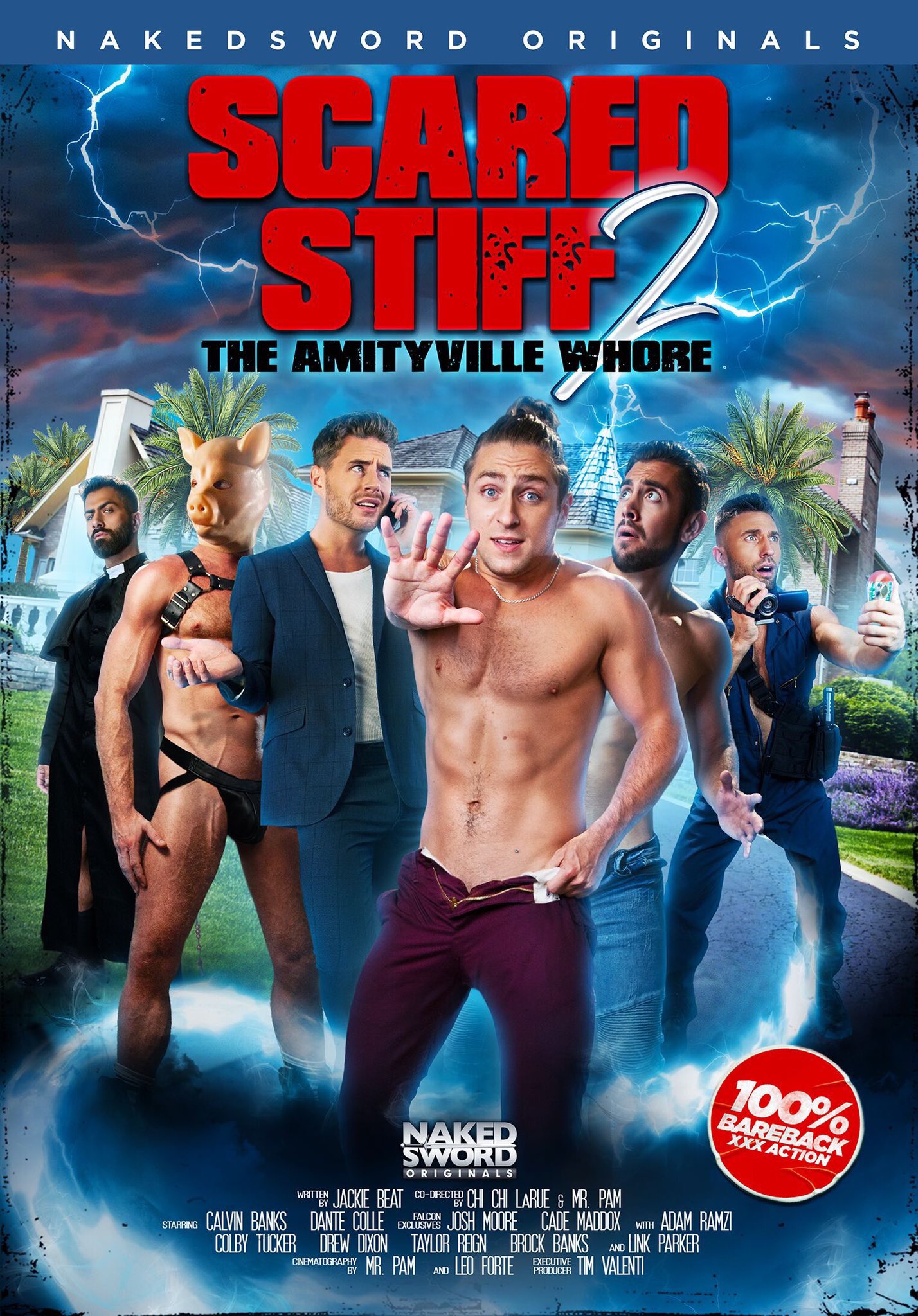 NakedSword's upcoming feature Scared Stiff 2 will be out in a little over a week, and to celebrate the highly-anticipated sequel, the studio is throwing a release party later this month at a Hamburger Mary's in San Francisco. The release party news was announced late Friday night by Michael Youens, a graphic designer and longtime friend of NakedSword's Sister Roma: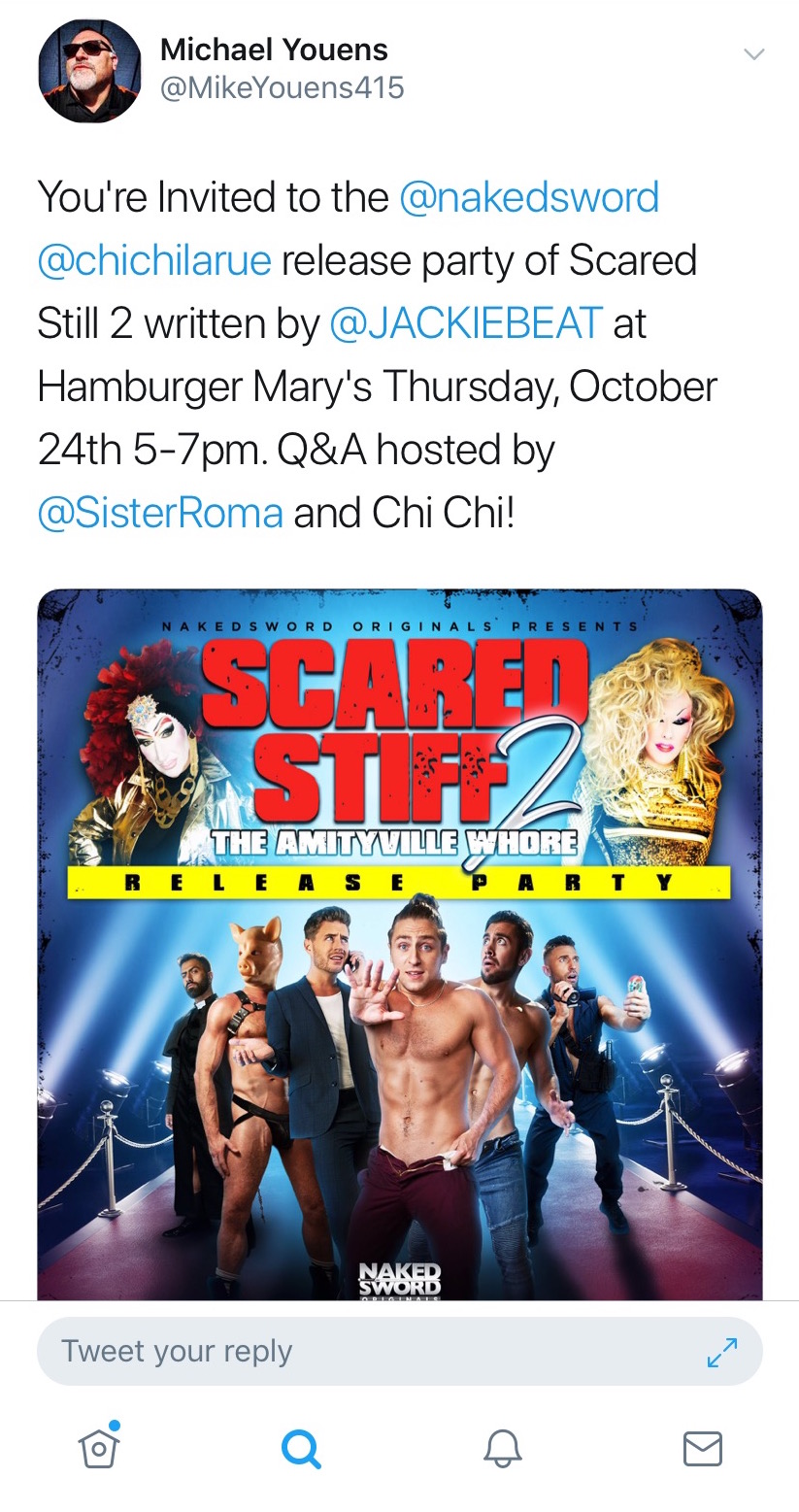 Oddly, that tweet (which has since been deleted, and which incorrectly called the movie "Scared Still," which actually kind of works) made mention of the movie's co-director Chi Chi LaRue (and the movie's screenwriter Jackie Beat), but it didn't mention the movie's other co-director, mr. Pam. One of the movie's stars, gay porn star Josh Moore, noticed mr. Pam's absence, and he replied to the tweet reminding Youens (and everyone else tagged in the tweet) of this fact:
From there, things got a little heated and a little feisty, as Twitter wars often do, starting with Sister Roma accusing Josh Moore of making "ridiculous assumptions":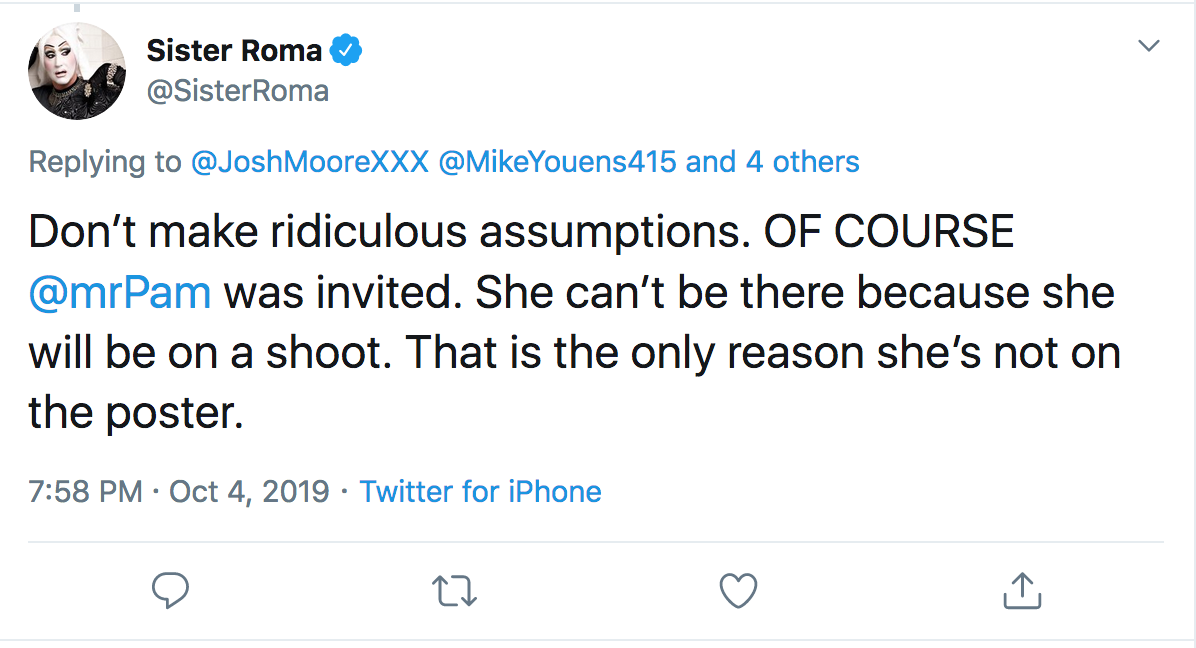 Gay porn star Ricky Larkin (who's on location in Oklahoma shooting a new NakedSword feature with Moore and mr. Pam right now) joined in, too:
Then, Josh Moore accused Roma of being a "shady bitch," which I would actually take as a compliment, tbh:

Roma was seemingly in disbelief that Moore would speak to her this way:
But, Moore confirmed that he was in fact speaking to Roma: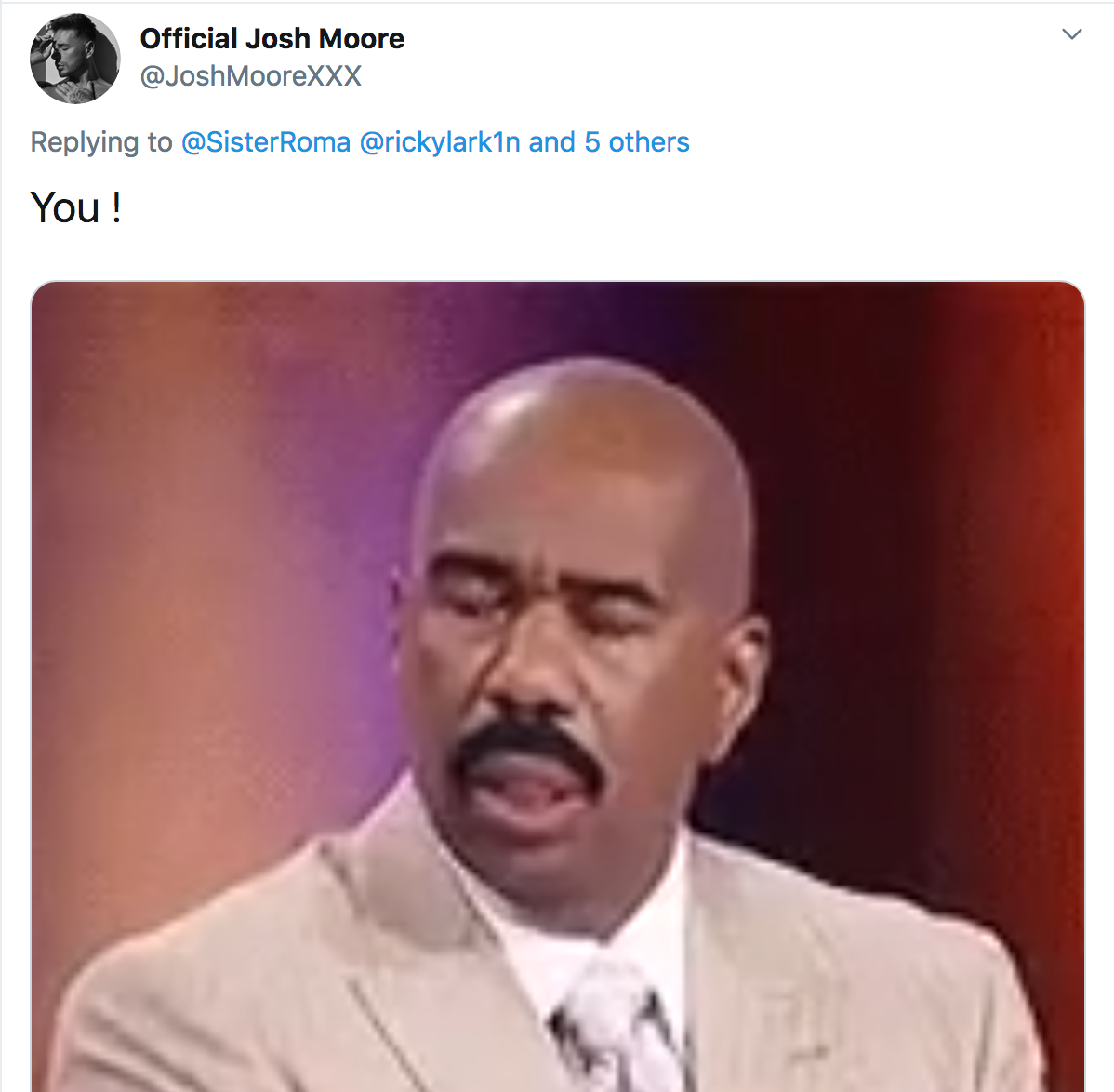 Next up, Larkin chimed back in, and production assistant Leo Forte (who worked on Scared Stiff 2) weighed in with his opinion, too:
Sister Roma then told Leo Forte to "go to bed":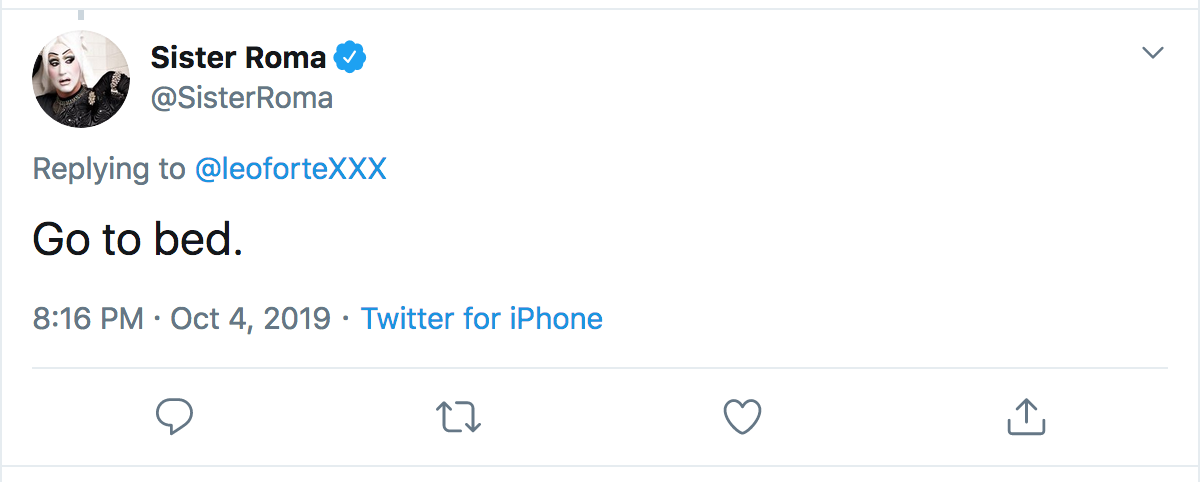 The interesting thing about this Twitter war is that all of the participants are co-workers at Naked Raging Hot Falcon, so things might be a bit awkwaaaaard come Monday morning in the office. (Moore and Larkin are exclusives at the studio, Roma is in senior management, Forte works in production, and Pam, who remained silent during the exchange, is the studio's main director and production manager.)
Regardless of why mr. Pam wasn't mentioned as the co-director in the tweet (it could just be a harmless mistake), it's never been clear to me why Naked Raging Hot Falcon has repeatedly put Chi Chi LaRue as a "co-director" on several of their features, especially when the award-winning directors already working for Naked Raging Hot Falcon (mr. Pam, Tony DiMarco) are more than qualified and obviously fully capable of directing movies by themselves, which they in fact do all the time. Also, Chi Chi LaRue is the lead director at Icon Male/Noir Male—a completely different company—so why is she taking these side gigs at other studios? With that massive copyright lawsuit against Icon Male and its parent company Mile High Media still pending and the studio's future in jeopardy, maybe LaRue is just planning ahead and keeping all her options open.
Scared Stiff 2 debuts on NakedSword on October 16th, and here are a few cast photos taken over the summer, featuring leads Calvin Banks and Dante Colle, Josh Moore, Cade Maddox, Brock Banks, Link Parker, Adam Ramzi, and more: