Leo Forte On Racism In The Gay Porn Industry: "We Are All At Fault"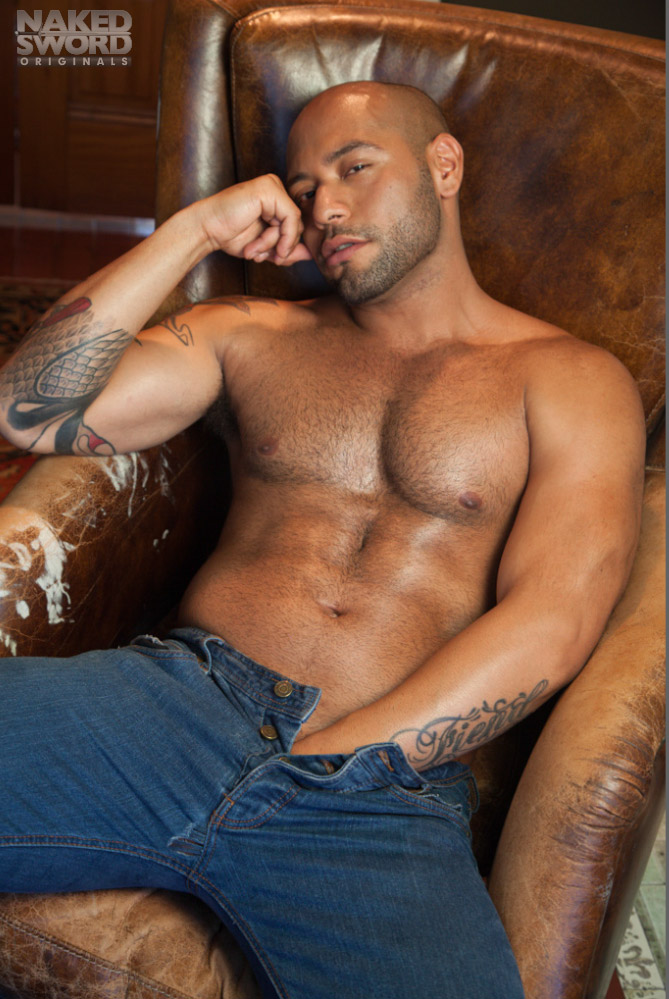 Performer, videographer, editor, and screenwriter Leo Forte (seen above and down below in NakedSword's upcoming feature Berkeley 2: Sophomore Year, with co-star Timarrie Baker) has just written the below op-ed in response to the most recent allegations of racism within the gay porn industry. Controversy erupted over the weekend as performers, fans, and others reacted to a GayVN Awards nomination category titled "Best Ethnic Scene" (which is a category that the awards group has actually had for nearly 20 years), and here is Leo Forte's letter to the industry in response:
Dear Gay Porn Industry,
As a collective we have blazed trails and have been able to move mountains in the necessity to carve a world all unique to us. We have battled inequalities, phobias, and disease that would otherwise have removed us from the face of history. We have been one, and we have won. However, since the inception of the industry we have always washed and swept a truth of our reality: racial inequality.
For years, the industry at large has greatly ignored a great division and let ethnic identity be grounds for tolerated racism. Recently, Hugh Hunter has made a wave having denied his nominations for the GayVN awards in observance of the racial inequality that has long persisted in the gay porn industry. As a member of the porn industry who is a person of color—or "ethnic" as we are categorized—I want to thank him for taking advantage of his position in the industry to bring light to a subject so often overlooked. Because when non-caucasian models speak on the subject, it falls on deaf ears and is belittled with, "That's the way things are." Hugh is a true ally and friend; however, he can not be the voice for the cause.
There is no way to have dialogue with Hugh and any department of the gay porn industry at large that would not result in a shouting match over who is more racist, more privileged, and more outraged. Everyone will be backed into a corner, simply because you speak of a struggle that is not your own. Our "champion" must come from within our own ranks. A voice of the people must be of the people. If that means I have to denounce any nominations, then so be it. I denounce my one nomination, in "Best Social Media Star," for a category that doesn't involve anything about my work in the porn industry for the past eight years. I recognize the irony of denying validation that I've sought by a panel of my peers.
However, GayVN is yet another red herring. It's a distraction to get us angry and shouting over each other without truly addressing the real issue—we are all at fault. Every last one of us is guilty for perpetuating the status quo, including: The model applicant who states, "I will not work with non-white models." The directors turning men of color into fetishes like "Blackballed." The producers who don't want to diversify from their studio's "look." The agents who will only submit white models and who neglect models of color by telling them, "I can't sell you because studios want blond hair and blue eyes, not you." The casting departments that apply double standards to non-white models, forcing us to have to work harder and longer for less. The models who only apply to black/Latin/Asian studios, because they feel mainstream studios will tell them they aren't enough. And, to anyone who has ever said that "Asians aren't sexual," and therefore not included in mainstream productions. We have all done our part to weave this tapestry, and I feel that transparency is the only way to see, address, and work to fix the issue.
Speak up, and do right by your fellow human. Call out people who are being sexually racist. Call out the award show who has an ethnic category. Challenge the all-white studio whose idea of diversity is hiring a "passable" performer of color (when a non-white model can pass for white at first glance). Silence has always led to lives of quiet desperation. In our current climate, friends and neighbors can easily be the enemy, and anyone can shout and point a finger at another, but which of us will be the voice of evolution? Who among us will read these words and make a motion for change? Not by white outrage, not by shouting matches, but by real change. I challenge the porn industry at large to start treating each of its members as human beings, not a niche, a fetish, or a category.
Sincerely,
Leo Forte
[photos via NakedSword]