Leo Sweetwood Exclusive: How He Avoids Drama, What He Thinks Of Barebacking, And Why You Shouldn't Slut Shame Him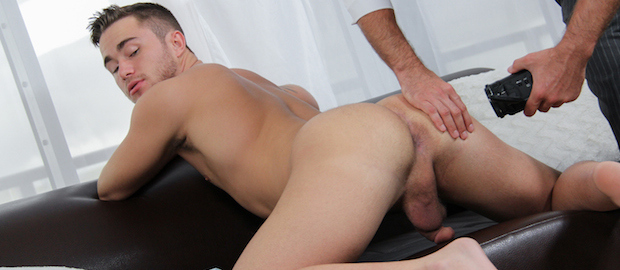 He tops, he bottoms, he sings, he smiles, he makes you laugh, and best of all, he gets you hard. Leo Sweetwood is arguably one of the best versatile performers of 2014, and Str8UpGay porn recently checked in with him to see how his return to gay porn was going (he took a brief hiatus in 2012/2013 to join the Marine Corps Reserve), and what to expect from him for the rest of the year.
Str8UpGayPorn: Hi Leo! So, you recently relocated to New York from San Antonio. What's something you can do in NYC that you can't do in San Antonio?
Leo Sweetwood: Drink! Alcohol stops at 2 a.m.< in Texas and 4 a.m. in New York City. I'm not a big drinker, but it gives me a chance to hang out with my friends more on the weekends.
You recently had a break from porn. What kind of changes did you notice in the industry after being gone and coming back?
Mainly just different performers developed and were more popular. I'm still very new to the industry and am still learning. I'm trying to get my name out there and show people and studios what I can do as a performer.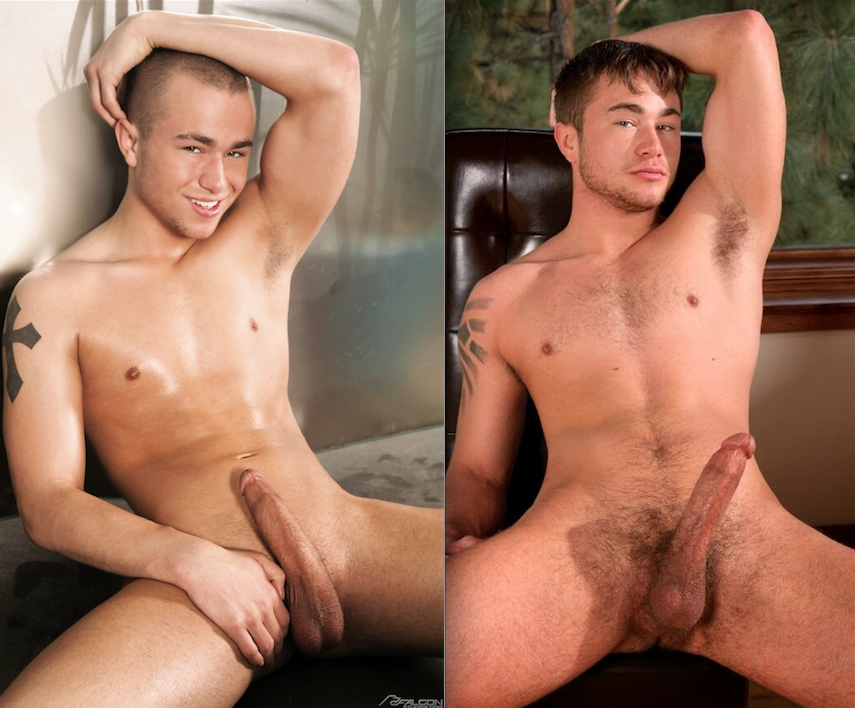 What kind of gay porn did you watch growing up, before you became a porn star yourself? Any favorite performers?
I watched Falcon and Raging Stallion a lot, and my favorite performer at the time (and he still is), is Leo Giamani. And, he's the reason my name is Leo.
If you could trade places with one other gay porn star for a day, who would you trade with and why?
I would love to trade places with Austin Wolf. It would be fun for me to be that big and tall for a day. He has one of the best bodies I've seen. He's also very well liked and respected within the industry, so I look up to him a lot. I would probably walk around the house naked all day!
Great idea! Do you watch your own gay porn scenes?
I don't watch my own scenes because I am my own worst critic. Other people will see something as "hot," and as a performer I'll think of ways I could've made it better.
Do you think all gay porn will eventually be bareback?
I hope not. Growing up I watched Falcon a lot, and what I saw was condoms in every scene. When you're young, you're very impressionable by what you see and your surroundings, so when I lost my virginity and became sexually active there was no question that I would practice safe sex. What some studios fail to realize is that not all the people watching their scenes know about condoms, diseases, or alternative forms of prevention. Now, I'm not saying studios that shoot bareback are bad, the majority of them do full screening tests on all their performers and only put models of the same status together, or they let their scene partners know the other's status prior to the scene to make sure all performers are comfortable.
So I take it you won't be going bareback anytime soon?
No, currently I do not wish to do a bareback scene. Safe sex in porn protects the performers, and it shows the viewers that condoms can still be hot.
What are some things you would never do on camera for a gay porn scene?
Well, obviously bareback is a big one. And then some of the extreme fetishes, like scat play.
All of the attention you've received has been so positive and drama-free. How do you avoid "porn drama" and not end up having crazy stories written about you?
I think I haven't gotten much negative feedback because I don't talk about people in a damaging way or indulge in unnecessary drama. If I critique you in anyway it would come from a place of love, and it would be to better yourself as a person. I try to make light of any subject or situation and have fun with whatever it is I am doing, and I only surround myself with people I like, look up to, or can learn from.
That reminds me of one of your close friends, performer Eli Lewis. Is he really as much of a slut as he seems to be?
Yes! Just kidding, Eli is a very "just love" kind of person but I wouldn't call him a slut. In this day and age when we are becoming more sexually free, we shouldn't "slut shame." He's my best friend, so I unfortunately only have good things to say about him.
What would you say to someone who's constantly letting their private drama become part of their public life?
Whatever struggles, baggage, or drama happens in your private life should stay behind closed doors. You're a professional, so act like it.
What's the weirdest/most embarrassing thing that's ever happened in your career?
In my first scene back with Falcon, I "had an accident" on set with my scene partner Andrew Justice. He handled it like a professional and we still ended up having a fun scene. But at the time, I was beyond embarrassed.
You're so cute, and I was surprised to hear you didn't have a boyfriend. What do you look for in a guy, and why are you single?
I don't have a "type" of guy that I look for, or a certain body type, age, or ethnicity that I prefer over the others. I look for a genuine guy that is stable in whatever profession he's in—or has an idea and a plan as to what he wants to do in life—has a fun sense of humor, and will love me the way I am. I'm not looking for a boyfriend right now because I feel I get a lot of love and intimacy from my friends and the people I surround myself with. Also, the less people know about a relationship, the better. So there is really no reason to have a "labeled" boyfriend.
If a guy really wanted to get your attention in a bar or a club and impress you, what would he have to do?
Come up to me and say "Hi my name is…"
What are three songs you've been listening to over and over and over again recently?
"Sowhahaponwuz," by ChiChi LaRue, "All About That Bass" by Meghan Trainor, and "Life of The Party" by Shawn Mendes.
Chris Pratt or Ryan Gosling?
Ryan! I'm still waiting for him and I to have a "Notebook" moment.
Beyoncé or Lady Gaga?
Beyoncé— she's QUEEN!
Vanilla or Chocolate?
I down with the swirl!
Truvada or condoms?
Condoms.
Spit or swallow?
My chest.
What's the first thing you do in the morning and the last thing you do before you go to bed?
I watch an episode of something on Netflix to wake up, and to fall asleep.
What can we expect to see you doing for the rest of 2014?
Hopefully more scenes, and I would love to be an exclusive with a top company.
Finally, I'm obsessed with your Instagrams and Vines, and I guess this isn't really a question, but do you have a favorite clip that I can post to end this interview?
Post whatever you want as long as I look good!
OK, that won't be a problem!