MAGA Congressman Involved With Rape Of College Wrestlers Wins GOP Nomination For House Speaker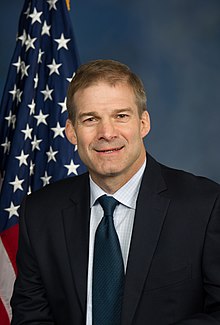 Expect more chaos in the U.S. House of Representatives, as the GOP has now nominated Republican congressman Jim Jordan of Ohio to be Speaker of the House. Jordan helped Trump attempt to stage a coup and overthrow the government after losing the 2020 election, but he's perhaps most well-known for helping to protect a rapist who sexually assaulted multiple college wrestlers at Ohio State University. News on Jordan's nomination via Deadline:
Rep. Jim Jordan (R-OH) won the GOP nomination to become the next House Speaker, but he still appeared to be a ways away from securing a majority.

Jordan got 124 votes in secret balloting this afternoon, to 81 for Rep. Austin Scott (R-GA), according to Punchbowl News and other outlets. Scott got into the race at the last minute earlier today.
It's not immediately clear when the floor vote will take place or if Jordan has 217 votes to win the role.
A Wiki summary of Jordan's protection of the rapist, who killed himself in 2005:
Jordan was an assistant coach with Ohio State University's wrestling program from 1987 to 1995.

Richard Strauss was wrestling team physician during Jordan's tenure. In April 2018, Ohio State University began an independent investigation into allegations of sexual misconduct by Strauss. Strauss died by suicide in 2005. Several involved persons have stated that Jordan surely knew of Strauss's criminal misconduct but did not report it. No wrestlers have accused Jordan himself of sexual misconduct, and he was never arrested or indicted for his alleged failure to report, but four former wrestlers named him as a defendant in a lawsuit against the university. Jordan has denied any wrongdoing, has refused to cooperate with investigations into Strauss.
The victims have been speaking out against Jordan being named Speaker this week, and here was 2020 testimony from one of them:
Jim Jordan of course wouldn't be the first Republican House Speaker to be involved with raping young men on a school wrestling team. Back in 2016, former GOP House Speaker Dennis Hastert was sentenced to 15 months in prison after making illegal hush money payments to a teen wrestler he raped while he was a teacher and coach at an Illinois high school.