Michael Lucas Recruited A Bareback Porn Star Who Shot And Killed His Entire Family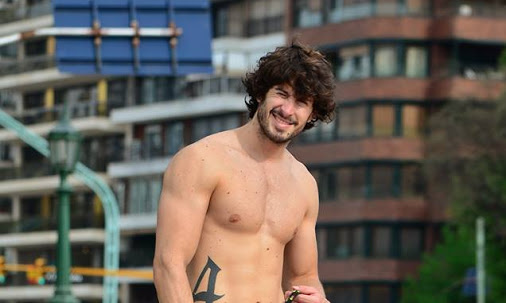 Lucas Entertainment's new bareback exclusive is named Tomas Lopez, but if you Google his real name—Tulio Adorna—you'll find that he's something even worse than a Lucas Entertainment bareback exclusive: He's a murderer. Yes, back in 2003, Michael Lucas's latest cum-guzzling discovery shot and killed nearly his entire family.
According to multiple Latin American sources, a then 17-year-old Adorna opened fire on his entire family, murdering his brother and father while wounding his mother and grandmother, who both managed to survive the cocaine-fueled shooting spree. A translated description of the murders via QueerMeNow:
Tulio Adorna killed his father and younger brother when both watched TV in the dining room chalet San José Funes 2432. The younger then 17 years. His father, Alberto Adorna, 50 years and owner of agency pools, and his younger brother Germán, 16, killed by shots to the head. Also were shot his mother, Alicia Travagliante, and grandmother Catherine Dártoli.
It was also reported that Adorna was mentally ill when he committed the murders, which seems to explain why the case wasn't prosecuted in Argentina as it might have been had it happened here in the United States. By 2008, the case was officially closed and Adorna was a free man. This garbled Google translation of a La Capital article indicates that Adorna spent time in a juvenile facility and underwent psychiatric evaluations before being released:
The Court of Appeals of Rosario sent yesterday to file criminal case opened nearly five years ago against Tulio Adorna. This means that the boy of 22, declared unimpeachable for the murders of [his] father and brother, and is freed from the control of the judiciary. This is, in short, a closed case.

The judges gave as valid the argument that the defense established last year: that the youth was recovered clinically and therefore it is unnecessary to extend the measure of psychiatric security had been imposed in place of punishment he would have received if be imputable.

They did so after hearing the favorable opinion of a doctor and a pediatrician who recommended the abolition of psychiatric control. Although to declare unimpeachable two years ago had argued otherwise, now the forensic Carlos Elias ruled out a mental illness in the young and, according to the ruling, considered dilute its original dangerousness.
Adorna might be a free man who's now taking raw loads for $400/scene as "Tomas Lopez," but I'd be willing to bet that he's still a little crazy. After all, you'd have to be insane to work for Michael Lucas.
Hey, maybe when Mike Dozer's released from prison in 25 years, Michael Lucas can hire him to do a scene with Lopez?
Oh, and I guess the "4" tattoo symbolizes all the people he shot (mother, father, brother, grandmother)? Have fun jerking off to this gem.