[UPDATED] Now You Can Fuck Darius Ferdynand And His Hot Boyfriend At The Same Time
Well, say goodbye to whatever savings you have left, because after seeing this escort ad, you might be compelled to spend it all to have sex not just with Darius Ferdynand—gay porn's most physically flawless and lusted after performer—but also with Darius Ferdynand's boyfriend, a towering Brazilian megahunk fuckstud named "Rafa."
If you followed any of the Hot Links on this site over the summer, you might have seen this insanely hot couple once before. Luckily, they're still together, and even luckier? They just posted a joint escort ad on SleepyBoy.com, and now you can literally hire them to come to your house and fuck you. Both of them. At the same time. In your house. Fucking you.
Sweet Jesus fucking Christ.
Rafa almost reminds me of a Latin Andrew Stark?
OK, well, this is getting ridiculous.
Who would you want to fuck or be fucked by first: Rafa or Darius?
Fuck.
Do horseback riding lessons come included with their hourly rates?
Speaking of hourly rates—they don't say what they are! I presume this would be in pounds (they're in London), so maybe £450 an hour for both of them? That seems reasonable and, honestly, I would pay up to £500 or even £600 for a treat like this.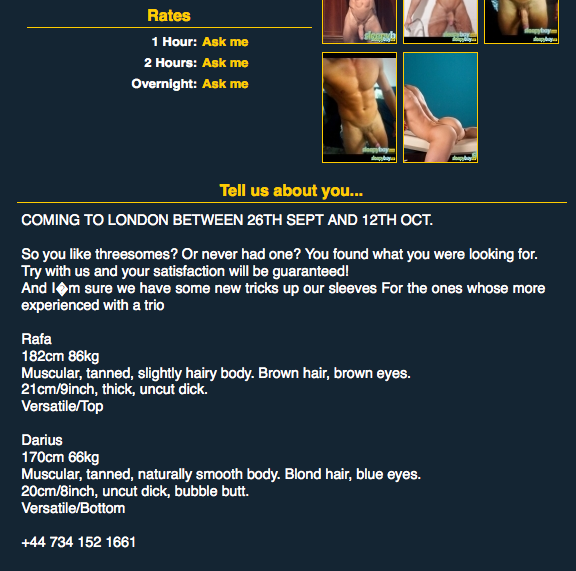 Here are a couple of Rafa's dick pics, which reveal a tan, fat, uncut cock. Given the size difference between Rafa and Darius, the sexual positions you could come up with for the three of you are endless.
UPDATE:
Prefer some one-on-one time with Rafa? He has his own individual escort ad, with even more photos.
Holy shit:
Sorry, no bareback!
And, here's Darius and Rafa's joint ad on SleepyBoy.com. Book your tickets to London now, queens! Darius and Rafa's schedules are going to fill up quicker than a pass around party bottom's hole at Hustlaball Berlin.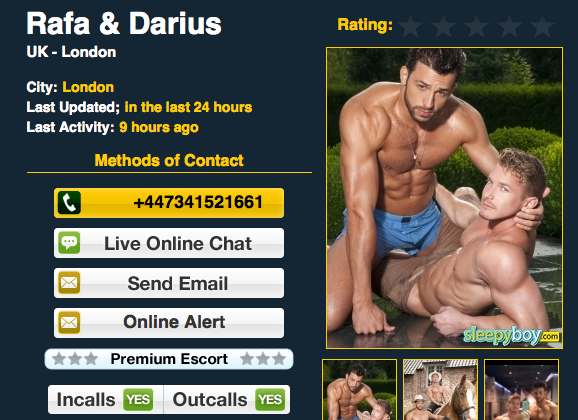 The question isn't "would you hire Darius and Rafa," but rather, "How much would you be willing to spend on hiring Darius and Rafa?"