[UPDATED] OnlyFans Gay Porn Star Tony Goodfellow Posts Porn Video To Twitter Featuring Children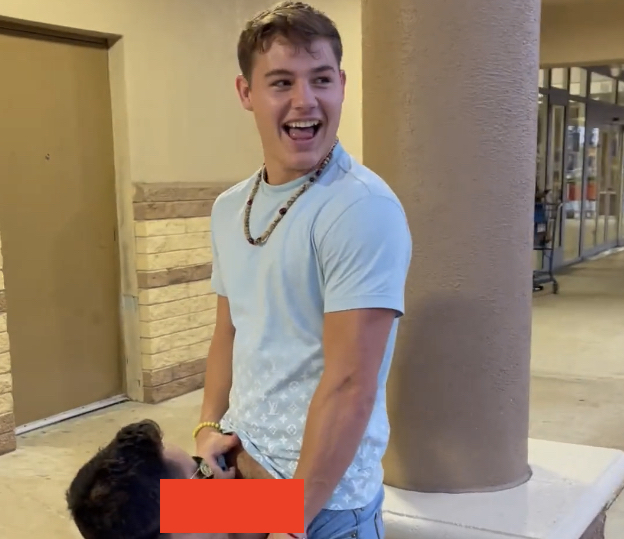 [Update: At some point Wednesday morning, the tweet with the video featuring children was deleted from Tony Goodfellow's account. It's not known if Goodfellow deleted the video himself upon realizing that Twitter might eventually suspend his account, or if Twitter informed him he would need to delete the video in order to regain access to his account (sometimes the site will "lock" someone's account until they delete a tweet that violated one of Twitter's rules). One would think that Twitter would automatically delete his account and not give him a "second chance," but who knows. Goodfellow can still be arrested at any time, as deleting the tweet obviously doesn't undo his crime. Goodfellow has not tweeted since Tuesday evening, when controversy over the video erupted online. Str8Up's article on Goodfellow and the video as originally published Tuesday night is below.]
*
Popular OnlyFans gay porn star Tony Goodfellow (above, right) is facing severe backlash on social media after the content creator published a video to his Twitter account yesterday showing him receiving oral sex in broad daylight in a public parking lot in Miami, Florida. At the end of the video, children are observed by Goodfellow exiting a store near him, and Goodfellow points them out while laughing, "There's kids, oh fuck!" As Goodfellow begins to pull his pants up and put his penis away, an unidentified person filming the sex act immediately turns the camera onto the children and deliberately zooms in on them as they cross the parking lot. More hysterical laughter continues from Goodfellow in the background as the camera lingers for three seconds on two small children walking with two taller people, who are presumably their parents or guardians.
Goodfellow has over 142,000 followers on Twitter and, as of post time, the video has been viewed over 108,000 times in roughly 24 hours, accumulating nearly 14,000 likes. Over 3,700 Twitter users have retweeted the porn video featuring children onto their own timelines.

Str8UpGayPorn won't embed the video here for very obvious reasons, although it is newsworthy to report on its existence, the response to it, and the fact that Twitter has allowed the pornographic video featuring children to remain on their platform for over 24 hours, despite numerous reports filed notifying the company that Goodfellow violated the site's terms against child sexual exploitation.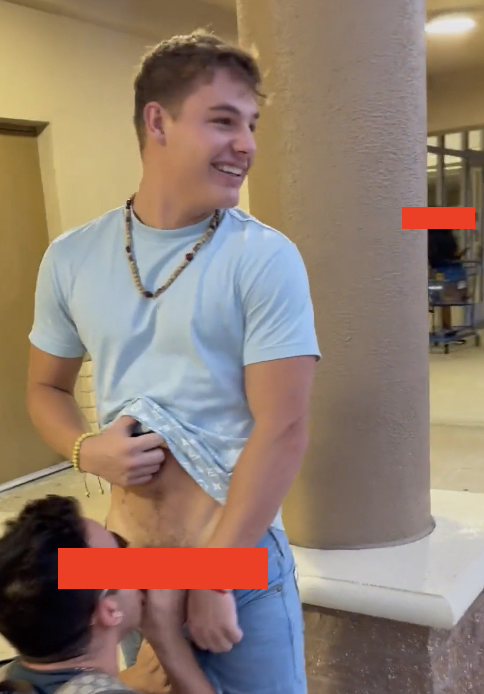 In addition to the children in the video, another bystander (as seen above) can be seen holding a shopping cart and leaning against a window while standing a few feet away from Goodfellow and the man sucking on Goodfellow's penis. That man is another OnlyFans performer (and on-again, off-again boyfriend of Goodfellow) named JP Hadley. As the two laugh while engaging in sex in front of the department store window, the camera person pans to the right to show a black sedan slowly driving by, causing Goodfellow to giggle louder as he yells, "Dude, get the whole parking lot, bro!" This indicates that Goodfellow expressly wanted the crowded public location to be seen in his video.
For the caption accompanying the video, Goodfellow wrote to his over 142,000 followers, "Watch me get sucked by @Jphadley96 in Miami. Retweet if you would have done it," as seen below:
Here below are some of the responses to the video (which Goodfellow marked as "hidden replies," so users have to do some extra clicks in order to view them):
Twitter has not responded to Str8UpGayPorn (nor anyone else, as the video is still up tonight), which is yet another reminder of the site's completely arbitrary and utterly worthless enforcement measures at preventing not only child sexual exploitation, but also public indecency, harassment, hate speech, terrorism, and countless other cruel, immoral, and illegal acts. If a Twitter account like LibsOfTikTok can tweet content to provoke and organize domestic terrorists into making bomb threats against children's hospitals, it should unfortunately come as no surprise that Twitter would allow someone to upload child porn.
While a suspended Twitter account would limit Tony Goodfellow's ability to promote his OnlyFans, which has over 81,000 likes (to put that in perspective, Matthew Camp—one of the most popular gay porn stars on OnlyFans who was profiled by the New York Times—has 148,000 likes), that of course can't compare to the legal problems he could face. Given the clear evidence seen in the video, Goodfellow and the other two people involved with making the video can now be easily arrested at any time and prosecuted in Florida for a variety of criminal offenses. If convicted, all three would likely be required to register as sex offenders for the rest of their lives.