UPDATE: Sentencing For Rentboy CEO Jeffrey Hurant Delayed Again
[UPDATE] 7/20/17:
In what could be good news for convicted Rentboy CEO Jeffrey Hurant, his federal sentencing hearing has been delayed yet again. Hurant—who pleaded guilty to promoting prostitution and conspiracy to commit money laundering nearly a year ago after Homeland Security raided Rentboy headquarters and arrested several employees—was supposed to be sentenced tomorrow morning in New York, but Judge Brodie delayed sentencing again (the first delay was issued back in May), and it's now scheduled for August 2nd:

The delay was issued in order to give prosecutors time to respond to a motion filed today by Hurant's lawyers. The defense motion argues against the "base offense level," which is what prosecutors used to calculate the amount of time they want Hurant in prison. In short, prosecutors are asking for an imprisonment term of 15 to 21 months, and here was how they got to that range: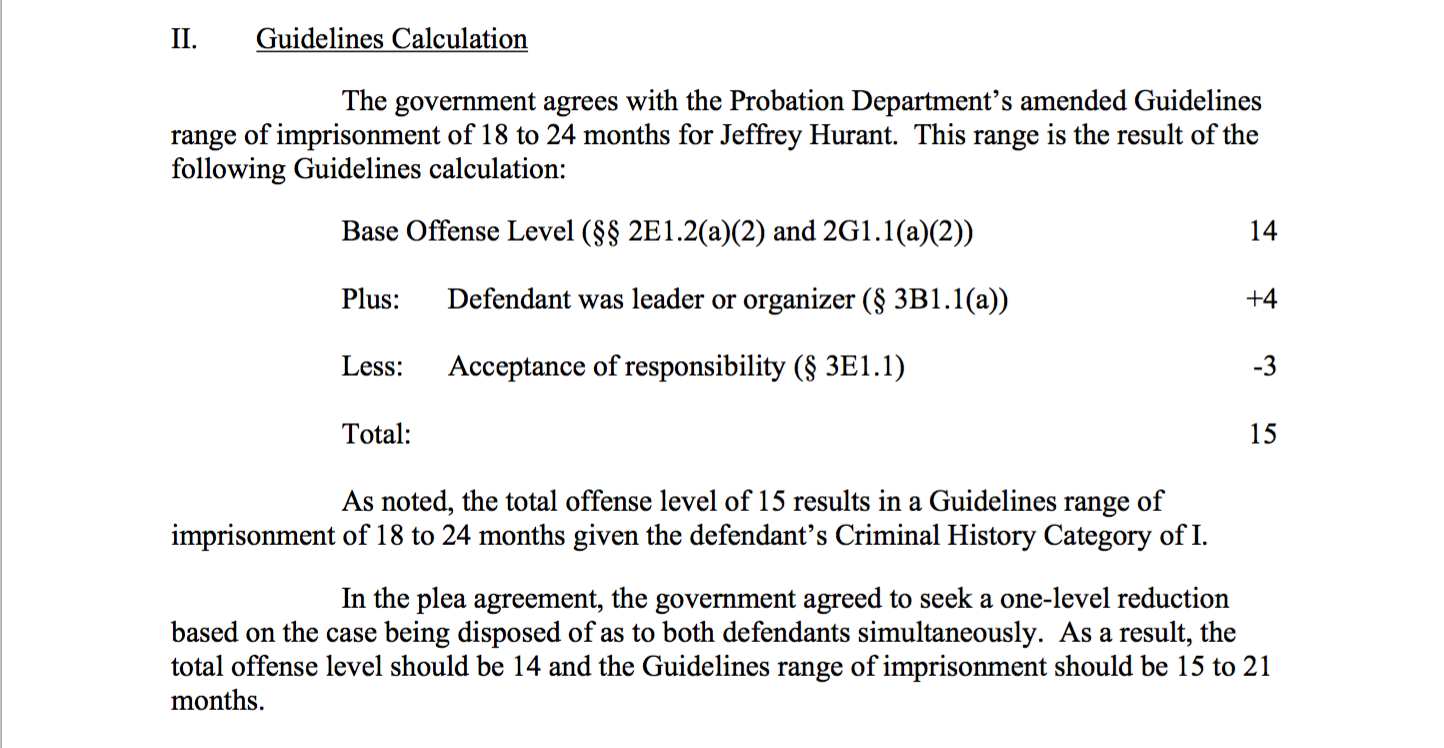 The defense's motion filed today (which is currently sealed) takes issue with the base offense level and resulting range of imprisonment, and the fact that the judge agreed that their issue merits a response could be good news for Hurant. The government's response to the defense is due by August 1st, and unless there's yet another delay, Hurant's sentencing will then be on August 2nd, 2017.
***
Previous update—5/4/2017:
Last October, Rentboy CEO Jeffrey Hurant pleaded guilty in Brooklyn federal court to the promotion of prostitution and conspiracy to commit money laundering. As you'll recall, offices of the now defunct gay escort service were raided in August of 2015, at which time Hurant and other employees were arrested. Prosecutors have been seeking approximately two years in prison for Hurant at his sentencing, which was originally scheduled to take place tomorrow. Late last night, however, the U.S. Attorney asked the judge for "additional time" to respond to Hurant's sentencing memorandum: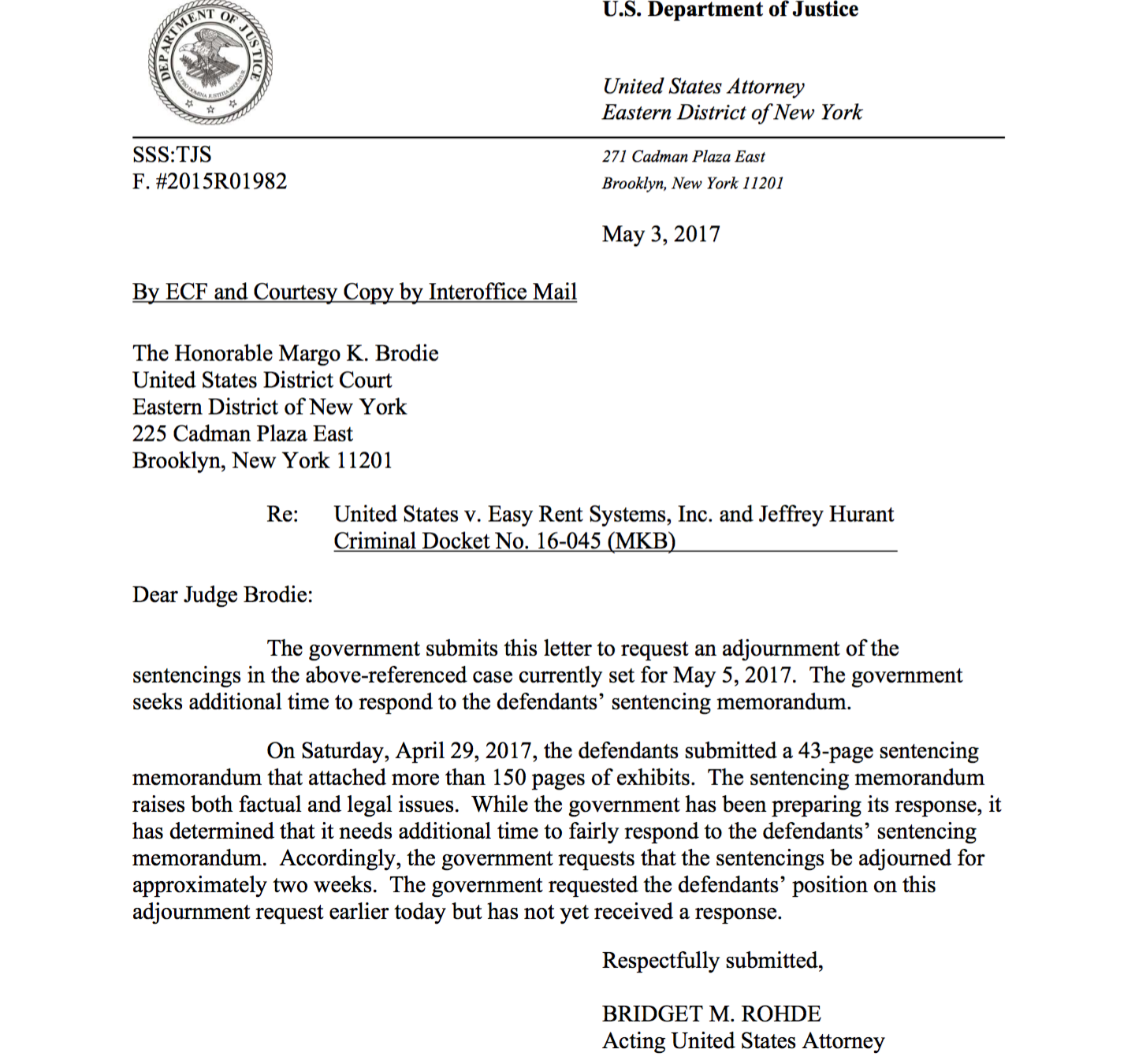 While the prosecution had asked for a delay of two weeks, the judge responded this morning granting the request and delaying the sentencing by over two months. Sentencing is now scheduled for July 21st:
***
Original story published January 27th, 2016:
Five months after his initial arrest, former Rentboy CEO Jeffrey Hurant was indicted today on charges of promoting prostitution and money laundering. The federal grand jury's indictment out of Brooklyn, New York includes three counts: Promotion of prostitution, money laundering conspiracy, and money laundering. "Easy Rent Systems" (Rentboy.com) was also named in the indictment on each count. Hurant has been free on bond since August, and the justice department did not immediately indicate when formal charges—which appear inevitable now, given the indictment—would be filed.
Six other Rentboy employees also arrested last summer are still engaged in plea negotiations, with a U.S. Attorney's spokesperson classifying the complaints against them as "pending."
Homeland Security and the Department of Justice faced significant backlash from media outlets across the political spectrum (The New York Times, Reason) as well as civil rights groups following the raid and arrests last summer, which were considered by most to be a bizarre and draconian government overreach, perhaps motivated by anti-gay bias.
Here is the full indictment, which includes allegations that Rentboy.com was not verifying that all of its users were over the age of 18. Also included are multiple notifications of forfeiture totaling over $1.5 million, should Hurant be convicted. The funds mentioned have been seized since last August. Donations to the Rentboy legal defense fund can be made here.