Rocco Steele Exclusive: What He Thinks Of Chi Chi, Condoms Vs. Bareback, And Having The Biggest Cock In Gay Porn
I've been wanting to interview Rocco Steele ever since Str8UpGayPorn launched over a year ago. Now, after the planets aligned, the emails and DMs were exchanged, and the questions were asked and answered, I can finally publish that interview.
Rocco Steele's career has skyrocketed this past year unlike any other performer's I've seen in recent memory, but could the mammoth-cocked and award-winning star be stepping away from the camera before the end of 2015? Rocco Steele talks early retirement, the difference between shooting with and without condoms, Chi Chi LaRue's unique directing style, and a lot more in this Str8UpGayPorn exclusive.
Str8UpGayPorn: Hi Rocco! You've been so successful in both bareback and condom porn this past year, but there are some who think that performers who work in bareback porn should only work in bareback porn, while performers who work in condom porn should only work in condom porn. Is that even realistic?
Rocco Steele: I don't think it's realistic at all. I have a hard time with studios who treat bareback models—who happen to be talented and can potentially make money for the studio—as pariahs. There aren't many, but I think we know who I'm referring to. I know what people are buying. The young dudes want realistic looking porn—stuff that reflects what they are doing or want to be doing. The old guard in place at some of these studios won't budge, but they're not making the money they could be making. I've been fortunate to have started with small bareback studios and then been able to work with larger condom studios as well, such as Raging Stallion and Chi Chi.
And they're obviously fine working with models who perform in bareback scenes.
They get it. They realize that what I did outside of their studio is not impacting what I do INSIDE their studio in a negative way. If anything, I bring some of my bareback fans over because it's all about a sexy scene, and not about whether there's latex on my penis. My cock is still penetrating a hot ass and that's hot regardless.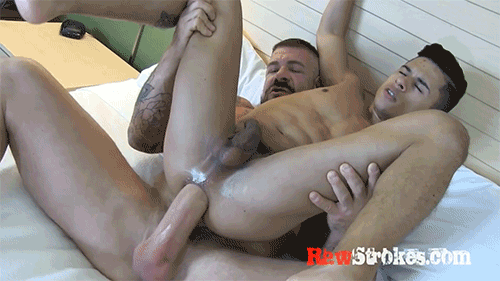 So what do you say to critics of so-called "crossover" stars who work in bareback and condom porn?
First of all, it's nobody's fucking business but the model's. Everybody has as opinion about what they think is right for somebody else. Here's what I say: Do what you have to do to make money and make a name for yourself. When I started a year ago, Ray Dragon and Raging Stallion were the only two condom studios willing to hire me and take a chance on me. Here I was this older dude who came out of nowhere, so I get it—studios probably weren't sure what to do with me at first, so I wasn't getting a lot of work. As a result, I had to make the decision quickly: Was I going to hold out for the day Titan might call me or do I take the bareback offers coming at me right and left? Because I knew my time in porn was limited, I opted to take the bareback work. It was not only lucrative but it was the best thing I could have done. There is so much competition out there, and now there seems to be so many "gay for pay" actors taking our jobs as well. We all have the right to work. I think things are changing so rapidly in porn and we, as models, need to move fast and seize the opportunities or they might pass us by.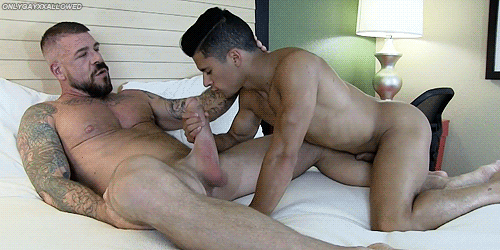 And as hot as your bareback scene ares (the one with Armond Rizzo is one of my all time faves) your condom scenes are hot, too. You recently filmed a movie with Chi Chi LaRue, who is very pro-condom. Did she offer you any opinion on your work in bareback porn?
Before my scene, I was fortunate enough to get to know Chi Chi as a friend and a partner in the industry. I adore her. Anyway, we talked at great length about my doing a scene for her and what her views used to be versus what they are now. Chi Chi, like myself, has seen how HIV and AIDS ravaged our community back in the 80s and 90s, so I get it. I totally understand why Chi Chi has been so rigid in her views about safe sex and promoting it in her videos. She hasn't changed her views but rather, slightly adjusted them to include models like myself who have done bareback in the past. She doesn't judge me for my decisions but is only concerned that I promote safe sex on her set and in her videos. That's all she asks. She keeps her integrity and I get to work for a legend.
That's a win-win, as Chi Chi is still considered the best of the best. What does she do differently as a director that other directors don't do?
Oh my God! Working for Chi Chi was my favorite experience to date. From the first phone call where we booked the shoot to the the moment she screamed "we got it…it's a wrap," she was funny and kind and nurturing and professional. Chi Chi is very maternal in real life and as a director. Also, I knew it was going to be a great experience because everybody I spoke to sang her praises as a director and as a professional. The thing that I fucking love about Chi Chi is her directing style. She sits in a separate room watching a monitor and she shouts out direction. Her production crew affectionately gives her grief about it but I loved it, and I wished she did more of it. I don't need to be heavily directed, but it was cool because she's like a porn cheerleader and her direction is always positive. She makes it so much fun.
It sounds like it was a great shoot. Tell me about your scene partner, Casey Everett?
Yes, overall, it was my favorite scene to shoot because it was with Chi Chi. My scene partner, Casey Everett, was sexy and sweet. He was the perfect boy to my daddy. A lot of guys struggle with my size. He was like, "I'm doing this dammit," and he did. He never once winced. We had a great connection from the minute we met.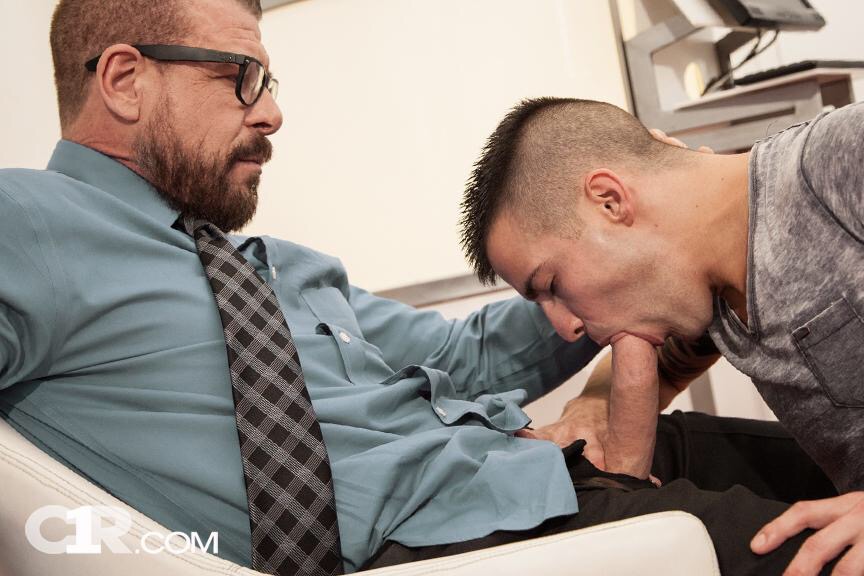 In terms of doing your job as a performer, does it really make that much of a difference whether it's condom porn or bareback porn? Is it more difficult to "complete" a scene (i.e., cum) if you're wearing a condom?
Shooting porn is all about the positions and the angles and trying to establish and maintain chemistry with your partner. This can be the part that is challenging, not whether I am wearing a condom or not. Whether it's condom or bareback makes no difference. I can have the chemistry and can create "magic" regardless. If the chemistry is there, I could "complete" the scene wearing a metal sheath over my penis.
LOL! Will you continue to work in both bareback and condom scenes going forward?
I am actually trying to do 50/50 from now on. I've said before that I do NOT want to be known as "the daddy or the king of bareback porn." I'm trying to shake that. I don't want to glamorize bareback over safe sex. I have younger fans and followers and I don't want anybody looking at my porn and making a decision to put themselves at risk because they saw me doing it. I want people to know that I enjoy condoms as well, and I discourage the risky behavior that increases chances of transmission of HIV or other STDs.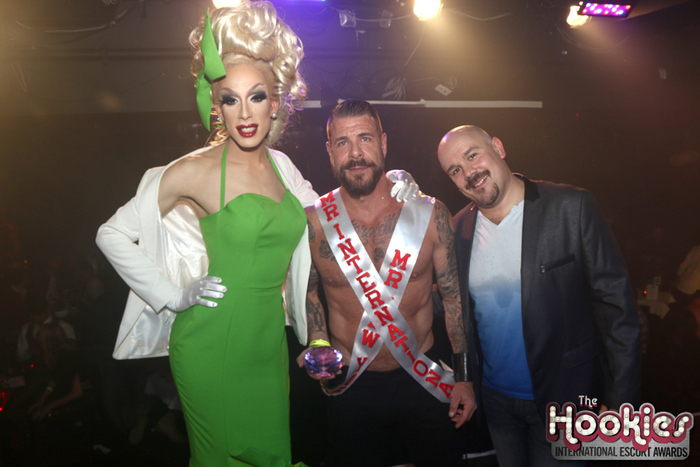 You recently won the coveted Mr. International Hookie award, as well as the trophy for Best Cock. I've always wondered, does winning those awards bring in more clients and raise your profile, or are they just for fun?
They definitely have brought in more clients. The flipside of that is that it also invites guys from all over the world contacting me and asking me when I am visiting their country—and marriage proposals, LOL. I wake up every morning to approximately 25 emails from all over the world. I go through each and every one of them and it takes time, but it's all part of being Mr. International. Overall, it has also brought me more business here in the states. Most of the time, if I travel, I don't even have to put up a travel ad. If people know I'm in their respective city for whatever event, they know to go to my profile to get my contact info.
You're also up for multiple Grabbys this weekend, and you're likely to take home at least one award. Of your six nominations—Best Newcomer, Best Top, Hottest Cock, Group Scene, Manly Man, Fan Favorite—which one would you like to win the most, and why?
This is a tough question because the diplomatic response is that there are so many deserving guys up there for any of these categories, and a win in any of these categories is an honor. The real Rocco "gut" response is that it would be nice to be recognized as Best Newcomer. I really have worked my dick off this year. I shot over 60 scenes, traveled to Europe four times, amassed 60,000 Twitter followers, won Mr. International, and started my own content website. So, I would like to win something that I had to work at. Best Cock is nice, but lets face it, I was born with that. But listen, I have lots of friends up for this category and they deserve it as well, so honestly, I will be happy for whoever wins. And if i take home anything, it would be an honor to be recognized by the industry.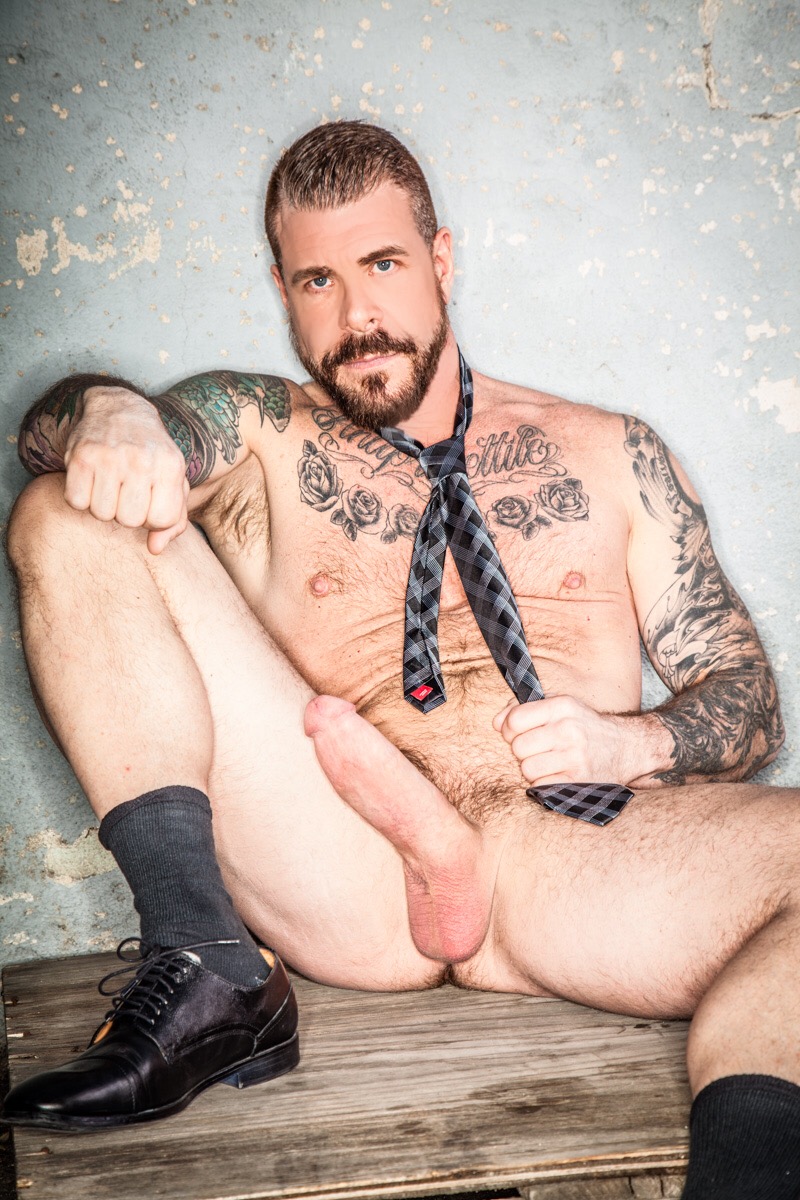 You mentioned your new website, where you're filming and releasing your own scenes. Does this mean you're going to be appearing less in studio scenes and focusing on your own content?
I planned to shoot less this year no matter what, but I still want to and plan on shooting with my favorite studios, such as Raging and Kink, and TimTales over in Barcelona. My website came out of nowhere really. I didn't know two months ago I would be doing this. I have to update my site weekly which, right now, means I'm in everything. My site is not meant to compete with studios and is very different than what the more established studios offer.
How do you see it evolving in the coming months?
It's like "Tim Kruger meets Xtube." It's like Tim because, right now, I am the sole top. But it's like XTube because the feel and vibe of it is is very "homespun." I operate on a shoestring budget and my concept is very simple: It's Rocco fucking, and it's Rocco jerking off. Thankfully, people are buying my videos because people want to see me doing these things. I hope to grow and develop my site into something maybe a little bit more elaborate, but right now, this "low-overhead" business model is working. And thankfully, people love watching stuff that feels more homemade and organic, like that POV clip I did with Max Cameron and his boyfriend. We are seeing the industry evolve with the success of Deviant Otter and Maverick Men, and they've proven that you don't need elaborate locations or concepts to be successful. I am inspired by them.
So in addition to the site, what can fans expect from you in the coming year?
I want to phase out of performing in the next 6-12 months, and only produce and direct. I am directing my first big video for Ray Dragon in June. He approached me and asked me to do it, and I'm so excited. I wrote the script and he let me cast three of the scenes myself. So, hopefully this experience will allow me to move more in this direction. I mentioned a year ago I would only do this for about a year, so the way I see it, I'm now on borrowed time. It's time to see what's the next big thing for Rocco.
I'll be watching, as I know everyone else will, too. Thanks, Rocco!
[C1R: Rocco Steele Fucks Casey Everett in Daddy Issues]
[Raw Strokes: Rocco Steele Fucks Armond Rizzo Bareback]