Sneak Peek: Beau Butler Is In Brazil For A Rhyheim Shabazz/NakedSword Co-Production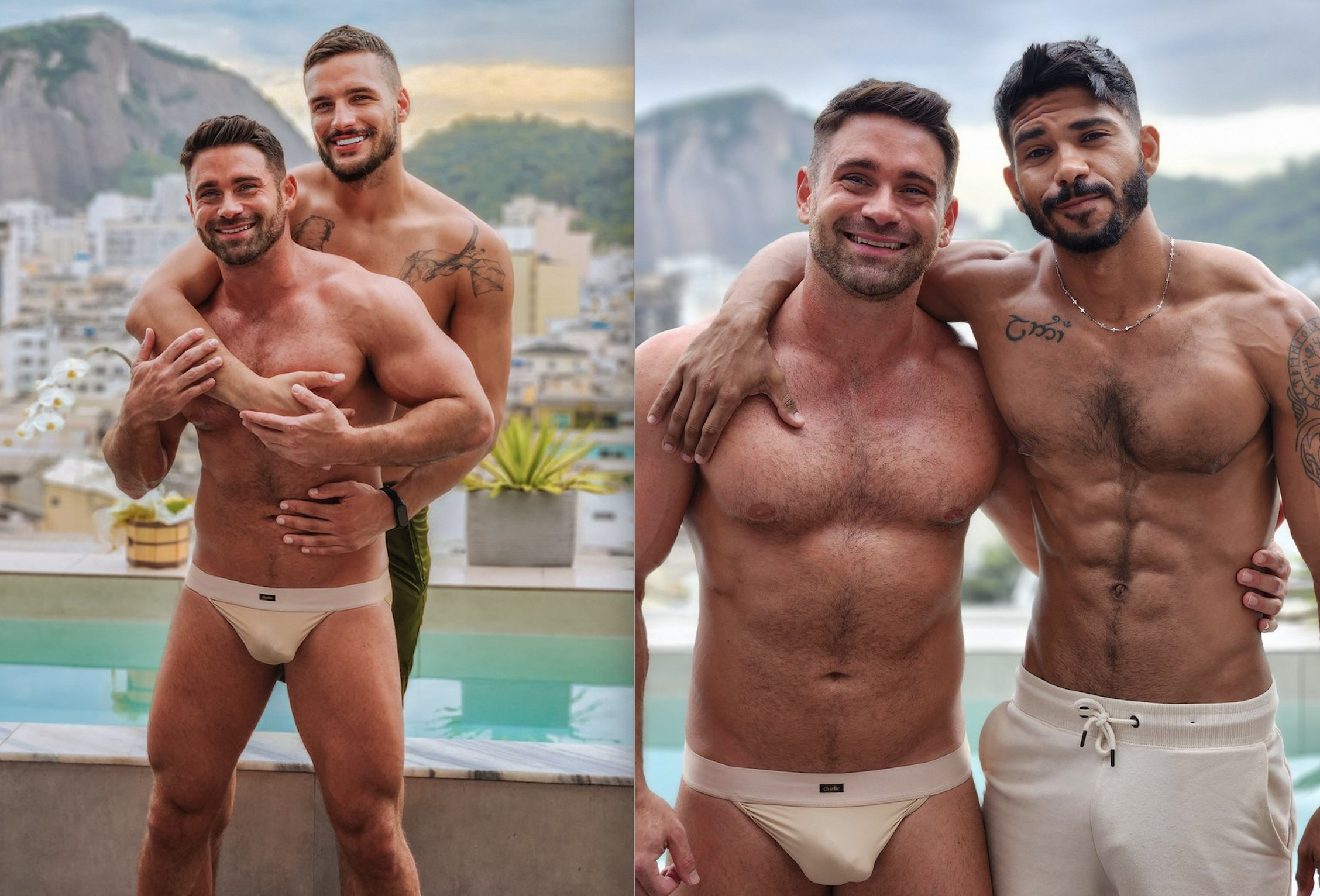 Surprise! Beau Butler has traveled to Brazil this weekend, and Str8Up can now reveal that the star is filming new scenes produced by Rhyheim Shabazz and his team. Beau is seen above with two familiar faces, Samuel Hodecker and Kael Griok, and get ready, because Beau is also filming a gangbang scene with nearly a dozen tops, as seen here:
Beau's gangbang co-stars include Grande Simões, Markin Wolf, Andy Rodrigues, Samuel Hodecker, Blessed Boy, Marcelo Caiazzo, Gabriel Coimbra, Gael Kriok, and Alex Rosso, and the scene is being photographed and filmed by Alternativa. This scene will be released on NakedSword as part of a collaboration between Rhyheim Shabazz and NS (this and other Beau Butler scenes in Brazil will eventually be released on all the stars' OnlyFans pages, too).
Another very nice surprise? Gay porn star Paul Wagner has joined Rhyheim and Beau in Brazil, too:
I'll have more on Beau Butler's Brazilian Gangbang from Rhyheim Shabazz/NakedSword as the release date approaches (I don't think we'll have wait to long—Rhyheim doesn't usually hold on to scenes for months on end like some studios do), and in the meantime, here below is a look at what else Beau's been up to since arriving in Brazil over the weekend. He's been busy!
Bear Necessities @BeauButlerXXX @blessed_xboy @juninhoojv
🎥@AlternativaX_ pic.twitter.com/gyKrqyKeWH

— Rhyheim (@RhyheimX) December 4, 2022
That's how you welcome someone like @BeauButlerXXX in Rio! @RhyheimX pic.twitter.com/SY2rhxLKMh

— Gael (Kriokrio22) 🔞🎦🇧🇷🏳️‍🌈 (@kriokrio22) December 4, 2022
And that's how I met @BeauButlerXXX 🤤🔥. A preview of what's to come…behind the scenes for you! @RhyheimX @AlternativaX_ pic.twitter.com/dLvcFs2Bmf

— Marcelo Caiazzo 🔞 (@marcelocaiazzo) December 4, 2022