Southwest Airlines Passenger Arrested For Stroking His Cock FOUR Times During Flight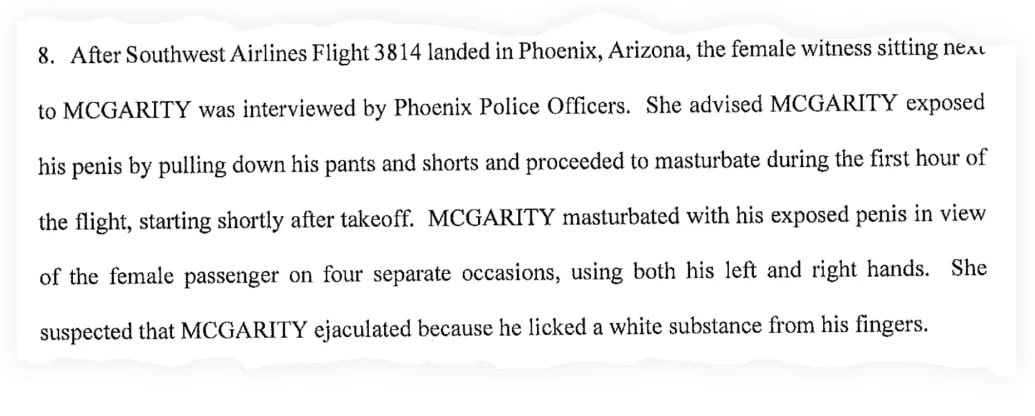 Don't bother trying to sleep, read, eat, or watch an in-flight movie, because there are now only two things people do airplanes: Start a fight or jerk off. Today, it's a case of the latter, as a man named Antonio McGarity was arrested for masturbating at least four times during a flight to Phoenix on Southwest (surprisingly, not Spirit). Via DailyBeast:
A man on a Southwest Airlines flight from Seattle to Phoenix is facing federal charges for pulling down his pants and masturbating at least four times in front of a female passenger, beginning shortly after takeoff, according to a criminal complaint first obtained by The Daily Beast.

Antonio Sherrodd McGarity was arrested by officers from the Phoenix Police Department when Southwest flight 3814 landed at Sky Harbor International Airport on Saturday, the complaint states.

"McGarity was seated in seat 11F and the female witness was seated in seat 11E," the complaint states. "Shortly after taking off, and while the aircraft was in the air, McGarity exposed his penis by pulling down his pants and shorts and began masturbating."

When the female seated next to him noticed the lewd behavior, she began taking pictures of McGarity. When he fell asleep after masturbating for roughly an hour, the female passenger told a crew member about what she had witnessed and was allowed to move to another seat.
An HOUR?! The female passenger didn't say or do anything for an hour? Perhaps she was afraid or too shocked to speak, but something about this doesn't sound right. She could've stood up and screamed at any moment, but instead she took pictures?
The complaint states that when the Southwest Airlines flight landed, Phoenix Police officers interviewed the woman, who reiterated she had seen McGarity masturbating "on four separate occasions, using both his left and right hands."

McGarity was also interviewed by FBI agents, who allegedly admitted to his in-flight behavior.

"McGarity advised he asked the female witness if she minded if he masturbates," the complaint states. "According to McGarity, the female witness put her hands in the air and said, 'it really doesn't matter.'"
?! If the guy were hot, I might say the same thing, tbh. (And yes, of course I've looked for photos of him online, but can't find any.)
McGarity thought the response was "kind of kinky" and believed the female was comfortable with him masturbating, the complaint adds.

In a statement to The Daily Beast, a Southwest spokesperson said McGarity had been slapped with a lifetime ban.
That'll teach him.
The man is awaiting trial, and it's not known if he's obtained a lawyer.
[DailyBeast: Southwest Passenger Arrested for Masturbating FOUR Times During Flight]