Str8UpGayPorn Will Donate $1 To Ryan Rose's AIDS Life Cycle Fundraiser For Every Commenter On This Post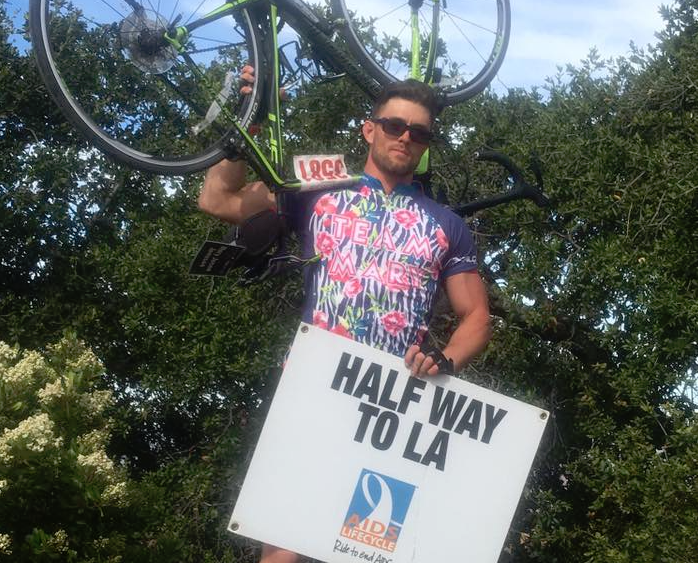 Update 6/1: Thanks to everyone who commented! There were about 180 comments (a few of which came from the same commenters—so there were actually around 140 individual commenters), and I went ahead and rounded that up to an even 200, for a total donation from Str8Up of $200. Thanks to everyone who commented, and most importantly thanks to Ryan for doing all the hard work and supporting such a great cause. FYI: Ryan's LifeCycle page is still taking donations as of right now (the ride doesn't start for a few more days), if anyone still wants to make their own donation.
***
As he did last year, gay porn star Ryan Rose is once again riding in the AIDS LifeCycle Ride To End AIDS, and now you can help him meet his fundraising goal. Here's the intro from Ryan's fundraising page, detailing the ride in California:
June 5th – June 11th, over 3,000 Cyclists, Roadies and Virtual Cyclists will be participating in AIDS/LifeCycle, a 545-mile bike ride from San Francisco to Los Angeles to raise funds for the life-saving services offered by San Francisco AIDS Foundation and the Los Angeles LGBT Center. This is my second year as one of them! The services provided as a result of this event mean the world to those who receive them, and your support means the world to me.
Ryan's donation goal is $5,000, and he's currently at around $4,000, so he's got another $1,000 to go. If you'd like to donate directly, just click here. Or, if you don't have the funds available to donate right now but still want to contribute, simply leave a comment on this post below. From now until June 1st, Str8UpGayPorn will donate $1.00 for every individual commenter who posts a comment below (up to 300 individual commenters and $300—and note that Str8Up will be donating to the fundraiser regardless of the total comment count). Your comment can't contain a link, a photo, or spam, and it only needs to be two or three supportive words (or more, if you have something nice to say).
Thanks to Ryan for participating in such a worthy cause, and thanks to the commenters here for helping him reach his goal.