Exclusive: Third Man Comes Forward To Accuse Topher DiMaggio Of Violent Rape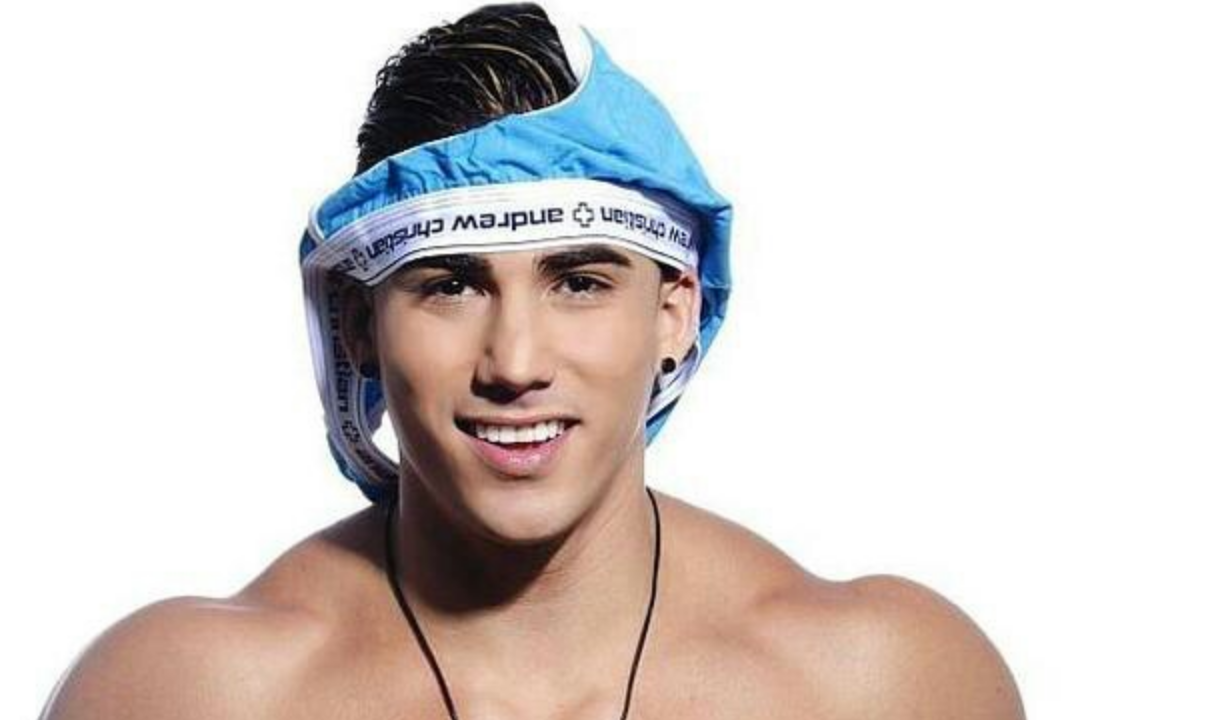 Last weekend, gay porn star Tegan Zayne came forward with a statement accusing Topher DiMaggio of raping him on the night before they filmed a scene together in 2016. Two days ago, a man not involved with the porn industry came forward to gay news site Hornet with a similar accusation, that Topher DiMaggio had raped him, too, in 2016. Today, a third accuser is coming forward to tell his story, and his accusation—which was first brought to Str8UpGayPorn last Monday, the day after Tegan Zayne's statement was released—is that Topher DiMaggio raped him, too.
This accuser has asked that he not be identified by his real name, and is being identified by the pseudonym "Bryan" for this interview. I was approached by a friend of Bryan's last Monday to notify me of his story, and I then reached out to Bryan after that friend provided me with Bryan's contact information. I've confirmed with the friend that Bryan told him about being raped by Topher DiMaggio, and the details of Bryan's story as previously told to his friend are identical to the details of Bryan's story as he told it to me yesterday.
Bryan's friend is a performer in the gay adult industry, while Bryan is not involved in the gay adult industry. When I spoke with Bryan yesterday, he had not yet heard or read about Topher DiMaggio's second accuser's story.
Bryan is from Sacramento, California, and he is 33 years old. He was 32 years old when Topher DiMaggio allegedly raped him in Sacramento. What follows is a transcript of our telephone conversation yesterday, which has been edited for clarity and length.
Str8UpGayPorn: Hi, Bryan. How and where did you first meet Topher DiMaggio?
Bryan: It was in Sacramento, at a night club.
And when was this?
It was about a year and a half ago, in the summer of 2016.
And you had never met him before, until that night at the club?
Right. I walked into the club that night, and I'm one of those guys that people know. All the staff knows me there, and I was always really friendly with everyone. So, I go to my bartender, get a beer, start walking around, and I see Topher talking to somebody I know. I remember walking up to the person and saying hi, and then he introduced me to Topher.
Was Topher friendly?
When I first met him, he said, "You know who I am, right?" And I was like, "No." I really didn't know who he was. So, then he says, "I'm Topher DiMaggio, from Andrew Christian. I'm the entire brand of Andrew Christian. I made them who they are." And I was like, "OK."
As the night went on, there was a group of us hanging out; Topher and I had mutual friends. I remember thinking he was pretty physical, not just with me but with everyone. It's like this sort of playful banter, but still it was weird that he kept, like, punching my arm.
And so all of you were just hanging out together at the club where you met him?
Yes. And one of the things that stood out to me from Tegan's story was when he mentioned that Topher was belittling and degrading towards him. He was exactly the same to me, even though we had just met. He had this same belittling attitude that Tegan described. I remember I gave him a compliment—it was something about his body or him being in great shape—and he said something back to me, to the effect of, "Yeah, I know. And you're like half my size."
After a while we all left the first club and went to another club. It was here that I knew there was something wrong with him. We were on the dance floor, and he just all of a sudden pulled out his dick and pushed my head down towards his crotch.
He did this in the club?
Yes, right in the middle of the dance floor. He pushed my head down, like to go suck it, and I moved back.
Had he been drinking a lot, or doing drugs?
He was drinking, yeah, but even if he was drunk, it still obviously wasn't right. We've all been drunk before, but we don't pull our dicks out on dance floors and push people's heads down. And later, yeah, he was doing drugs. He was doing coke.
At this point, did you have any intention of hooking up with him?
No. Not at all. I was pretty drunk, and when I'm drunk, even the hottest guys look ugly to me. Hooking up is the furthest thing from my mind when I'm drunk, and I can't think about having sex with anyone. I was especially not thinking about sex with him.
So in terms of how the night was progressing, it was you, him, and a few friends you both knew having a night out at the club.
Right, but then some of us went back to a friend's house, after the club.
And Topher came with you to the house?
Yeah, he came, and I think there were two others with us.
What happened back at the house?
That's where it happened, at the bathroom in the house. That's where it got violent. I had to go pee, so I went to the bathroom, but he followed me into the bathroom. He said, "I have to take a leak as well," and I was like, "Whatever." I let him go first, and he peed. Then I go to pee, and he got right behind me. Next thing I know, he pushed me forward against the wall behind the toilet, and then he pushed my face against the wall, really hard. My lip busted open on the wall, and I started tasting the blood.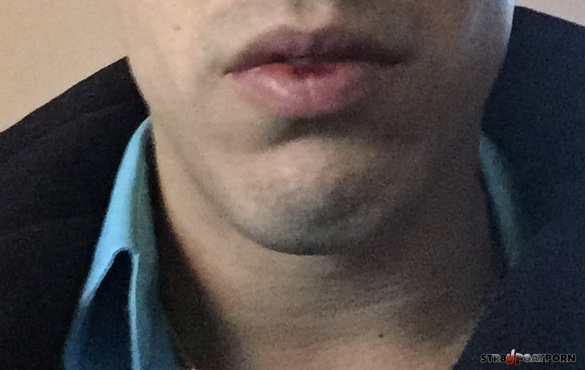 [This photo of Bryan provided to Str8UpGayPorn was taken by Bryan on his cell phone on the morning after the alleged rape. Dried blood can be seen on the wound on his bottom lip.]
What did you say to him, or had he said anything to you after pushing you?
He just kept saying, "It's fine, it's fine, it's fine." And then he pulled down my pants all the way. Remember, I was still trying to pee, but I couldn't. And then I felt him behind me, and I realized what he was really trying to do. So, I said, "No, don't. Stop." I kept saying "No." Then I said, "I don't bottom." I kept saying "no" again, and then again he was all, "Don't worry about it. Don't worry. It's fine."
Did you think about yelling for help? I take it the bathroom was small, and you were unable to get out?
There were two other people in the house, but I didn't yell. I thought I could try to push him off, and the bathroom was actually spacious. If I had been able to push him off, I would've been able to escape. I remember my hand going on his waist and trying to push back, but it didn't work. He was holding my chest with one arm, and then holding one of my arms with his other arm, so I couldn't move. And then he started doing it, and I really couldn't move. We were standing there over the toilet as he did it.
How long did this last?
It seems like it was a really long time, but I think it was only 10 or 15 minutes. When he finally stopped and he let me go, I asked him if he was finished, and he was like, "Yeah. I busted twice." He pulled up his pants and walked out of the bathroom.
What did you do next?
I got dressed and went down to my car, and I cried and fell asleep in my car. I had to go to work in the morning, and I looked at my face in the mirror when I got home and I realized that he really fucked me up. That's when I took the picture.
You didn't tell the people in the house though, you went down to you car.
Right. The first person I told was my mom. I told her I was raped, but that I didn't know who it was. Saying it was a stranger I didn't know was an easier way to tell her, I guess. I sent my mom the picture and she said she was so sorry.
Did you tell anyone else?
I told my roommates and friends, and I told my friend who told you. But telling people that I was raped hurt me more than the actual rape. At first, I was unsure where the line was drawn, and whether or not it was crossed to be called a rape. But then I was like, no, I said "no," and he kept going, and he was violent, and by definition this was rape.
And did you ever consider going to the police?
My roommate brought up going to the police, but it was so hard to talk about. Like, I'm supposed to be a "man," so how could I be raped? They told me I needed to file a police report, but I never did. I was dealing with my own inner battle for months. Like, did I insinuate something to Topher that might've caused this? Did I lead him on to deserve what I got? If I went to the police, I could imagine hearing Topher saying, "You wanted this. You asked for this."
If Topher apologized to you today, would you accept his apology?
No. Because I don't think he is sorry at all.
Were you worried about STDs after the incident? I didn't ask earlier, but I presume he wasn't wearing a condom?
No. No condom. I did go get checked for STDs, and I had everything come back negative.
How has hearing about him this week and re-telling your story made you feel? Are you doing OK?
I'm glad that this story has come out, because this is a real issue that other people need to hear about and learn from. I spent months worrying about my own reputation, or how I would look to others if people found out, and I've worried about being hurt all over again. But I think I've learned to think of myself as attractive again, and to love myself again.
I did see a therapist after it happened, to make a little more sense of it. And the one thing she told me that helped was that I would need to learn to forgive him, because if I carried it around with me, I was gonna eat myself alive. So, I forgive him, but I won't forget.
Thank you so much for telling your story, Bryan.
Thank you.
If you or someone you know has been the victim of rape or sexual assault, resources available for help include RAINN, the National Domestic Violence Hotline for LGBTQ Abuse, The Network/La Red, and The Anti-Violence Project for LGBTQ people. More details on sexual assault support groups and a complete listing of groups in your area can be found here via HRC.

Comments on this post are being pre-moderated.