Video Of Naked Man's Wild Crime Spree Following Car Accident Goes Viral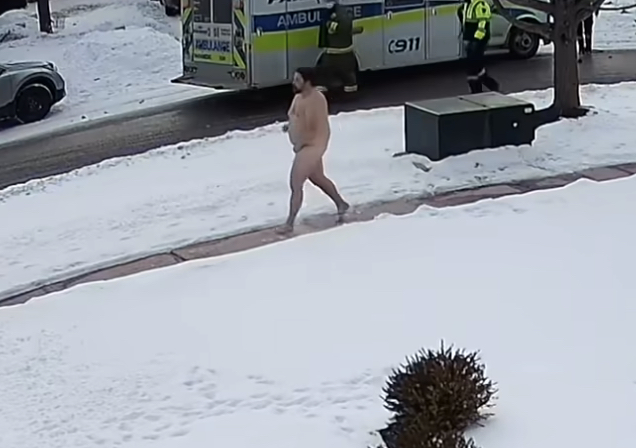 There's no reporting on why the man was naked, what caused the accident, and why he went into the stranger's house, but times are tough for everyone right now, so maybe he was just having a bad day. Via CambridgeToday:
Video from two home surveillance cameras captured a wild weekend incident where a distraught Cambridge man caused a collision before running naked through Hespeler streets as stunned neighbours watched in shock.

Edited video of the Saturday incident on Lardner Street, posted to a private account on YouTube but shared widely on Facebook, shows what looks like a white Volkswagon Tiguan speed around the corner on Lardner approaching Jamieson Parkway, and sideswipe a Dodge minivan that appears to be accelerating away from the Volkswagen.

The minivan loses control, speeds into two snowbanks, across a front lawn, clips a car parked in a driveway and slams into another parked car before coming to a stop.

The driver of the minivan gets out and steps around his vehicle in shock but apparently unhurt as the Tiguan tilts onto two wheels, slides through a snowbank, rolls across the street, hits another snowbank, goes up on two wheels and rolls back into the road, windshield wipers cranked to top speed.

When the driver of the Volkswagen exits his vehicle, he appears to be completely naked except for a large towel or blanket held over his lower body.

Police charged the 40-year-old Cambridge man with dangerous operation of a motor vehicle, break and enter, assault, careless driving, failing to properly wear a seatbelt, speeding and racing a motor vehicle.

The man was transported by Region of Waterloo Paramedics to a local hospital for treatment and was held for a bail hearing.
And here's the video: