Will Smith Slaps Chris Rock For Making Joke About Wife's Hair During Oscars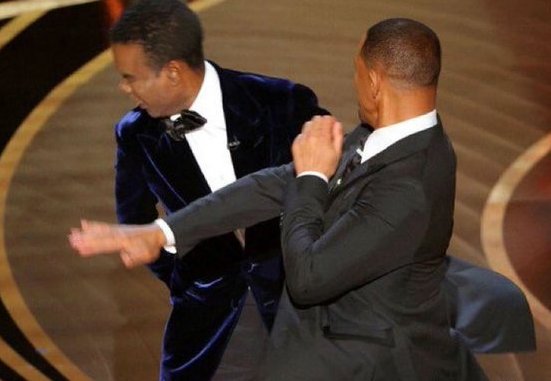 Well, it would've been the worst Oscars telecast of all time, but thanks to Chris Rock and Will Smith, it wasn't quite as disastrous as last year's show. To be sure, the ceremony was still awful with mostly bad winners (save for Ariana DeBose), boring musical performances, and useless/underused hosts, but we got some great unscripted entertainment when Will Smith got up from his seat, walked across the stage, and slapped Chris Rock in the face for making a GI Jane joke about Jada Pinkett Smith's hair. ICYMI, here's the uncensored version that ran outside of the United States (the whole exchange was bleeped here by ABC, including Smith as he screamed, "Keep my wife's name out your fuckin' mouth!"):
This Is Way Better pic.twitter.com/UrV4mzq4EC

— only fear god. (@GroveBoy_Lando) March 28, 2022
Chris Rock has declined to file a police report for Will Smith's assault (a misdemeanor that could result in six months in jail and a $100,000 fine), so there won't be any arrests tonight. Smith left the Dolby without going backstage, and didn't take any questions from reporters.
Here's the censored version of the incident that aired in the United States:
Here's the moment Chris Rock made a "G.I. Jane 2" joke about Jada Pinkett Smith, prompting Will Smith to punch him and yell, "Leave my wife's name out of your f–king mouth." #Oscars pic.twitter.com/kHTZXI6kuL

— Variety (@Variety) March 28, 2022
Joking about a woman's physical appearance right in front of her husband is actually kind of insane, so you can't really fault Will Smith. That said, there are other non-violent ways he could've responded, so he's clearly just another wealthy and egomaniacal celebrity who's out of his mind, and who thinks he can get away with anything. But also, Jada Pinkett Smith is dealing with alopecia that's caused her to have bald patches (which is presumably why she shaved her head), so that makes Rock's joke even more cruel.
Those with long memories might recall Chris Rock's opening monologue when he hosted the Oscars in 2016. As he was addressing the controversy surrounding the fact that there were no black acting nominees that year, Rock once again singled out Jada Pinkett Smith, claiming that she wouldn't even have been invited to the Oscars anyway, so she had no right to be upset about her husband not being nominated. The bit about the Smiths begins at around 2:40 in this clip:
Anyway, thanks again to Will Smith and Chris Rock for providing the only true entertainment for the whole show. Movie lovers unite!