[UPDATE] Gay Porn Star Mario Romo (a.k.a. Sean Cody's Francisco) Charged With Murdering Wealthy Gay Lover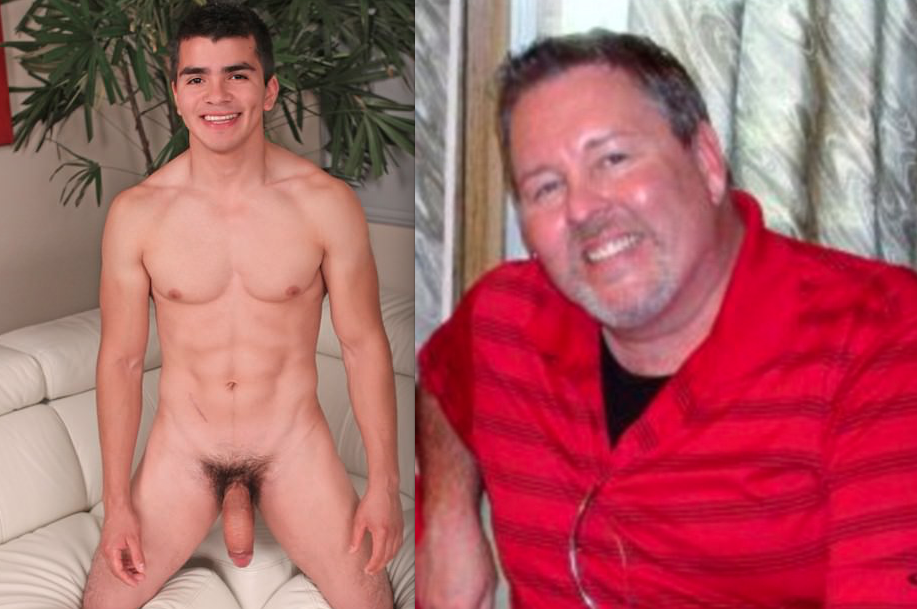 This story is being updated continuously throughout.
Str8UpGayPorn can exclusively confirm that gay-for-pay porn star Mario Romo (who started his adult career as Sean Cody's Francisco in 2010) has been indicted on multiple charges following the brutal stabbing and murder of wealthy Texas retiree Jake Clyde Merendino. According to FBI documents unsealed yesterday and obtained by Str8UpGayPorn (see below), 52-year-old Merendino (above, right) and Romo—whose legal name is David Enrique Meza—were gay lovers, and the Mexican gay-for-pay porn star is responsible for the Texas retiree's murder.
After being stabbed to death, Merendino's body was dumped in a Mexican ravine near the highway between Rosarito and Ensenada. According to the FBI, Merendino was stabbed over 20 times in the chest and stomach, and his throat was slashed.
Before killing him, authorities allege that Meza—with help from his girlfriend Taylor Marie Langston (seen below)—convinced Merendino to name him as his sole heir in a handwritten will. Shortly after Merendino's murder in May, Meza brought the will to the victim's Texas lawyer in an attempt to claim a sizable inheritance as Merendino's sole heir.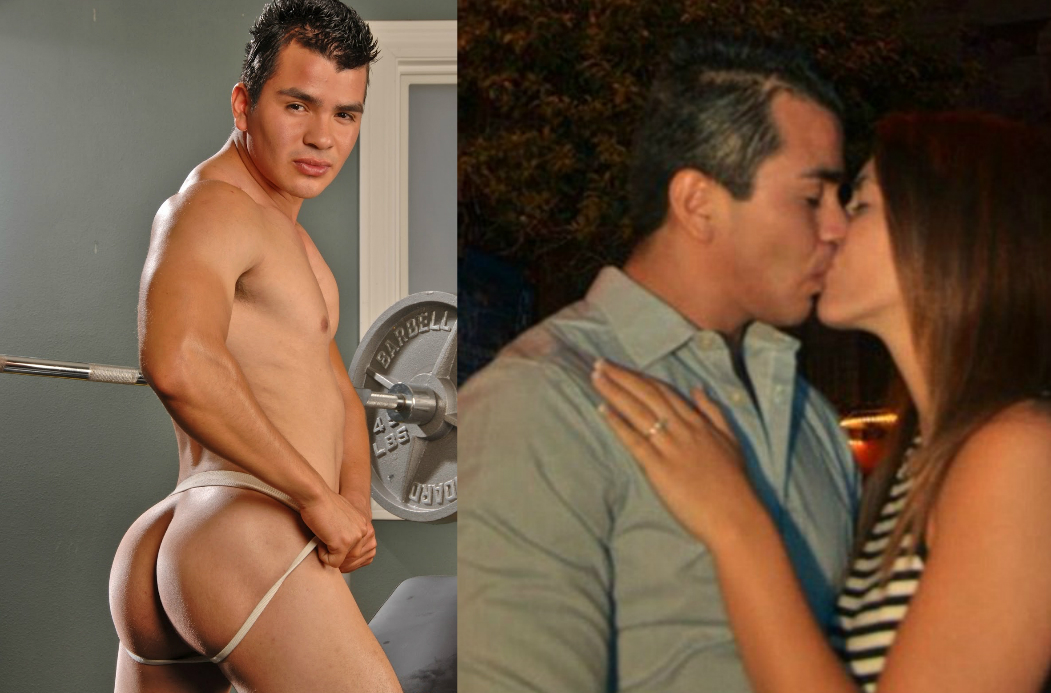 Via NBC San Diego:
On April 29, Meza and Merendino rented a car in Spring Valley and drove into Mexico so Merendino could close escrow on a $300,000, oceanfront condo at Palacio del Mar, an upscale development between Rosarito and Ensenada.

Because the new condo was not ready, the two men crossed back into the U.S. and checked into the Hercor Hotel in Chula Vista. On May 1, Merendino drove back to Baja, California in his Range Rover, while Meza followed behind on his motorcycle — a 2014 Christmas gift from the victim, according to the affidavit.

Federal authorities said the couple then checked into Bobby's by the Sea hotel, not far from Merendino's condo. The victim came down to the lobby between 7 p.m. and 8 p.m. on May 1, looking for a wine bottle opener, and at about 10:30 p.m., people at the hotel heard a motorcycle leaving the parking lot. Meza's was the only motorcycle on the property that night, the search warrant says.

[…]

Investigators interviewed Meza in June when they served search warrants to his apartment and vehicles. During that interview, officials say Meza denied killing Merendino but did say he and Langston were planning on robbing him. He said he called Merendino on the night of his death and asked him to meet at the spot his body was found.

Meza told authorities that instead of robbing Merendino, he got cold feet and left.

Meza faces federal counts of interstate or foreign domestic violence resulting in murder and conspiracy to obstruct justice. Langston, Meza's girlfriend, is accused of obstruction of justice, false statement to a federal officer, and conspiracy to obstruct justice.
Neither the authorities nor local media reporting on Meza's arrest have made the connection between Meza and his career as a prolific gay porn star, or whether Meza's work as a gay porn star had anything to do with how he met Merendino. According to the FBI, Meza and Merendino met online in 2013.
From 2010 to at least 2013, Meza, a.k.a. Mario Romo, worked for nearly a dozen gay porn studios under multiple aliases, including: Sean Cody's Francisco, Mario Romo (NextDoorStudios, Jake Cruise, Cocksure Men, Helix Studios, Raging Stallion,) and Elder Gonzales (Mormon Boyz). Meza/Romo also worked in several bareback scenes for SX Video and Sketchy Sex towards the end of his career.
Meza's girlfriend was pregnant with his child at the time of Merendino's murder and recently gave birth. The couple are currently incarcerated in San Diego awaiting arraignment. Meza faces life in prison if convicted on all counts, and Langston faces up to 20 years.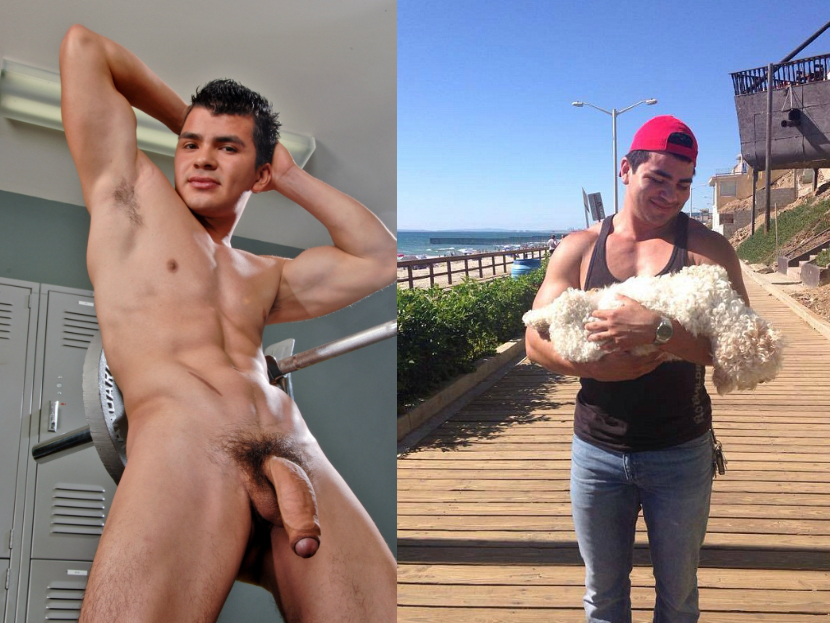 Meza is the second Sean Cody gay-for-pay porn star arrested in connection to a brutal murder, following the infamous Addison (a.k.a. Jason Andrews) who, along with his girlfriend, was convicted of murdering a gay man in 2012. Less than six months ago, another Sean Cody gay-for-pay porn star, Jarec Wentworth, was convicted of extorting wealthy gay Republican businessman Donald Burns, who, in retrospect, seems to have gotten off lucky.
At their arraignment this morning, both Meza and Langston pleaded not guilty. Meza was denied bail, but he has another detention hearing scheduled for December 28th. Langston was released on $50,000 bond and is under GPS monitoring. Her next court date is on January 22nd, 2016.
Here is the full indictment:
At a detention hearing this morning, Meza was once again denied bail. He'll remain in custody pending trial.

UPDATE 9/21/16:
It's been nearly 10 months since Meza's arrest, and a trial date has yet to be set. A variety of motions to suppress evidence and withdraw statements have been filed over the last year, and while Meza's girlfriend is still free on bond, Meza remains in custody. A status hearing is set for October 14th.

UPDATE: 11/26/16:
A trial date for Meza and his girlfriend has finally been set. They'll face obstruction of justice and foreign domestic violence resulting in murder charges in a jury trial on February 13th, 2017.
[
Sean Cody: Jess Fucks Francisco
]
[Sean Cody: Calvin Fucks Francisco]