Alex Mecum Exclusive: Why He's A Gay Porn Star, Why He Hates Labels, And Why His Cum Shots Are So Big!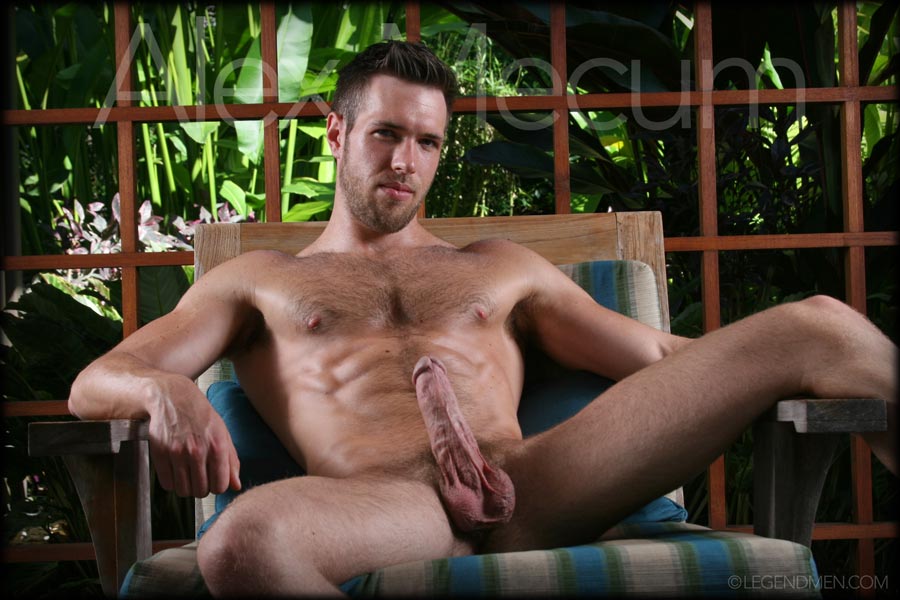 Over two years ago, Alex Mecum started his gay porn career doing solo scenes for bodybuilder jerk off site LegendMen.com. Then, just this month, the smoldering, well-endowed muscle hunk burst (literally!) onto the hardcore gay porn scene with his first two duo scenes on CockyBoys. What made him finally decide to move into action scenes with other performers? What does he have planned next? How is he able to shoot such huge loads?! Alex Mecum reveals all this and more to Str8UpGayPorn in his first-ever exclusive interview below.
Str8UpGayPorn: Hi Alex! So, a few basic things to get out of the way first. How old are you, how tall are you, and where are you from? What city do you live in now?
Alex Mecum: I'm 27, six feet tall, and from Utah. I've lived in New York and Kansas, but I've moved back to Utah for cheap, subsidized education.
As everyone knows, you started your gay porn career with Legend Men a few years ago, but what made you decide to finally "take the leap" and do a full, hardcore sex scene?
I've always been somewhat of an exhibitionist, and also a "pleaser." The idea of having sex on camera and turning other people on is just something that turns me on. Another reason I decided to do get into hardcore porn was because I'm a student again, and I was tired of being trapped here. I love traveling and meeting new people. After quitting my full time job, there hasn't been much of an ability to travel on my part. Doing this has given me the ability to travel again and I have met so many wonderful people doing it.
Did you follow the gay porn industry before filming your recent scenes, and did you have certain studios you liked or wanted to film with?
Not really, actually. I would always just look up videos of people cumming. Cum shot compilations were always my favorite sort of porn. I knew about the big ones though: Falcon, CockyBoys, Men, Sean Cody, etc., but I wasn't much of a connoisseur of porn. I mostly watched amateur porn.
Other than CockyBoys, do you have plans to shoot with other studios in the future? Which ones, and with which models will you work?
Oh yes! I'm filming with American Muscle Hunks, and I get to work with Johnny V., which I'm pretty excited about. This week, I'll be in New York working for Men.com, and again in L.A. with Men, and then I'll be working on a film for Falcon. This is going to be a busy half of the month! I'll let you know when I catch my breath!
What have you found challenging about performing in a sex scene?
Well, this is definitely not "easy money" like people seem to assume it is. I've done modeling before but mostly you only have to find the energy between you and the artist. In porn, there's the artist's concept that you want to portray, working with someone else who is different from you, and then taking in those energies and concepts and turning yourself on for hours on end so you can perform.
So, it sounds like the entire process is the challenge?
Yeah, basically, ha ha.
What misconceptions do fans and consumers have about adult models and filming porn?
Coming from Utah, there's the stigma that porn actors are sort of dirty people with no souls or aspirations outside of the sex business. But many people I've met are pretty normal, for the most part. They have dreams and aspirations, and I'm pretty amazed by the businesses some porn actors have developed outside of their porn careers. Many have done some great things for their communities and helped to create a more inclusive world, where we can all live together regardless of our differences.
One of the things you're known for is your "explosive" cum shot. When did you first realize you could shoot so much, and are the loads always that big? What's the secret to achieving an explosive cum shot?
Ha ha! Well, I was always aiming to shoot further when I was a teenager. My first encounter with material that turned me on was a website that was geared towards penis enlargement and penis exercises. Coming from my background, there was a lot of shame concerning sexuality and sexual behavior, so I actually felt bad for quite a bit of my teenage years when I'd cum. So, I focused more of my energy on doing penis exercises and edging. I think that those helped my cum shots, actually. Kegel exercises control cumming, too. Also, postponing orgasm is something I think that helps. Before a shoot, I don't cum for at least four days.
How do you keep in such great shape? What's your workout routine like?
I go to the gym almost every day. It's sort of like my time to regroup and refocus my energy. I don't workout with friends since I prefer to focus on what I have going on. I start out doing compound exercises and then narrow my workouts towards my target muscle group.
Do you have a boyfriend, or are you dating anyone now? What do you look for in a partner?
I don't currently. Physical attraction is a must of course, but mostly I just want someone who can understand me, and someone I can trust with information I share. I'm a perfectionist, so someone that can connect with me is important. I also like people who are independent and goal oriented.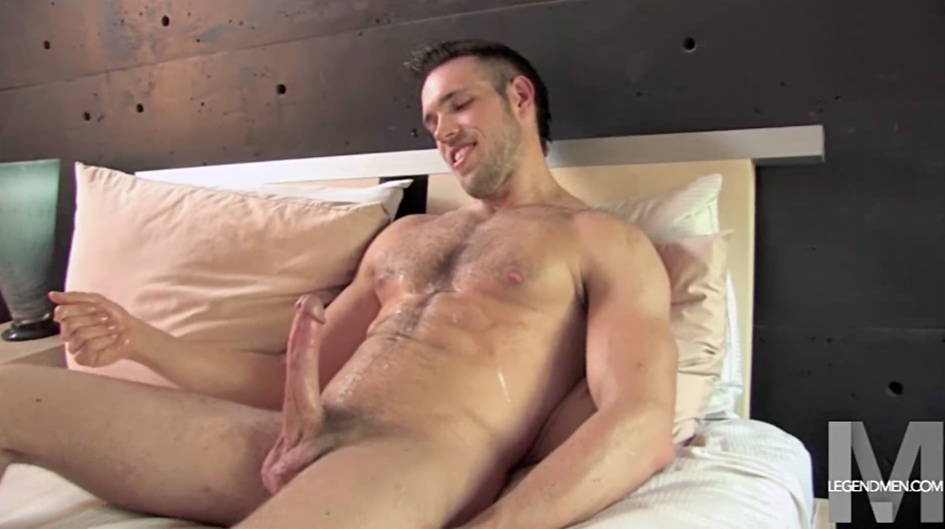 Before you filmed your first sex scene and really became active on social media, were you aware of all your fans and the desire for you to shoot hardcore content? What do you think of all the support and outpouring of love from the fans?
People have been so wonderful. I build off other's energies, and it turns me on seeing what people say. I didn't know too much about what people thought before I had a Twitter. Maybe I shouldn't have got it—now I'm sucked into it and can't stop!
Finally, we've seen you top and bottom now in your first two scene, but would you say you're more of a top or a bottom?
I've always been more of a top in my personal life. Doing porn has actually opened up my eyes to new possibilities. I actually really liked bottoming for Logan in my scene for CockyBoys. It really turned me on. Legend Men was so nice to buy me butt plugs, so I'm working on being a better bottom.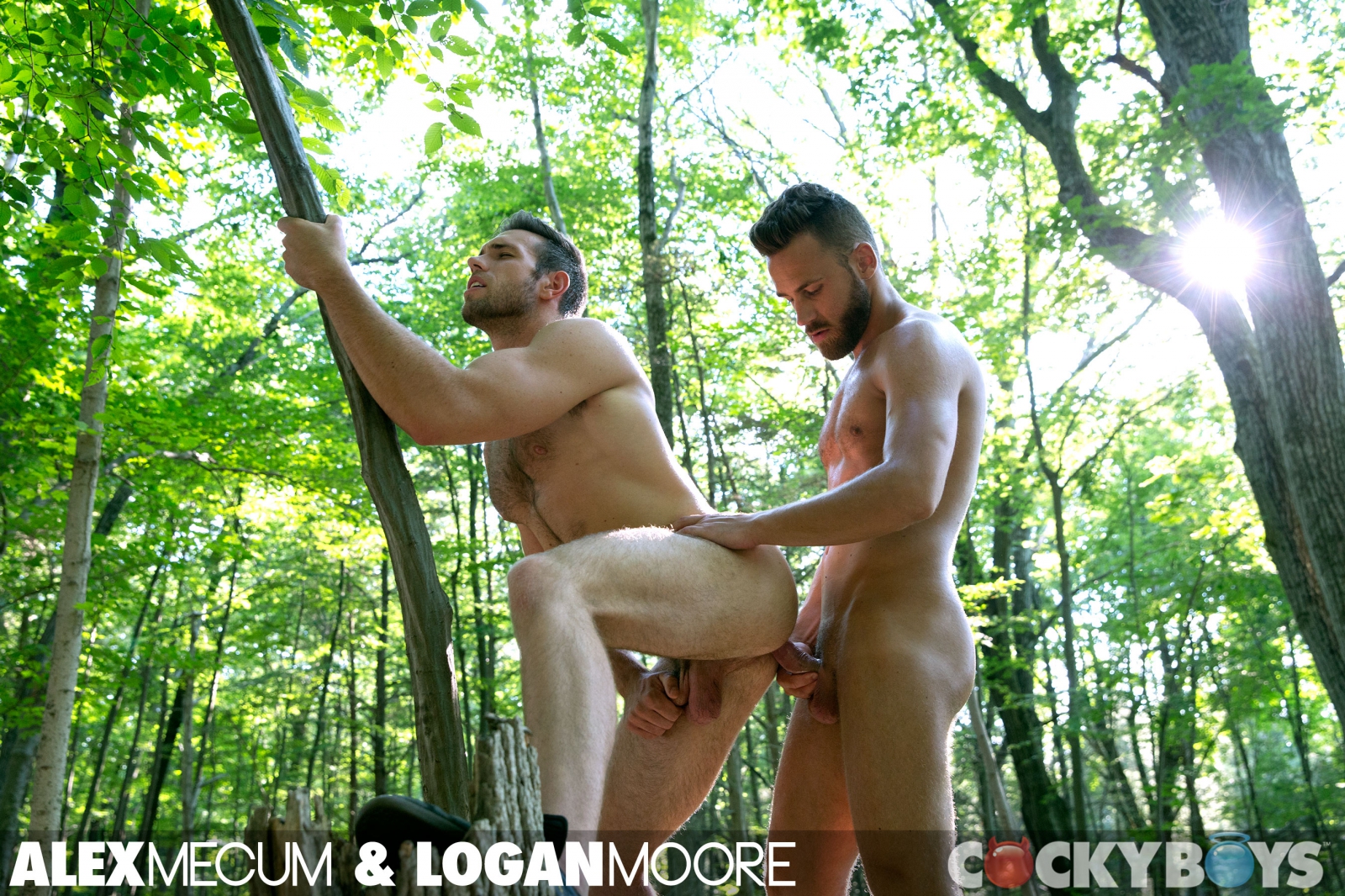 What do you think of labels like "top" and "bottom," in general?
I think labels are stupid. I never understood the whole masculine/feminine attribution to sexual preferences. I think it's very demeaning to people, and very sexist. In the American culture where men are still given preference, I think we in the LGBT community should know better than to continue this terrible tradition by labeling something as masculine or feminine and placing a value on it. Honestly, I think being a bottom is very admirable. That takes practice and an ability to control your body.
Absolutely. Thanks for taking the time to chat, Alex, and I look forward to all your upcoming work in 2015!
[
CockyBoys: Alex Mecum
]
[
Legend Men: Alex Mecum
]