Andrew Christian Underwear Model Jacob Ford: Umpqua College Shooting A False Flag Operation
The small yet vocal and completely deranged group of Americans who believe events like the Charleston, Sandy Hook, and, most recently, Umpqua Community College massacres are false flag operations apparently includes Andrew Christian underwear model Jacob Ford (a.k.a. Sean Cody gay porn star Porter).
You already knew Ford was a racist clown, and now you can add "certified lunatic" to the list of adjectives used to describe this idiot: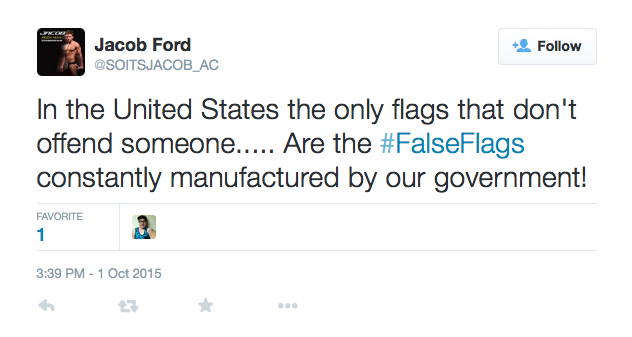 Conspiracy theorists believe that so-called "false flag" operations carried out by the United States government are designed to bring about gun control, totalitarian rule, mind control, mass imprisonments, and probably a thousand other things they haven't even thought of yet.
Porn star Jacob Ford, who announced his support for presidential candidate Donald Trump last month, posted the above tweet hours after at least nine people were shot dead at Umpqua Community College in Roseburg, Oregon.
When asked if Ford would continue to serve as a representative for their brand, underwear designer Andrew Christian declined to comment.