BREAKING: Andy Rodrigues Makes Bottoming Debut With Rhyheim Shabazz
Many of the most shocking—and most nut-busting—moments of 2022 have come from Rhyheim Shabazz, and we have yet another one today, straight from Brazil. It's the bottoming debut of Andy Rodrigues, as seen here:
Andy Rodrigues has been a top-only star for the last several years, and with a cock as heavy and humongous as his, that obviously makes sense. But, it's time to mix things up in his newest video, and Rhyheim Shabazz is doing the honors by breaking him in.
Rhyheim Shabazz made his own bottoming debut earlier this year, and he's become something of a pro over the last six months. He'd have to be in order to take Andy's cock, which he does masterfully in this flip-fuck:
Jason Momoa who?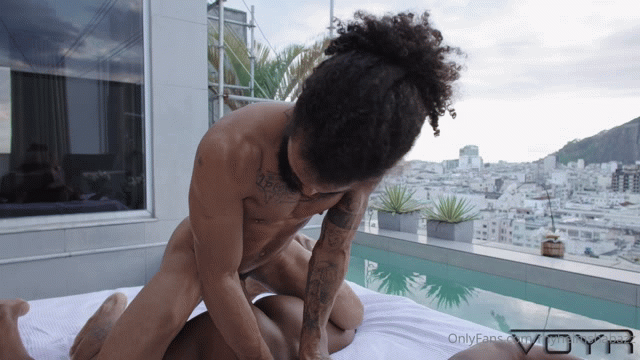 As if the fucking weren't beautiful enough, note the visuals in the background with that water, that sunset, and that skyline. Best Gay Porn Cinematography of 2022 goes to director/videographer Alternativa, because this is breathtaking:
Trailer (watch full scene here):
[
OnlyFans: Rhyheim Shabazz And Andy Rodrigues Flip-Fuck Bareback
]