[UPDATED] Gay Porn Star Ben Masters Hospitalized With "Severe Depression And Anxiety," While Angel Rivera Responds To Accusation Of Affair With Joey Mills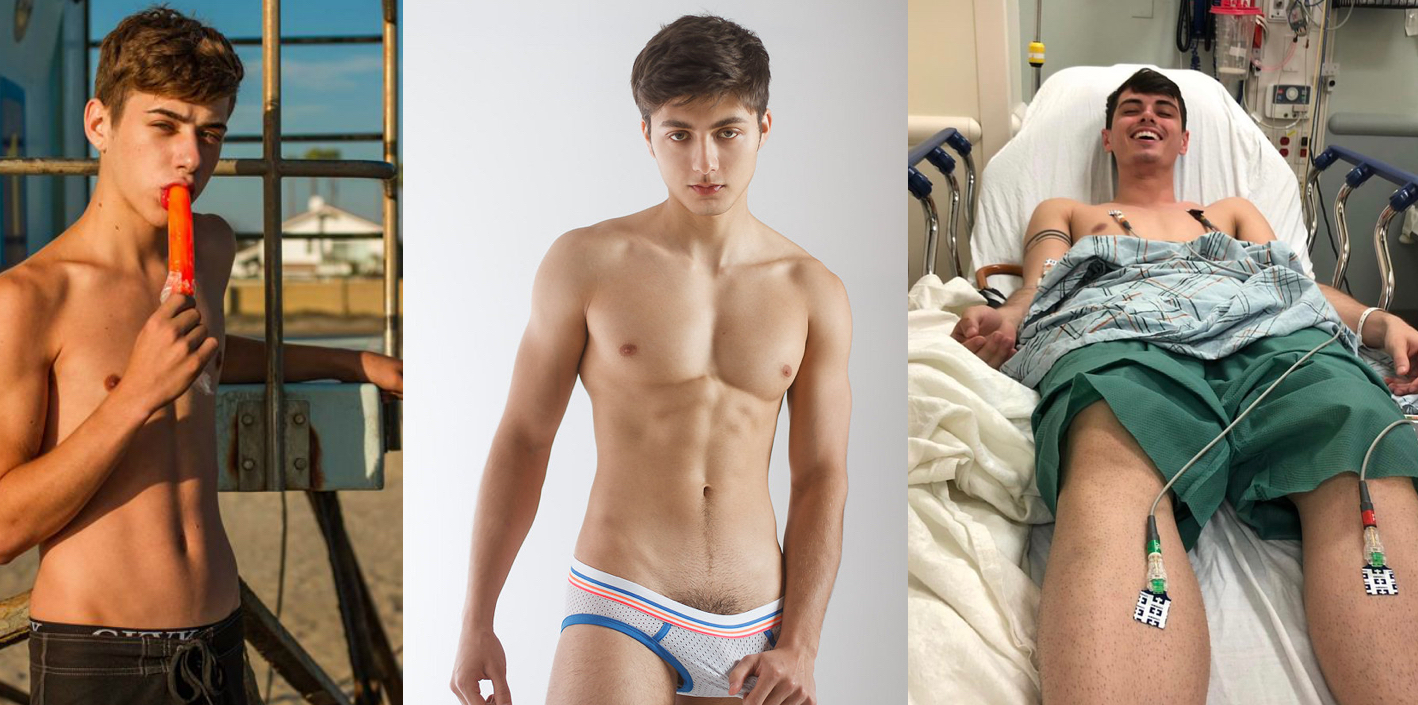 [This post is being continually updated below.]
Following gay porn star Ben Masters' accusation that his boyfriend Angel Rivera was cheating on him with fellow Helix performer Joey Mills—which played out dramatically on Twitter over the weekend—Rivera has issued a response today, nearly three days after Masters' Friday night Twitter tirade (which included his publishing of Helix employees' private telephone numbers). Rivera's response doesn't go into specifics, but it seems to imply that Masters was not being truthful or accurate when he made the accusations about Rivera and Mills: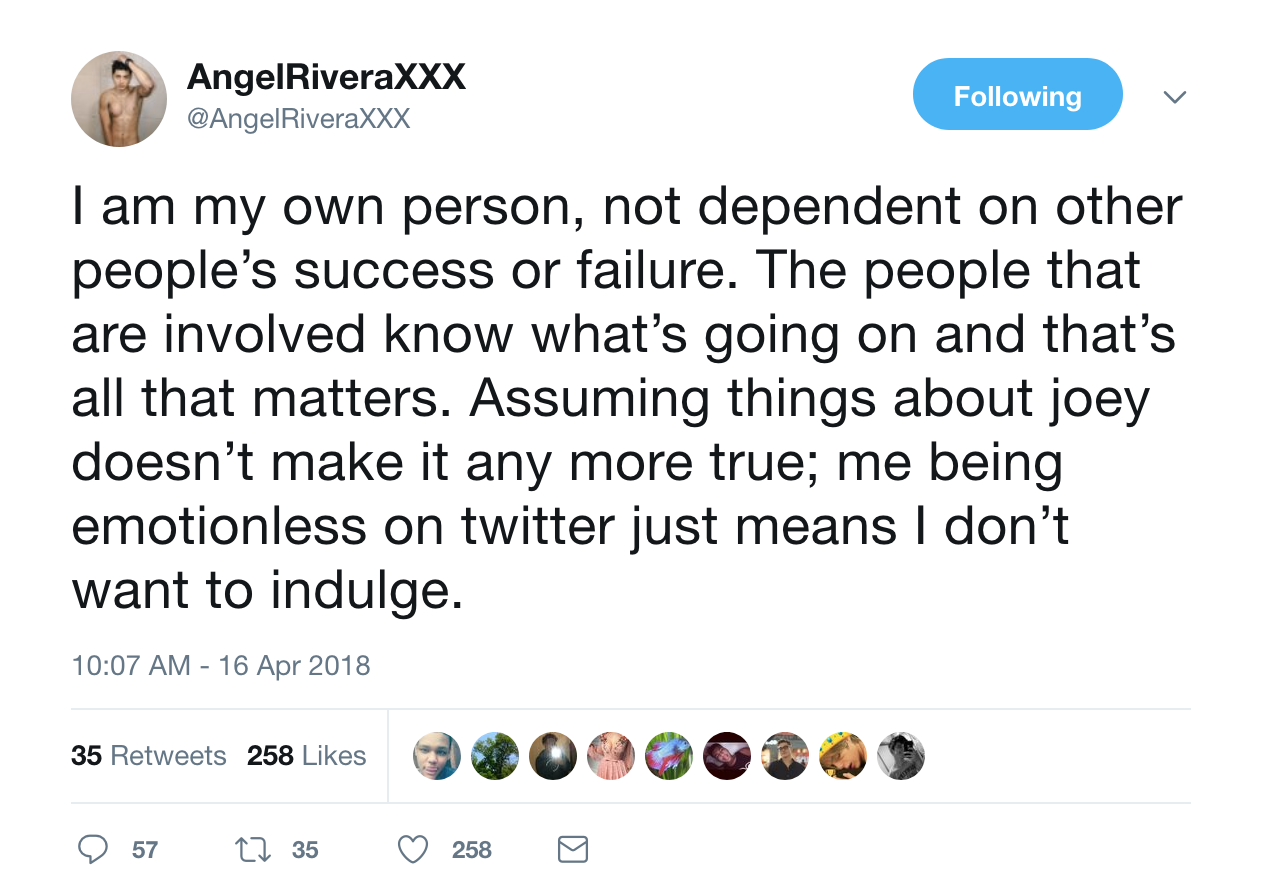 Ben Masters tweeted throughout the weekend that he was struggling with the apparent break-up, and he announced today that he was admitted to the hospital with "severe depression and anxiety":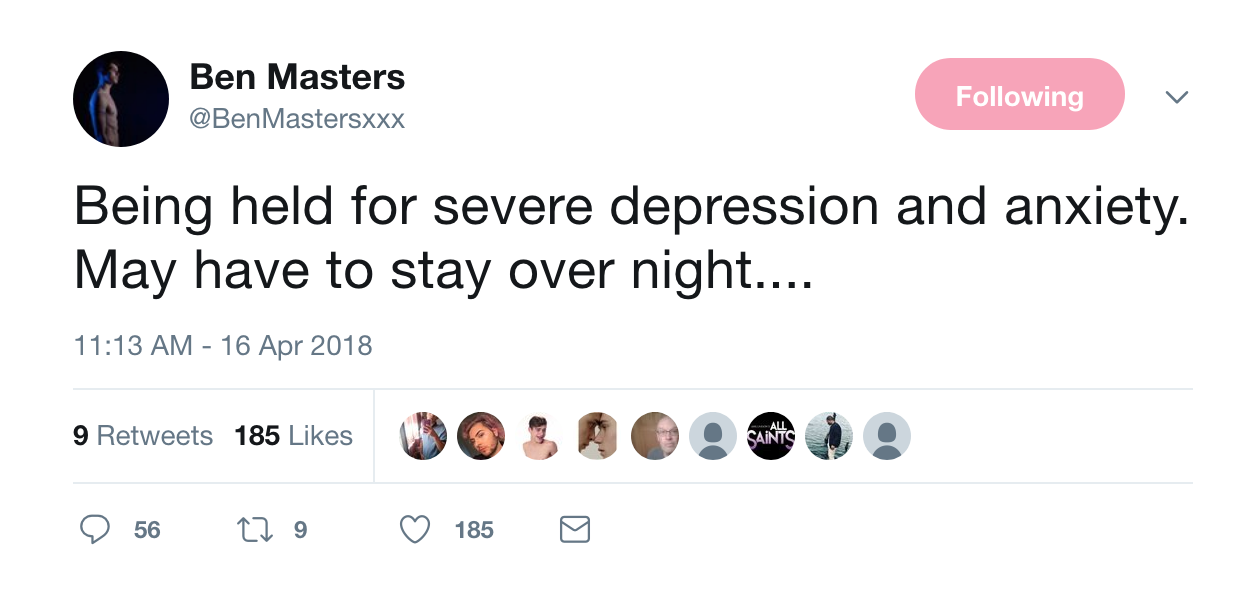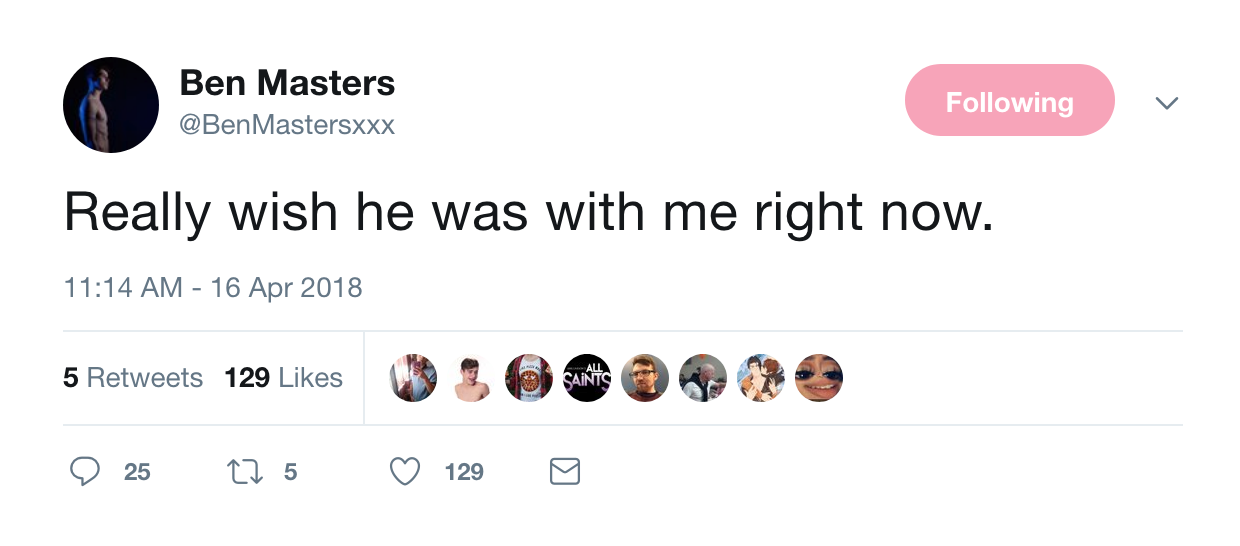 Hopefully Masters will receive the care and support that he needs, and he can get through what has obviously been a difficult time for him.
UPDATE 1: Ben Masters has shared these Snapchat images of him receiving medical treatment, presumably in the ER:
For his part, Joey Mills has not made any comments about the alleged affair or Masters, and instead focused on work and filming over the weekend. Mills, along with Rivera, Josh Brady, Cameron Parks, Luke Wilder, and Corbin Colby appeared to be shooting a six-way orgy, as shared by Helix yesterday:
Just hanging out ?? @HelixStudios @camxparks @JoeyMillsXXX @AngelRiveraXXX @SirLukeWilder @JoshBradyXXX @CorbinColby_ pic.twitter.com/o7Gh2jJniI

— Alex Roman (@sexyAlex90) April 16, 2018
UPDATE 2:
If you thought this couldn't get more bizarre (or confusing), think again. Early this morning, Angel Rivera's Twitter and Instagram accounts were hacked, and by his own admission, Ben Masters was responsible for the hacks.
It started with this tweet from Angel's hacked Twitter account, which was linking over to his hacked Instagram account. In the tweet, "Angel" (a.k.a. Ben) admits to cheating on Ben, and then says he'll be moving to Las Vegas to work full time for Helix and live with his "new boyfriend" (who, in hacker Ben's mind, would presumably be Joey):
On Angel Rivera's hacked Instagram account, a screenshot was posted of what appears to be a real, private message that the real Angel Rivera sent to Joey Mills via Twitter DM. It's not clear when this message to Joey Mills was originally sent, but assuming it is in fact real, it would've been sent several days ago, before Angel Rivera went to Las Vegas: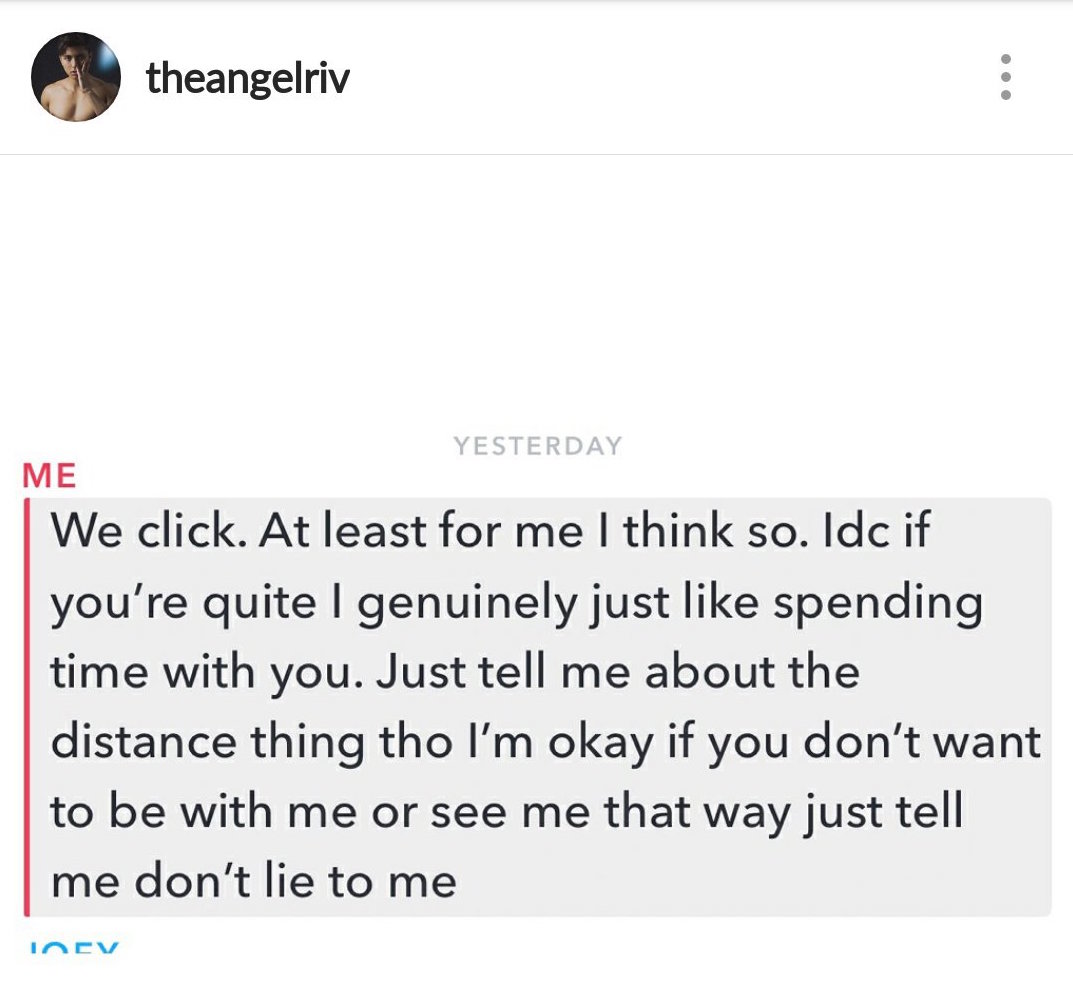 In the Instagram caption written by hacker Ben Masters, as seen above, the fake Angel Rivera writes that these are his "true feelings" for Joey Mills, and that, "yes I cheated."
Two more tweets were posted to Angel Rivera's hacked Twitter account, with the hacker now admitting that the account has been hacked, and then calling Angel Rivera an "awful person":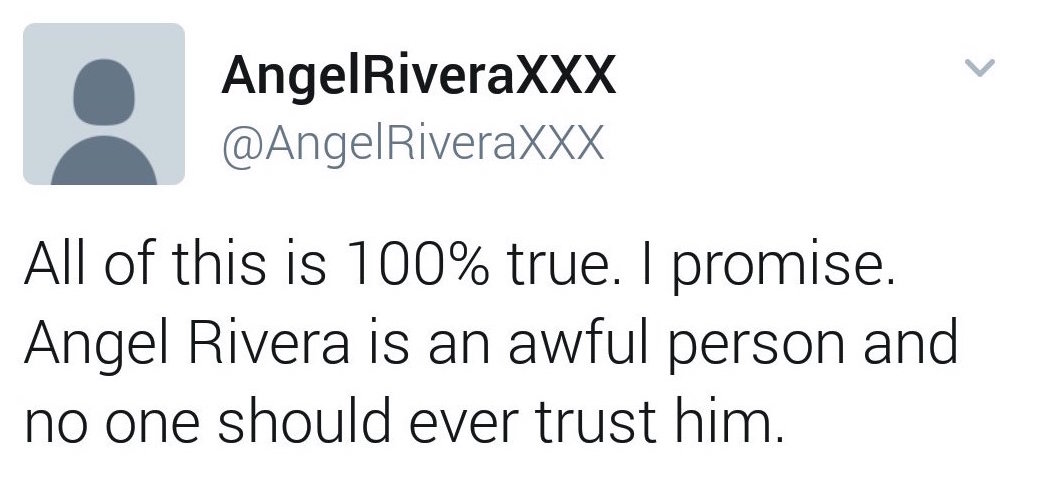 Shortly after that last tweet, the hacker then completely deleted Angel Rivera's Twitter and Instagram accounts. Ben Masters, now tweeting from his own account, admitted to playing a role in deleting the accounts, "at request by me," and admitted to knowing who the hacker was: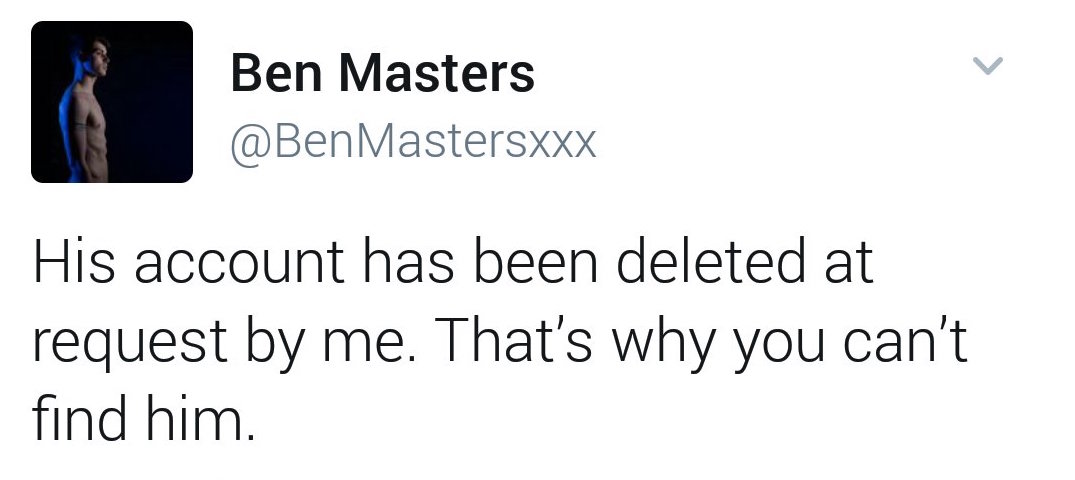 Obviously, it was Ben Masters who hacked Angel Rivera's Twitter and Instagram accounts. Being boyfriends and living together in New York City, it's reasonable to assume that Ben had access to or knowledge of Angel's passwords.
Also, just moments ago, Ben Masters openly admitted to hacking the accounts. In a response to Str8UpGayPorn's tweet presuming that it was him who did the hacking/deletion, Ben Masters quote RT'd Str8UpGayPorn by writing, "Yup."
As of now, Angel Rivera's Twitter and Instagram are still deleted, but given that he was hacked, he should be able to have both accounts reinstated.
There will undoubtedly be another update coming soon (by the time I click publish on this post and go back to Twitter, something else will probably have happened), so stay tuned…