Gay Porn Star Ben Masters Accuses Angel Rivera Of Cheating On Him With Joey Mills, Then Posts Their Phone Numbers On Twitter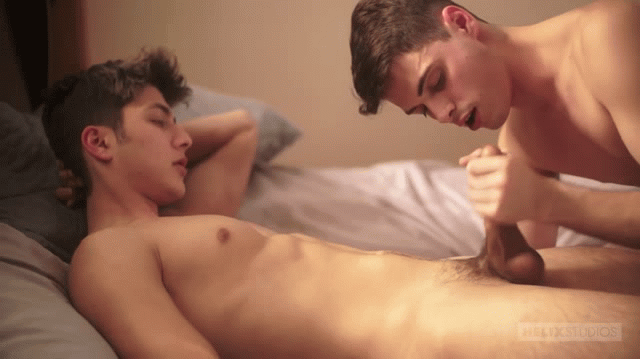 It's been a topsy-turvy month for gay porn power couples, with break-ups and reunions making headlines earlier this week, and now there's another potential break-up that played out dramatically for fans on Twitter last night. The power couple? Helix gay porn stars Ben Masters and Angel Rivera. The reason for the split? Masters has publicly accused Rivera of cheating on him. And Rivera wasn't allegedly cheating on Masters with just anyone. According to Masters, Rivera was cheating on him with none other than fellow Helix star Joey Mills.
It started last night with Ben Masters tagging Helix, Joey Mills, and Angel Rivera in the below tweets: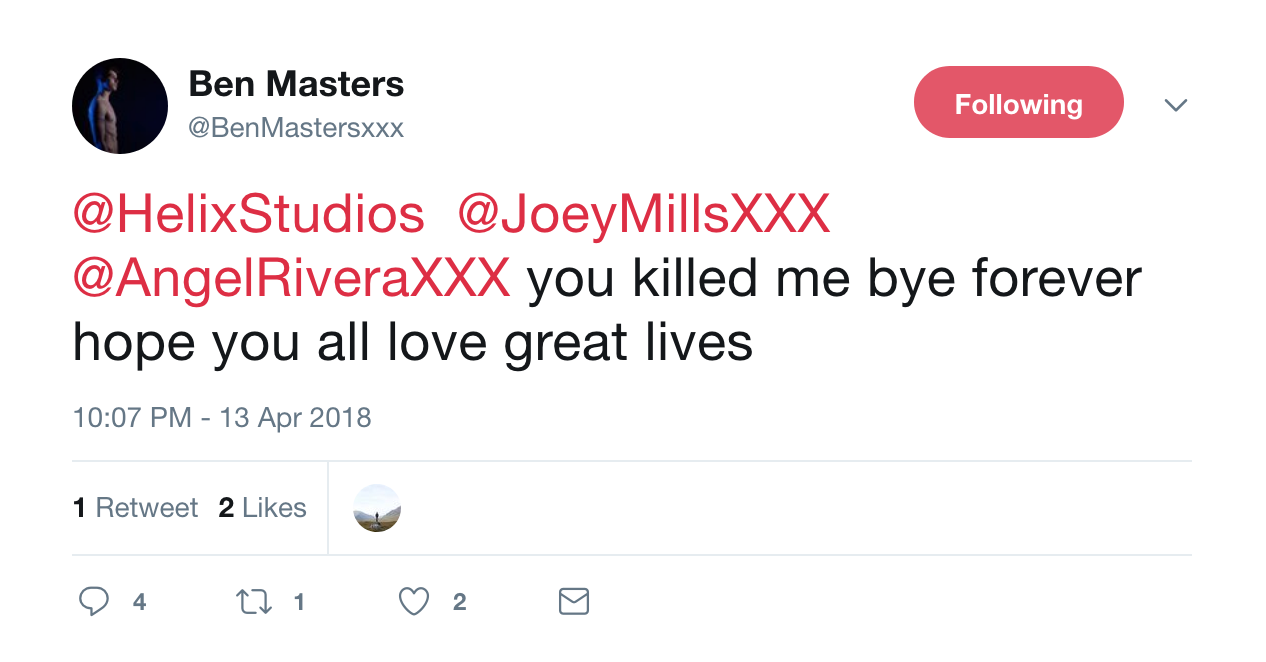 Masters also told his followers that "Angel won't call me and he's at Joey's apartments fucking him." (Joey Mills now lives in Las Vegas, and Angel Rivera was reportedly in town filming with Helix.) And, making matters worse, Masters posted both Mills and Rivera's phone numbers in his tweet (redacted below), which is a clear violation of Twitter's TOS: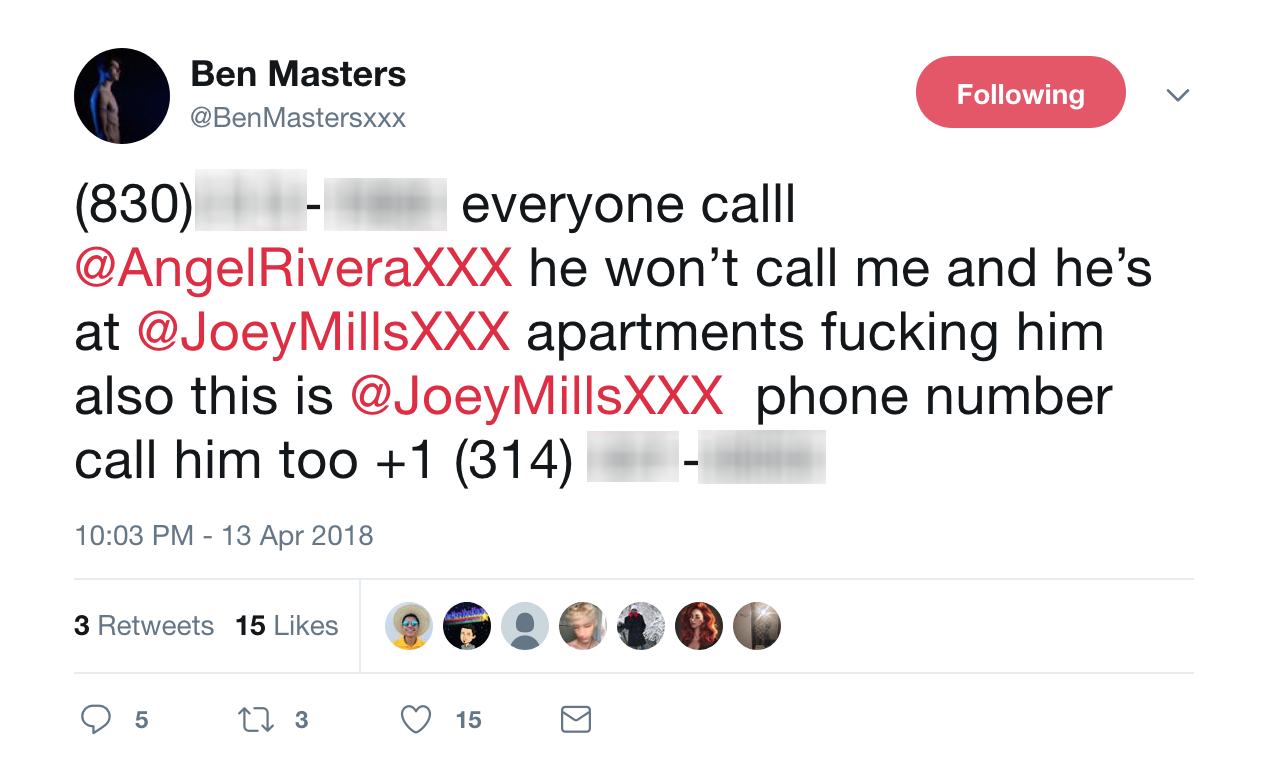 After that, Ben Masters took out his anger on various Helix Studios employees and stars, who presumably had nothing to do with the alleged Mills/Rivera affair. As seen below (again, with numbers redacted), Masters proceeded to post the phone numbers of multiple people, including performers Landon Vega and Kyle Ross, director/producer Alex Roman and Casey Roman, and even Helix Studios owner Keith Miller: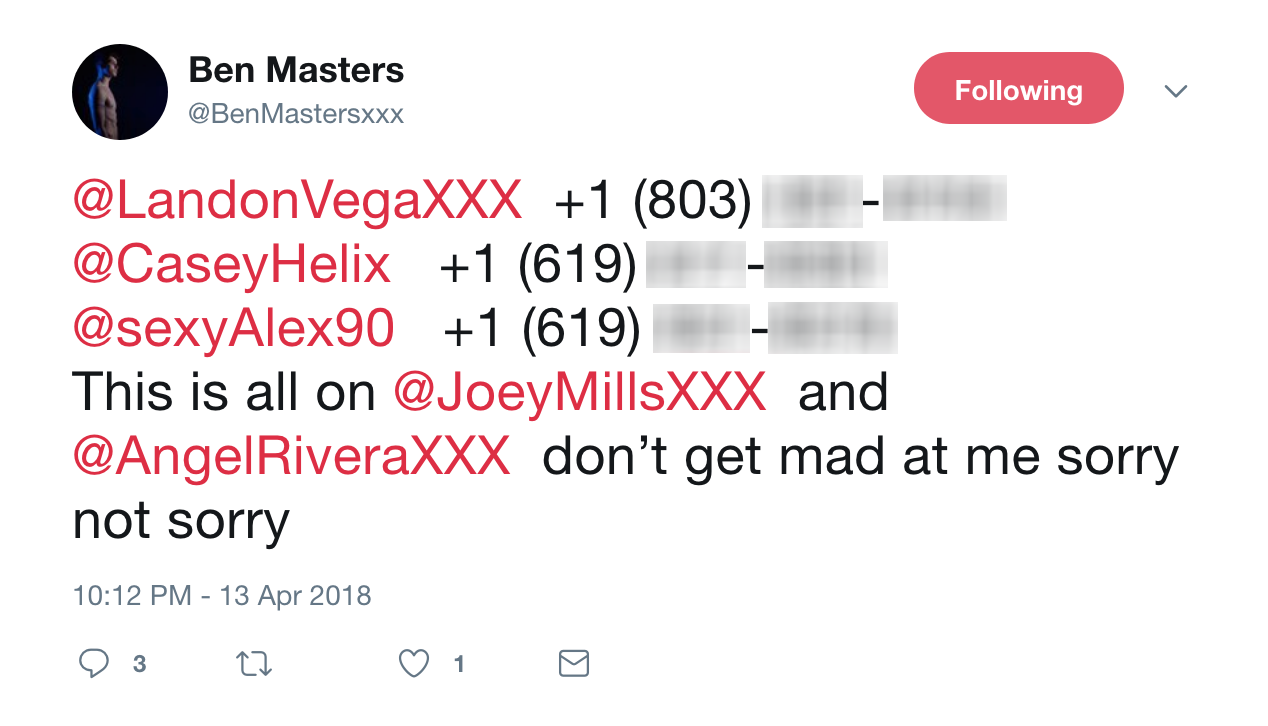 When asked about his behavior by a fan, Ben Masters said that he'd delete his tweets, if Angel Rivera would call him back: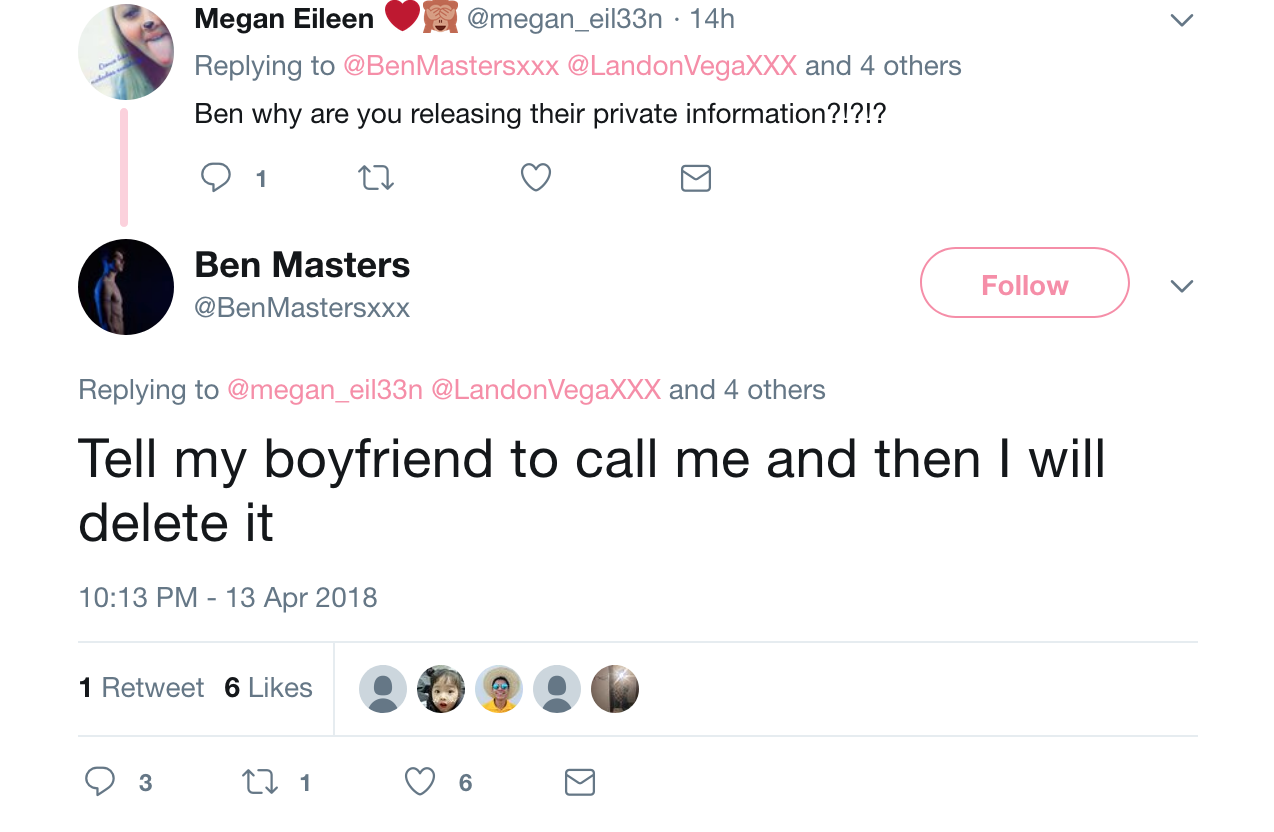 As of this morning, neither Joey Mills nor Angel Rivera have posted any tweets responding to Ben Masters, but Masters did delete his tweets containing everyone's phone numbers early this morning. (Or, Twitter may have removed them automatically, as several people had been reporting the abusive tweets for including private information.)
A source tells Str8UpGayPorn that Ben Masters quit working for Helix Studios recently. His last scene was released just four days ago, and it was a duo with his (now former?) boyfriend Angel Rivera.