WATCH: Pheonix Fellington Makes Helix Bottoming Debut Flip-Fucking Bareback With Ashton Summers
You saw the teaser images of Ashton Summers and Pheonix Fellington's flip-fuck earlier this week, and now the full scene has gone live on Helix. If you were looking for something to jerk off to this weekend, look no further, because you won't find a better duo.
As a reminder, this is Pheonix's bottoming debut on Helix, and the title of this 43-minute scene is "Fellington's Flip-Fuck."
It would take me 17 hours to make gifs of every one of this scene's highlights (and, this scene will require multiple viewings in order to get through the entire thing—it's great from start to finish), but if I had to choose just THREE highlights, here they are.
1. Ashton sucking Pheonix's humongous cock as the sun shines in behind them, highlighting each of their beautiful bodies, and making it seem as if both of them are literally glowing:
2. Ashton getting comfortable as he begins to rides Pheonix's cock: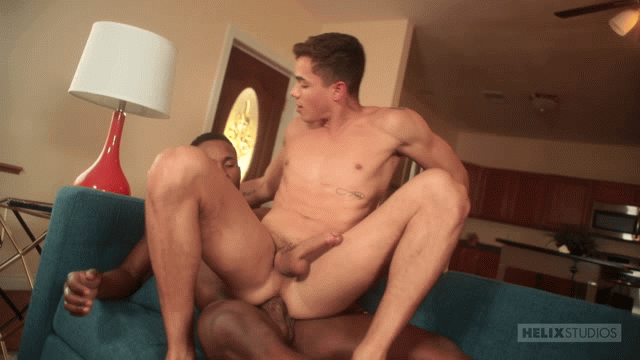 3. Pheonix shoots a volcanic load while Ashton is fucking him:
There is actually a fourth highlight gif that I considered adding, but it's just too good (I actually yelled, "Oh my God!" out loud when it happened), and I don't want to ruin it for anyone by showing it here. You have to see it for yourself to appreciate it, trust me. One hint: It involves Ashton's cum shot at the very end of the scene.
Trailer (watch full scene here):
[
Helix: Pheonix Fellington And Ashton Summers Flip-Fuck Bareback
]