Andy Taylor And Jacob Hansen Worship Ashton Summers During Record-Setting Bareback Three-Way
The summer of gay threesomes continues at Helix, and with this being the studio's fifth three-way in less than two months, they've released more three-way scenes this summer than any other gay porn studio.
Two veterans and one newcomer make up the trio today, with Ashton Summers, Andy Taylor, and Jacob Hansen barebacking each other in a variety of positions. The scene is appropriately titled "Lusty Three," and here are more preview photos with the trailer down below:
Ashton Summers has been bottoming a lot this summer, so it was time for him to give his ass a rest during this scene. Andy and Jacob do all the bottoming today, and when Ashton isn't fucking one of them, they fuck each other at different points during the scene.
Both Andy and Jacob suck cock while being fucked, with the highlight being Jacob sucking Ashton's cock while Andy fucks him: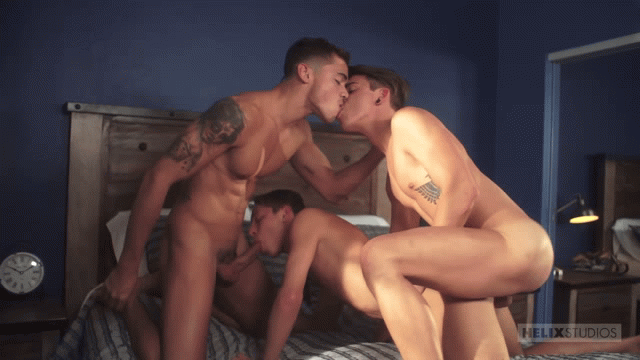 Another highlight? Andy and Jacob making out while worshiping Ashton's cock: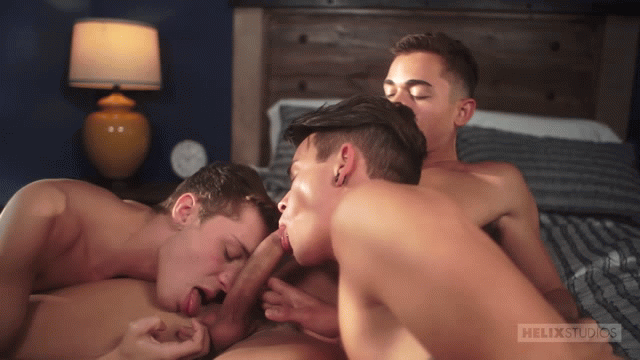 Newcomer Jacob Hansen holds his own against gay porn veterans Ashton and Andy, and he nearly steals the scene when he's in the middle position during the train fucking, sliding back and forth on Ashton's cock while going balls-deep into Andy's ass simultaneously. Also, check out Ashton's body—he's never looked better.
Maybe I need to do a ranking/review of Helix's 2019 three-ways, but right now, this one feels like it could be one of the very best, based on how great all three performances are. Trailer (watch full scene here):
[
Helix: Ashton Summers, Andy Taylor, And Jacob Hansen's Bareback Three-Way
]