Ashton Summers Fucks The Cum Out Of Riley Finch (While In A Speeding SUV) In The First Episode Of "Inside Helix"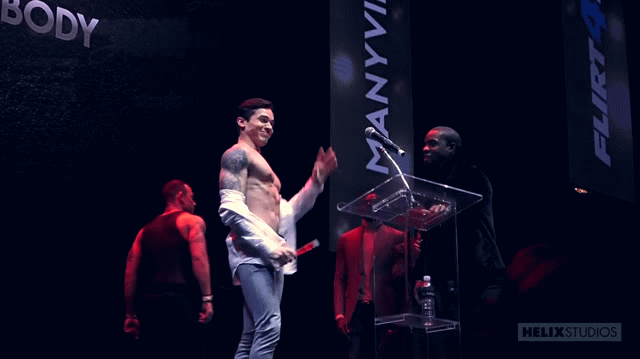 Helix Studios has launched a new series today, "Inside Helix," and it gives viewers a behind-the-scenes look at the lives of some of their models as they work, fuck, party, hang out, and go to awards shows (the first episode today features extensive footage from the third annual Str8UpGayPorn Awards in January), and here's the series description:
One of the most exciting porn event-series to come along, "Inside Helix" is your first class ticket, granting you access to top stars like never before. This series takes you behind the scenes, planting you smack dab in the middle of all the action with the guys at award shows, parties, appearances, dates, even chill time, and yes, of course, porn perfect-pound down sessions with ALL your favorite fuck stars!
This first episode is over 40 minutes long, and the first 18 minutes include interviews with models before, during, and after the awards show (where Helix and several of their models—including Ashton Summers, as seen above, won multiple Str8Up awards), but once that wraps up, it's time for Ashton to fuck twink sensation Riley Finch in an SUV that's barrelling down the freeway the morning after the awards.
I assume this SUV's windows were tinted?!
Staying hard and getting into uncomfortable fucking positions while still looking hot is challenging enough on a bed, so imagine having to do it in the small backseat of a speeding car? Much respect to Ashton and Riley (and to the cameraman for steadily filming all the great fucking from the best angles) for pulling this off, and for looking so good while doing it:
Note that this is a long trailer, but it moves swiftly and you get to see the entire non-sexual section of this first episode (I'm told the entire series will be released as a documentary—without the sex—on DVD and Amazon Prime soon), which is about 18 minutes. The second half of the episode is the Ashton/Riley sex scene, and there is a bit of that included near the end. Here's the extended trailer (watch full 41-minute scene here):
[
Inside Helix: Ashton Summers Fucks Riley Finch Bareback
]