Bareback Gay Porn Star Jed Athens Lashes Out At Str8UpGayPorn: "Ugly, Overweight Fucktard…Go Jump In Front Of A Speeding Train!"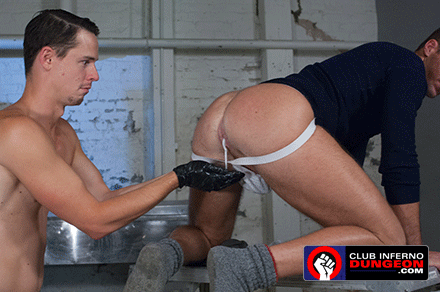 It seems that yesterday's post recapping bareback gay porn star Jed Athens' extremely disturbing and violent blog post—in which he threatened to murder director Bruno Bond by saying that "if [he] had a gun [he] would have shot that fat ass midget"—did not go over very well with bareback gay porn star Jed Athens! Bareback gay porn star Jed Athens has taken to his blog once again, this time to unload on Str8UpGayPorn for being a "pathetic retard," a "faceless sac [sic] of shit," and a "little worm" who "probably pays for hookers to get laid"!
But don't take it from me, here's bareback gay porn star Jed Athens in his own words!
So let start off with the retards who thinks by calling me a bareback star is going to get themselves a head and more of a reaction and readers. I shoot condom porn with other studios. LucasEnt asked me to shoot bare for them and made me a bare exclusive. So read closely retard who wrote that piece so you might not have to waste the maybe three brains cells left you have in your tiny little head of yours. Oh and let not to mention who the fuck are you? You

faceless sac of shit

who doesn't want to show who he is so you can spew shit out with out having a label put on your forehead. You are more pathetic the B. Bond.
[Ed. Note: More pathetic than Barry Bonds? Beyoncé? A bail bondsman?]
States I say the craziest things. When you think something when it happens and when state what you had thought its not crazy its called a mental account. So let address The morons comment about a threat. I never threaten to do physical harm to Bruno. The only thing I threatened was I was going to if ever won an award to publicly humiliate him every chance I could get. So learn what a threat is stupid!

So the pathetic retard states I am violent! Where have I hit or destroyed anything physically. I will verbally destroy something with ease. For example the sac of shit who wrote what he did probably is ugly, over weight and uses the fact that be is in the remote area of the porn industry "Blogging about porn" to get laid if he even gets laid. Well he probably pays for hookers to get laid. Having no spine or lack of balls show that this person is less then a man, when they wont show their face when they accuse someone of something!
The moron states I am also racist?

How is stating a preference racist?

[…] Again what we are dealing with is a Moron who honestly best gift to society would probably be to make a tape confessing that he is a little worm of a man he is, right before he steps out in front of a moving train. So Str8upgayporn you might want to hire me instead of the current dipshit on you payroll.
Should Str8UpGayPorn hire bareback gay porn star Jed Athens to write this site?
Is bareback gay porn star Jed Athens mentally unstable? (FYI: He has had sex with Michael Lucas.)
Is calling bareback gay porn star Jed Athens—who is an exclusive bareback gay porn star with an asshole that looks like a pile of mold—a bareback gay porn star inaccurate?
Is making a death threat against someone by saying you would shoot them with a gun not a death threat but actually just another way of saying you would "publicly humiliate" them?
Is Jed Athens the new Spencer Fox? (No offense to Spencer Fox.)