[UPDATE] Bareback Gay Porn Studios Overwhelmingly Outnumber Condom Gay Porn Studios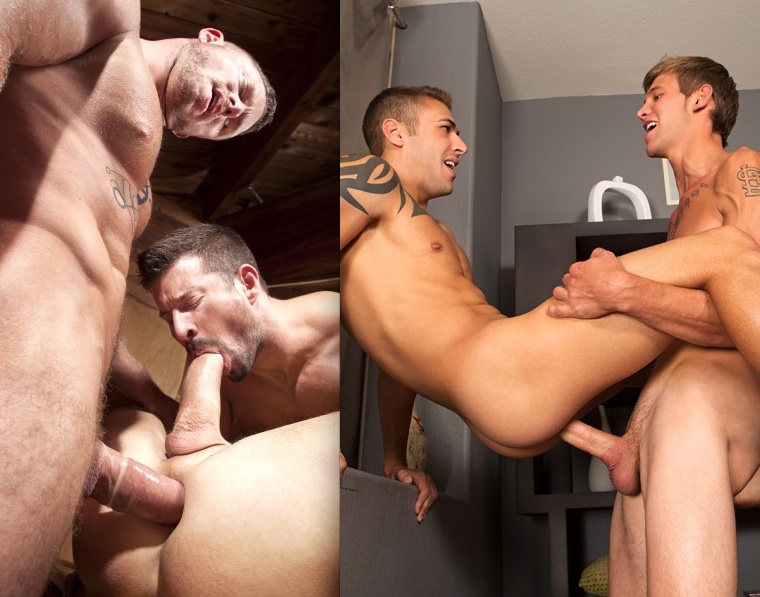 UPDATE—August, 2017:
A very brief update has been made below, as Colby Jansen's studio, ColbysCrew.com, released its first bareback scene earlier this summer ("Cabin Buddies 2," starring Teddy Torres), so the studio has moved from the condom category to the bareback category. Also, a new bareback studio has been added, Rocco Steele's "My10Inches." Of the seven companies left in the condom category—GayHoopla, RagingHotFalcon, CockyBoys, GayRoom, Titan, PrideStudios, and MenAtPlay—which will be next to release a bareback scene?
UPDATE—January, 2017:
Given that some studios have stopped producing content (or just shut down completely), some have switched to bareback, and some new ones have emerged, the list below has been updated for 2017. Additions to the bareback column include Channel One Releasing (they don't shoot original bareback content but, like NakedSword, the majority of third party content they promote and release is bareback), Reality Dudes network, Dominic Ford (even though they don't regularly release content), BelAmi's partner site Freshmen, and LeakedAndLoaded (even though this is basically a cheap tube site with amateur content). One new condom site has actually emerged recently, Colby Jansen's "Colby's Crew," but as you can see below, bareback studios still overwhelmingly outnumber condom studios.
UPDATE—February, 2016:
Thanks to NextDoorStudios' launch of their all-bareback site NextDoorRaw (and the mega site's ownership of bareback military gay porn studio ActiveDuty), the below list of condom vs. bareback studios has been updated once again. There are now just eight major gay porn studios that only release gay porn scenes with condoms.
UPDATE—May, 2015:
Thanks to gay porn star Brenner Bolton's revelation last night, it's time to update this list of gay porn studios once again. Now that Men.com's "Bromo" is producing original bareback content, Men.com goes into the bareback column below, leaving just 11 studios in the condom column. Bromo and Men.com are both owned by straight porn conglomerate MindGeek, and while Men's scenes will continue to have condoms (for the time being), the Bromo sister site is fully raw.
***
August, 2014:
Last August, I made a list of condom vs. bareback gay porn studios, and it was pretty evenly split. Now, one year later, the bareback studios far outnumber the condom studios.
How did it change in barely a year? Several former condom studios have switched over to mostly (if not all) bareback productions (Lucas, NextDoor, CocksureMen, GuysInSweatpants), while other new studios have launched that specialize in all-bareback (Sketchy Sex, DallasReeves, Deviant Otter). Most importantly, it's what viewers prefer. While not scientific, a recent poll on this site revealed that only 7% of readers preferred condom porn, so expect the bareback trend to continue, regardless of condom laws, rising STD rates, and moral outrage. If consumers are willing to spend money on bareback porn, gay porn studios will produce bareback porn.
While some condom studios have found ways to thrive via creative content, webcam/live shows, and conglomeration, it's unlikely that the others will survive much longer, unless they jump on the bb bandwagon.
[Sean Cody: "

Mountain Getaway Day 4

"]
List of gay porn companies currently producing (or re-selling/streaming via other content producers) bareback gay porn:
MindGeek (Bromo/Sean Cody)
NextDoorStudios (NextDoorRaw/ActiveDuty.com)
Corbin Fisher
RandyBlue
UKNakedMen
ChaosMen
Kristen Bjorn
Broke Straight Boys
NakedSword
College Dudes
Alpha Male Fuckers/Breed Me Raw
Raw Fuck Club/Dark Alley Media
Leaked And Loaded
Dominic Ford
Sketchy Sex
Fraternity X
Maverick Men
Deviant Otter
GuysInSweatpants
Lucas Kazan
BiLatinMen
William Higgins
Channel One Releasing
Helix Studios
Butch Dixon
Tim Tales
Lucas Entertainment
Bel Ami
Freshmen
Boy Crush
BreedItRaw
Treasure Island Media
Cocksure Men/Jake Cruise
Reality Dudes
ColbysCrew
My10Inches
List of gay porn companies that currently only produce gay porn with condoms:
CockyBoys
GayHoopla
MenAtPlay
Pride Studios
GayRoom
Raging/Falcon/Hot House
TitanMen